Plan Your Study Ahead. Speak & Consult Directly with Overseas Unis Staff Now!
About this Event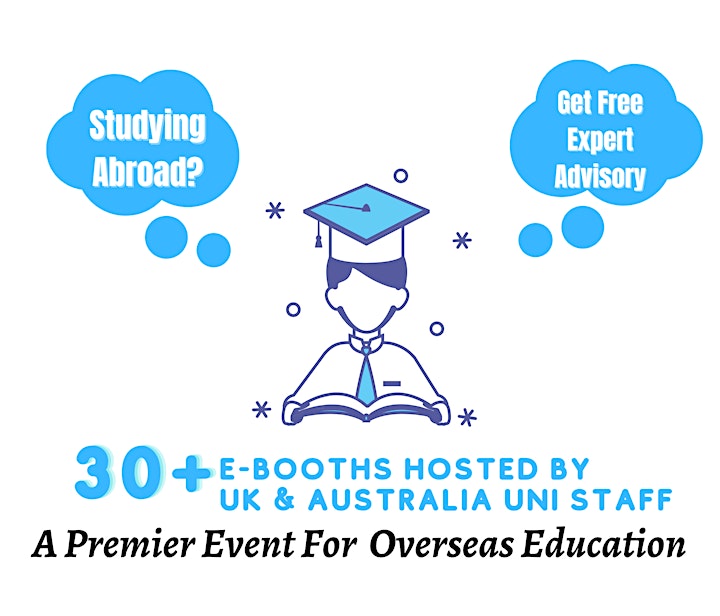 The Renown Overseas University Virtual Expo
Don't miss the rare opportunity to E-meet Renown Uni & Pathways Staff  Sessions that will be held on:
Friday 4th Dec: 3 - 6pm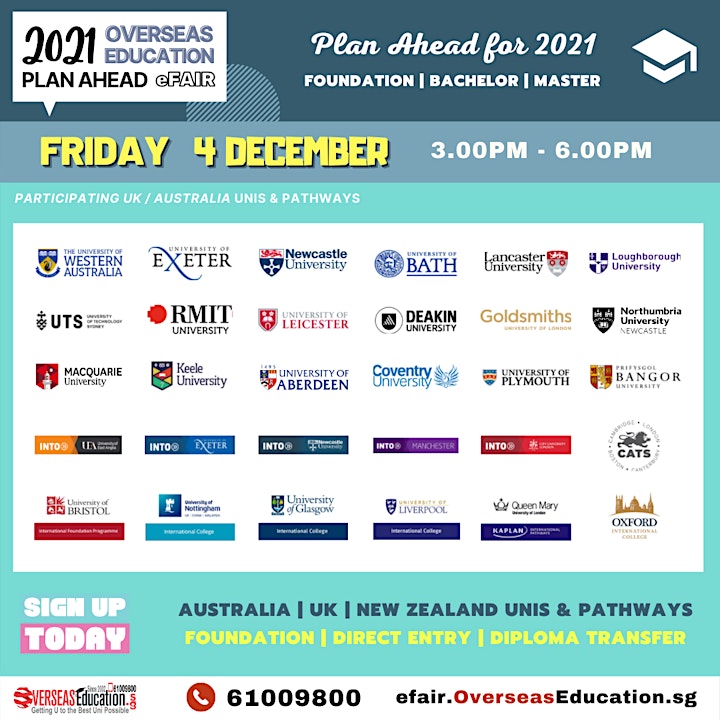 Participating Universities
University of Aberdeen (UK)
University of Leicester (UK)
Bangor University (UK)
Coventry University (UK)
Goldsmith - University of London (UK)
Lancaster University (UK)
Northumbria University Newcastle (UK)
Keele University (UK)
Participating Pathways Institutions (A level| Foundation | Int'l Year One)
Cardiff 6th Form College
Oxford Int'l College
University of Auckland Foundation
University of Auckland Technology Foundation
Victoria University of Welington Foundation
Swinburne Diploma & Foundation
University of Tasmania Diploma & Foundation
REGISTRATION FOR 2021 IS NOW OPEN! START YOUR APPLICATION NOW

HOW THIS EVENT WORKS: 
 Many Renown Unis Staff will be online on Fri, 4th Dec: 3pm-6pm for you to E-Meet to discuss your education plan.
Each student will be given 15-30 mins slot/sessions to consult with staff of the participating Unis. 
APPOINTMENT IS REQUIRED as we have limited spots. Book early to avoid disappointment. Upon receiving your request, our senior counsellors will contact you for the time slot & e-meeting link will be sent closer to the date.
You may ask questions & consult to the Uni staff including the eligibility to get the credit exemptions, forecast results, specific entry requirements as well as scholarship information.
You may qualify for the application fee waiver, so don't forget get ready your result.

 *ALL SINGAPOREAN & FOREIGN STUDENTS RESIDING IN SINGAPORE ARE WELCOME
You may invite your parents & friends to join the event.
Stay Calm, Life go on, Plan Ahead & Keep your study options open
 Not sure how to start your Overseas Education Process? You can also Speak to our Senior Counselors at the event!
School Registration for 2021 are NOW OPEN!
All Services are FREE!
For more information, visit our page: https://efair.OverseasEducation.sg/or contact us to speak with our counsellors: 61009800
SCHOLARSHIP AVAILABLE!
Check this out: