A safe place for professionals to explore and to experiment with personal strategic planning around personal values.
About this event
It is beginning of another year !
What is your operating vision?
What is the relationship between your vision and personal values?
For your vision, what is your strategy? Risk factors?
Next few steps?
Instead of usual new year planning, I would like to offer an experience of personal strategic planning based on Personal Planning Process by ICA Taiwan.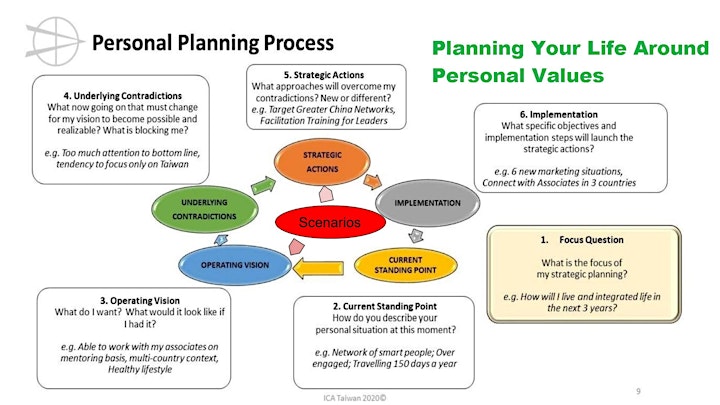 Personal strategic planning is planning to align ourselves to our personal values and vision. It is more than annual personal planning. In addition, we know COVID-19 pandemic has disrupted many of our plans in 2020 and 2021. So some of us are a bit confused on what to plan for 2022 and beyond. In this workshop we will share some of the critical factors and scenarios in the world post COVID-19. With these scenarios, we will proceed with the process of strategic planning for each participant.
Outcomes of workshop : Clarity on your personal journey(vision, strategy, baby steps). In addition, you will have some ideas on small steps to align yourself to your personal values and vision.
Structure of each workshop
Session #1 : Review of scenarios post COVID-19, personal strategic planning (part I)
Session #2 : Personal strategic planning (part II)
Session #3 : Accountability session (date to be confirmed after second session)
Dates :
Workshop A : 8pm to 9:30 pm GMT+8 Jan 13 and Jan 20 2022
Venue : URL for Zoom Meeting will be provided later. If you do not receive Zoom info via email on the day before first session, please send an email to askone2019-at-gmail.com
Cost : Free.
Language : English only
Prerequisites for participants
Stable Internet connection.
Have access to a tablet or desktop. Using other devices are not recommended.
Your webcam and mic is working with Zoom.
Able to commit for three sessions.
Allow video recording for first two sessions.
The facilitator is Wan, certified transformational coach and practitioner of Technology of Participation.
Recommendation:
1) What have you experienced in the two sessions?
"I've experienced that I understood deeper why I'm in my current situation and what could be interesting for me to do next. I also understood what's holding me back when making decisions."
2) Major take-aways
"I left the course with determination to look deeper into how fear of failure might affect my life and to acknowledge more vulnerability and love in myself. I also acknowledged that black and white thinking is still present in me, even though I would like to distance myself from it and find new ways to look at things."
3) Any surprises?
"I was surprised to see that I still try hard to separate my professional life from my love life and position these in my head like two independent things. Whereas in reality, I feel like they are both equally important to me."
Fanni, cohort February 2021