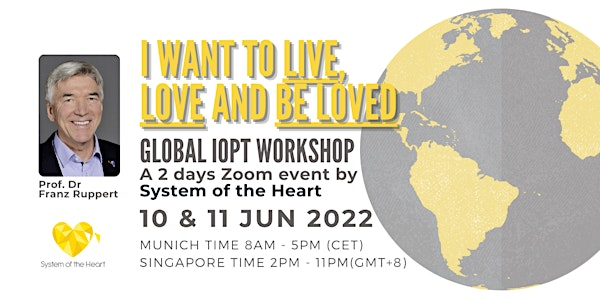 2022 Global IOPT Workshop with Prof. Dr Franz Ruppert
2022 Global IOPT Workshop with Prof. Dr Franz Ruppert
About this event
For 2 FULL days, join us for a Global IOPT workshop by none other than the founder, Prof. Dr Franz Ruppert. We want to make IOPT workshop accessible to you from any part of the world, wherever you are from, you are not alone in exploring your Identity and understanding your childhood trauma. Especially in this time of the COVID-19, we hope this online workshop can be useful to provide you support and healthy internal resources for your situation.
This workshop is open to global registration and will be mainly conducted in English with LIVE translation in German, Russian & Chinese available.
WORKSHOP AGENDA:
Get the latest updates on the IOPT method
Lottery for Online exploration of processes facilitated by Dr Franz Ruppert
Opportunity to experience being an online resonator of the process
Gain deep insights and have an experiential learning from observing the processes
Question & Answer time throughout the workshop
GLOBAL WORKSHOP & PROMOTION DETAILS**:
**SPECIAL PROMOTION: REGISTER FOR 1 DAY, GET 1 DAY FREE
Attendance option 1: Attend 1st day and get second day as bonus (10 & 11 Jun 2022). You will get to attend the second day for FREE (non-transferable). Once you got drawn for lottery, your name will be taken out for lottery the next day. OR
Attendance option 2: Attend only on second day (11 Jun 2022)
-----------------------------------------------------
Regular Ticket: SGD300 (EURO195)
Registration ends: 1 Jun 2022
-----------------------------------------------------
Workshop Date:10, 11 Jun 2022 Friday and Saturday
Time for both days: (Please find your time in your country)
2pm - 11pm (SG Time, GMT+8)
8am - 5pm (Munich Time, CET)
Workshop Venue: Zoom
After registration, you will receive instructions on technical set up for the Zoom meeting.
Language: The Zoom workshop will be conducted in English.
Live translation available: German, Russian and Chinese.
Please note that this event is non-refundable and non-transferable. There is also a small service fee by Eventbrite not included in the ticket price.
A NOTE FROM THE ORGANISER
How are you? Greetings to you from Singapore.
I want to invite you to join me and the global community in a 2022 Global IOPT ZOOM workshop facilitated by the founder of IOPT: Identity Oriented Psychotrauma Theory, Prof. Dr Franz Ruppert, Munich. It's happening on the 10 & 11 Jun 2022 in a global time.
It is always a privilege for me to organise a Global Zoom event for Prof. Dr Franz Ruppert. I always get to learn so much about humanity and gain so much wisdom about life. It is like attending a school of LIFE. The need to learn is more urgent especially in this gloomy times where some of us are struggling to get ourselves ready to live and thrive in this new normal.
We need strength and internal resources, to build more healthy structures in order to stay in a healthy space in every area of our life. At work, at home, as a parent, in your relationship and growing as a person. Come and allow yourself to be supported in our Global Community and workshop.
Join us if :
You want to find answers in any area of your life
You want to understand what is healthy parenting
You want to understand some of your challenges
You want to know why you are depressed
You are curious of "WHO AM I" and "What do I want"?
I look forward to seeing you in this workshop.
Warmest regards,
Christine Wong & Raymond Foong
Founder of System of the heart
Pioneer of IOPT in Asia
Licensed IOPT trainer
CONDITIONS OF WORKSHOP:
Below are the conditions of the workshop and if you do not agree please do not register. We treat this online workshop like an actual workshop and also take the clients' trauma very seriously and if found that you are not abiding with any of the following, legal actions may be enforced. This is to ensure a safe healing space for everyone who are observing and learning as well as those who are doing their own works.
1. This is a closed workshop and it is not open to the public. We only post it on related facebook groups that are run by trained facilitators. Those who registered will need to have someone who knows about IOPT works or have attended/ observed a session or workshop with a trained IOPT facilitator who is up to date with Prof Franz Ruppert Method. We will ascertain this.
2. Due to the private and confidential nature of the workshop, STRICTLY no forms of recording or capture (eg: video or audio) will be allowed during the workshop.
3. Please note that each ticket seat is strictly only for one attendee. If the tickets are found to be misused, you will not be able to attend future online events. However in view of poor internet connection, a couple ( with two tickets) can share a laptop.
4. There should be no bystander or onlookers - the sessions should be attended in a private place where you are alone in the room. E.g Strictly no children running around/ spouse or partner walking around. You must be in a completely private space. You can excuse yourself to go to another room and attend to your kids/ other matters if need be - but no one else should be allowed to browse the zoom event out of curiosity or for any other reasons.
5. This workshop attendance is strictly by registration, non-registered guests will not be allowed into the event. On the actual day, every single person will be identified and VERIFIED by our admin staff and the state of verification will be visible to everyone. All non-verified guests will not be allowed in the room.
6. The nature of this workshop addresses trauma and emotions. During the workshop if you feel that you are too overwhelmed by any processes, you may choose the following:
Mute the video and spend some time self-processing the emotions
Off the video - ( still logged in) and go grab a drink, go for a walk or listen to some music.
Exit the session totally
7. You are required to set up WHATSAPP phone app and add Junias' mobile +65 9844 8937 into your contacts. Then say hello through whatsapp and indicate your: registered name.
To facilitate any technical or emotional support needed, please text Junias before the event starts.
If you have any questions feel free to contact Christine (christine@systemoftheheart.com) or Junias, Program Manager for System of the Heart (junias@systemoftheheart.com).
See you there!
TECHNICAL REQUIREMENTS:
1. For best online experience, login to zoom using your computer or laptop.
2. You are required to log in 30 min before the workshop starts so as to iron out any technical issues
3. For audio quality, it is recommended for you to use earphones with microphone
4. Any other questions can be asked via the WhatsApp when you text Junias and say hi.
_____________________________________________________________________
Participant Experience from the previous online IOPT Workshops with Prof Franz:
Thank you Christine and team for this successful event! 👏🏻👏🏻It was a very insightful and moving workshop. Although its done online it went really deep! Thankful for the ones doing their work today and being so brave to have the clarity that will help you find back your TRUE "I". Sending lots of 💖💖💖 - Cyrene, Singapore
The power of technology enabling the support of emotional connection, healing and discovery...at a time when the world is being asked to social distance in the daily escalation of a pandemic of panic and fear…being able to support, connect and learn with >60 people from around the world is fantastic 💕💕💕 #KeepCalmandIoPT - Wayne, United Kingdom
Thank you Christine and team for organizing the workshop. I feel privileged to be one of the participants witnessing Processes done during the workshop, they are so deep that my heart feels for everyone of them. My own piece of work shown clarity about how I am entangled with my mother's pain, and that I could not see my own pain, a deep sadness flows in. And then I made a promise to myself that I will connect with my "I", to fully experience "I". - Pandora, Hong Kong
I liked that there were a lot of attendees, that the processes were very deep and meaningful, experiencing the new way of handling the intention, seeing all the familiar faces that I miss, the organization and the timing. I would like to thank Dr. Franz for all his insightful thoughts and never ending learnings, also for the fact that he is always looking to improve the method and make it as helpful and as easy as possible. Thank you so much Christine and all the team for being so proactive and always thinking of ways to help people with IoPT. This was a great workshop and I will be looking forward to more similar activities in the future. - Diala, Lebanon
So thankful for this amazing online workshop. Wonderful! Thank you Christine and team to make this wonderful workshop happen. It's incredible!! - Onnapa, Thailand
To experience that the online event has the same value as face to face and perhaps even more intensively connected. I have only words of gratefulness. Each time I meet Franz Ruppert I get and take the opportunity to open up my heart more towards myself, to acknowledge my trauma's and recognize some of my surviving strategy's. Even as an observer. And I also like the quick development of Franz Ruppert. I am also very grateful towards Christine of organizing this first online IOPT event. many thanks and it was very well organized! this was a very groundbreaking workshop.My heart is jumping of happiness. I am so happy to have been part of this event, thanks so much you all. 🤗 - Ingeborg, Belgium
Thanks everyone for holding the space.. I thank Christine for bringing IOPT to us. I learnt a lot as a mother and as a daughter.. - Rebecca, Singapore
My pleasure and thank you for the perfect organization 🙏🏻. I am impressed. Good to experience that IoPT constellations also can be done on this way. Great to be (a little bit😌) part of the team. Thank you🤗 - Aart, Netherlands
_____________________________________________________________________