Event Information
Location
The Mahaprajna Buddhist Society 慧严佛学会
11 Lorong 35 Geylang
Singapore, 387943
Singapore
2022 消灾吉祥法会 Lunar New Year Puja
About this event
注意事项:
由于疫情关系,凡有意参与此法会的信众,请预先上网报名,不便之处敬请原谅。
所有参与者必须在2022年1月16日以前完成疫苗接种。若您尚未完成疫苗接种,请参考常问问题。
若抗疫力不足者,请勿参加为宜。
进场时间:活动前30分钟开始入场。
到本会后, 请直接到指定的座位静声安坐,避免与他人聚集交谈。
活动当天,会所停车场将不会对外开放。
如果您身体不适,请取消报名以便让他人有机会参加法会。
Important notes:
Due to the ongoing Covid-19 pandemic, participants must pre-register to attend this puja.
All participants should have been fully vaccinated before 16 January 2022. If you are not vaccinated, please read the FAQ for further details.
If your immune system is not strong, you are advised not to participate.
Entry time: 30 minutes before the event starts.
After arriving, please go directly to your assigned seat and wait quietly, avoiding mingling and gathering with others.
Carpark will not be opened to the public.
If you are feeling unwell, please cancel your registration to give others a chance to join this event.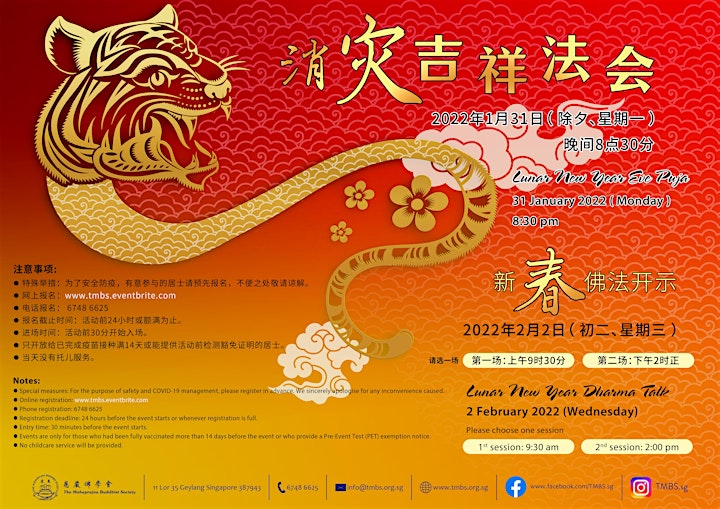 FREQUENTLY ASKED QUESTIONS
1. I have not completed the full COVID-19 vaccination regime. Can I still join the event?
You may join if you fall under any of the below scenarios:
You had recovered from COVID-19 and are able to show a PET Exemption Notice from any clinic offering ART or PCR testing services or a Discharge Memo.
You are medically ineligible for COVID-19 vaccination. You will show the 'exempted from vaccination' status on your TraceTogether application.
2. Must I register to join the event?
Yes, please register in advance.
3. The event is fully sold out but I would love to attend. What should I do?
Please put in your name in Eventbrite to be on the waiting list and then wait for our notification.
4. Do I have to print out and bring the ticket?
You can either print out the ticket or show us the email confirmation on your handphone. We will mark attendance according to the name you have submitted during registration.
5. I have registered but am unable to attend. What should I do?
If you are unable to attend, please cancel your order so that others have a chance to join this event. Please click on "View and manage your order online" at the bottom of the Registration Confirmation email. After you have logged into Eventbrite, click on the event that you want to cancel and click "Cancel Order". Alternatively, you may call us or email to info@tmbs.org.sg to cancel the order. As seats are limited, we really appreciate you cancelling the order if you are unable to attend.
6. How can I contact you if I have any questions or need help with the registration?
Please email info@tmbs.org.sg or call 6748 6625.
常问问题
1. 我还未完成COVID-19 疫苗接种,能参加活动吗?
如果您符合以下任何一个情况,您可以参加。情况是:
您是冠病康复者,并且持有活动前检测 (PET)豁免通知或出院备忘录。
您不符合医学条件接种 COVID-19 疫苗。 您的合力追踪应用程序上有显示"免于接种疫苗"状态。
2. 我必须报名参加活动吗?
是的,请预先报名。
3. 名额已满,但我很想参加此活动,我该怎么办?
您仍然可以在Eventbrite中把您的名字加入后补名单,并请等待通知。
4. 我凭什么入场?
请显示您收到的确认电子邮件。我们将根据您在报名时所提交的姓名来确认。
5. 我已经登记了,但有事不能出席,该如何取消?
请点击确认电子邮件的"View and manage your order online"。 登录到Eventbrite后,点击要取消的活动,然后点击"Cancel Order"。或者,您可以发送电子邮件发至info@tmbs.org.sg 取消预留座位或请来电通知。由于座位有限,如果您无法出席,请您取消预定。
6. 有任何疑问,如何联系?
请发送电子邮件至info@tmbs.org.sg,或致电6748 6625.
Date and time
Location
The Mahaprajna Buddhist Society 慧严佛学会
11 Lorong 35 Geylang
Singapore, 387943
Singapore