Event Information
Location
Sands Expo & Convention Centre
10 Bayfront Avenue
Singapore, 018956
Singapore
2022卫塞节 · 疗愈世界 | 2022 Vesak Day · Heal the World
About this event
2022卫塞节 · 疗愈世界 | 2022 Vesak Day · Heal the World
庆祝《七佛药师经》勘校圆满 全球⾸发
Celebration of the world premiere and completion of The Great Prayers of the Seven Medicine Buddhas
请您带着欢喜的⼼,邀约各界的善友、学员、和家⼈朋友们。A joyful invitation to everyone.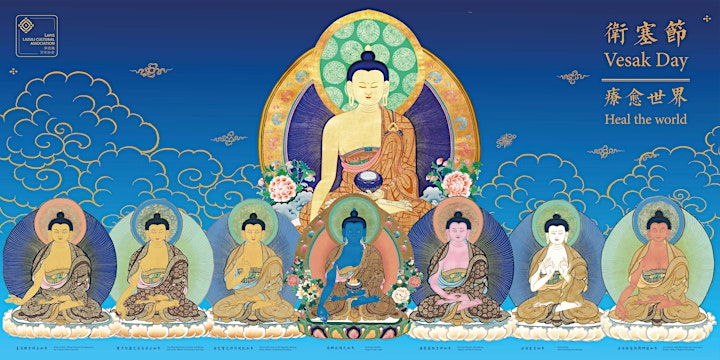 2022卫塞节【与佛有约 】特别庆典暨七佛药师经震撼发布
Vesak Day 2022 < A Date with Buddha > Special Celebration and "The Great Prayers of the Seven Medicine Buddhas" Groundbreaking Premiere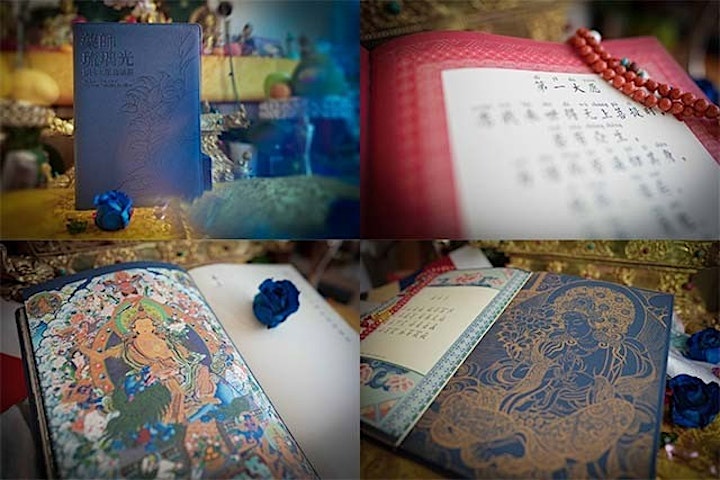 我是一只渺小的麻雀
I am but a tiny sparrow
却要追寻大鹏金翅鸟的轨迹
Seeking the path of the Garuda
成为天空中的雄鹰
To become an eagle soaring in the sky
我们的财力不足
Our financial resources are slim
储蓄微薄
Our bank account is far too meager
匮乏两种货币:「解脱世俗」与「证悟之愿」
We lack the two different currencies:「Freedom from the Worldly」&「The Wish for Enlightenment 」
甚至还有用尽一生
I have debts that cannot be repaid
也无法偿还的债务
Even in an entire lifetime
我那双搜寻终极实相的眼
My eyes, seeking to see the ultimate
几乎就是瞎的
Are nearly blind
我渴望听见真理的耳朵 亦是聋的
And my ears are deaf to the Truth
我的意识 更是混沌不开的黑洞
My thoughts are a black hole of confusion
不见一丝一毫真理的光明
And cannot see the slightest light of Truth
我的生活状态如此糟糕
And even though I live in such misery
没有人愿意多看我一眼
No one bothers to spare me a look
您是整个宇宙里最有爱的人
You are the greatest embodiment of love in this entire universe
即使面对如我这般低劣的众生
Even before a person as wretched as myself
您亦不曾生起些许舍弃之意
Not a single thought of abandoning me ever occurs to you
您从未放弃过任何一个孩子
You have never forsaken any of your children
您有着完美的教法以及不可思议出乎意料的策略
You possess perfect teachings, and with incredible, unexpected strategies
奇迹般地帮助我
You miraculously help me
如果不依靠您
If I don't depend on you
我还能依靠谁呢?
Who else can I turn to?
请您不要放弃我
Please don't give up on me
去到哪里都要带着我
Take me wherever you go
生生世世牵着我的手
Hold onto my hand life after life
以您钵中的不死甘露喂养我
Feed me with deathless nectar from your bowl
以您手中的ARURA药草治愈我
Cure me with the Arura herb held in your hand
愿我对妙法的甘露恒常渴望
May I always thirst for the nectar of your teachings
永无厌倦!
And never grow tired of it!
                                                                                                ——Dr. Wu
                                                                                      净琉璃文化协会
                                                 Lapis Lazuli Cultural Association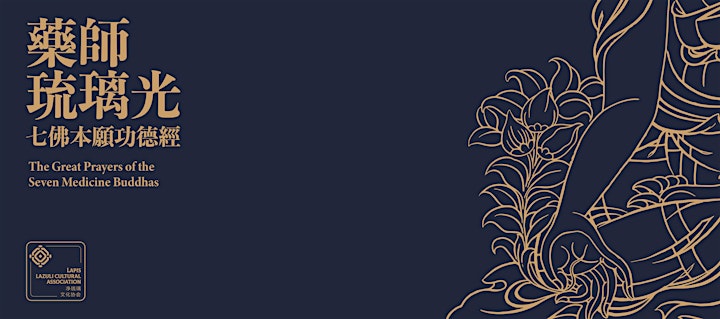 这是新马宏伟的浴佛盛宴,为了疗愈世界,祈福和平与昌盛。
A magnificent bathing Buddha ceremony in Singapore and Malaysia, praying for the healing of the world, peace and prosperity.
也是《七佛药师经》历经1800天,4万多小时,一百多位参与者,汉藏梵英多语系配合,终于勘校圆满,出版全球发行之日。
It is also to commemorate the completion of "The Great Prayers of the Seven Medicine Buddhas" after the hard work of more than 1,800 days, 40,000 hours, involvement of over 100 participants, and the experts from the Chinese-Tibetan-Sanskrit-English multilingual team.
诚挚邀请您携亲带友莅临参与浴佛,迎请七佛经,共沾法喜。
We sincerely invite you, your family and friends to join the Buddha Bathing, sacred reception of "The Great Prayers of the Seven Medicine Buddhas", and to immerse in the Dharma bliss.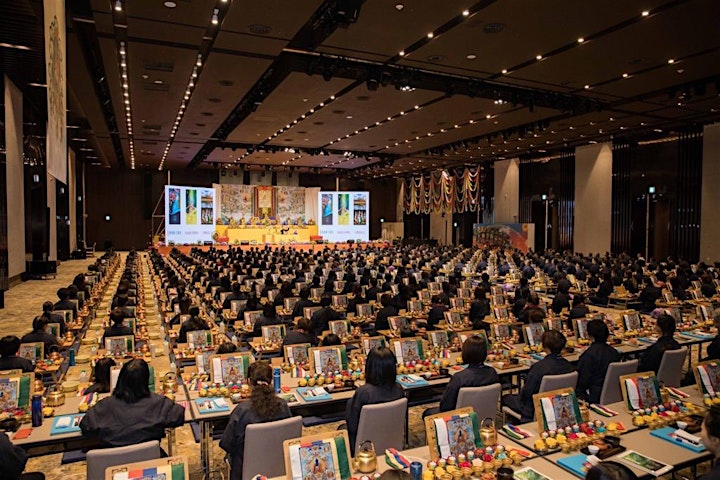 活动相关 ABOUT THIS EVENT
📆 时间 | DATE: 15.05.2022 (星期日 | SUNDAY)
📍地点 | VENUE: 金沙宴会厅 新加坡滨海湾金沙国际会展中心 五楼
 Sands Grand Ballroom, 5F, Sands Expo & Convention Centre
⚠️ 出席者需出示TraceTogether或Healthhub上的已接种证明
⚠️ Attendees are required to show the certificate of vaccination from TraceTogether or Healthhub
场次安排 AGENDA
与佛有约 | A Date With Buddha
浴佛礼 | Buddha Bathing Ceremony
08:30AM - 12:00PM 圆满
蓝⾊盛宴 | The Blue Feast
12:00PM - 14:00PM 圆满
满你所愿 | Fulfil Your Wishes
满愿发| Wishing Jewel Practice
02:00PM - 05:30PM 圆满
公益活动 Free Event
设有少量VIP席位 Limited availabilities of VIP seats
请向介绍人咨询 Please consult your referrer for details
由于人数限制,以上两场庆典将采取先到先得的电子报名方式,请尽早进行订票。
Due to capacity limits, registration for the two events above will be held on a first-come first-served basis, so please book your tickets ASAP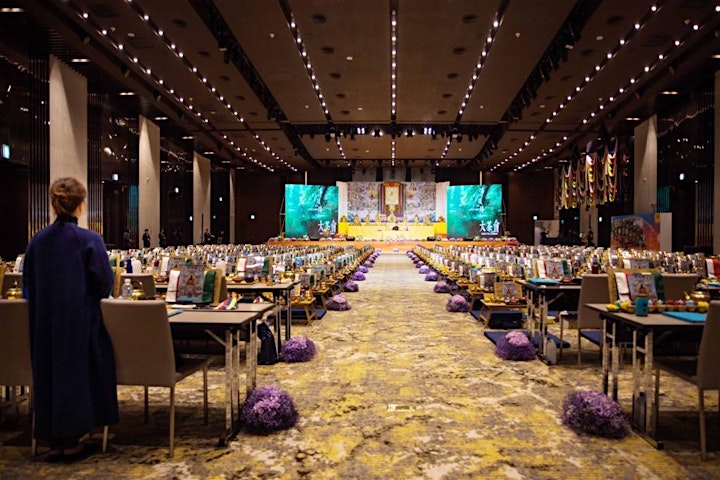 注意 NOTICE:
• 请在活动前30分钟抵达,凭票入场(包括孩子)。
Please arrive 30 minutes before event time. Entry with e-ticket only (including children).
• 年龄限制:13岁或以上。
Children aged under 13 are not allowed.
• 您的安全是我们的首要考量,在室内需时刻戴好口罩(深色口罩)。
Your safety is our primary concern. Attendees are required to remain masked at all times during the event (dark-colored mask).
• 着装:长袖衣裤/裙 颜色:深蓝色/黑色 鞋:黑色
Dress code: long sleeves, long pants/dress in Dark Blue/Black colour
Shoes: Black
• 为了避免财物丢失,请勿携带贵重物品。
Please travel light to avoid losing your valuable belongings.
• 请您响应全天茹素,以清净身心共同祈福,护生爱地。
You are encouraged to observe vegetarianism on the actual day for the solemn occasion, to pray for blessings and offer care to lives and the planet.
• 若您当天身体感到不适,行动不便,请留在家中休养。
Please stay home, if you are feeling unwell on the day of the event.
此次活动迎请经书为中文简体《七佛药师经》。多国语言版本的翻译
 即将开始!
Kindly note that the simplified Chinese version of The Great Prayers of the Seven
Medicine Buddhas will be sacredly received at the event. The translation work of multiple languages for the sutra will commence soon!
义工请注意 | VOLUNTEERS NOTICE:
【E-ticket 只提供给会众、学员,义工团队工会有单独安排,请勿占用他人席位。感恩!】
【E-ticket are made available for the public and students. All volunteers please do not register. Thank you!】
净琉璃文化协会敬呈
Yours respectfully,
Lapis Lazuli Cultural Association
Date and time
Location
Sands Expo & Convention Centre
10 Bayfront Avenue
Singapore, 018956
Singapore
Refund policy