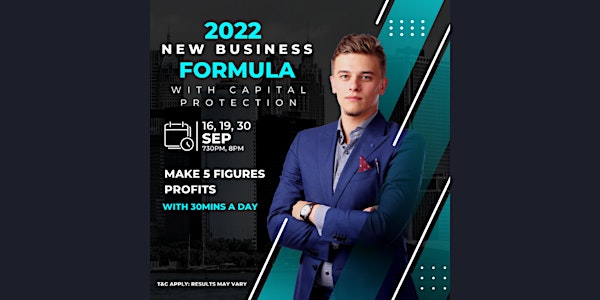 2022 New Business Formula With Capital Protection
Start an online business using new business formula with capital protection.
Date and time
Wednesday, October 5, 2022 · 7:30 - 9pm +08
Location
Singapore Singapore SIngapore, 050335 Singapore
About this event
During this downturn, there are eCommerce companies willing to take on risk to gain more customers because they realised turning new customers into repeat customers is high so they are offering big commission for being their promotional partners via eCommerce...
These are companies that already generated over 8 billion and more than 10 years in the market so they are established and are willing to take on the risk by guarantee capital protection for their partners.
(Actually their capital protection has been in place for more than 10 years, just that this period, they payout way more commission than usual)
We will be going through details on our Zoom sessions on every Monday & Friday.
Whereas Live sessions on every Wednesday.
We will confirm your seats via WhatsApp.
Limited seats. Register NOW to get your seat to heard about the details.