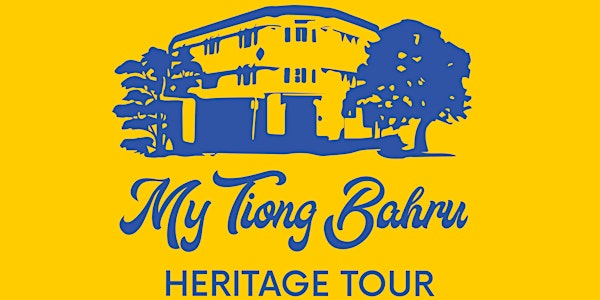 我爱中峇鲁历史街区漫步:中文导览 (2023年2月4日)
与我们一起探索新加坡唯一一个住宅保留区!
When and where
Location
Tiong Bahru Community Centre 67A Eu Chin Street Singapore, 169715 Singapore
About this event
中峇鲁保留区究竟隐藏了什么动人的故事?新加坡第一个公用住宅区是怎么发展出来的?它有哪些建筑特色足以让人一览一世纪的装璜演变史?民众联络所这个概念是如何产生的?这些街道的名称背后是些什么人物?中峇鲁令人津津乐道的美食有哪些?快来参加这个免费的导览活动,听听这些鲜为人知的掌故吧。
集合地点:中峇鲁联络所办公室 (Eu Chin Street 有进街 67A号,请从Seng Poh Road 成保路 第72和77座之间转入,或从Tiong Poh Road 忠坡路 第74和75座之间转入)
MEETING POINT: Tiong Bahru CC (in front of General Office) (67A Eu Chin Street, access via gate between Blocks 72 and 77 Seng Poh Road, or via gate between Blocks 74 and 75 Tiong Poh Road).
在义务导览员的带领下,您将穿梭中峇鲁的街巷寻幽探秘,同时也将穿越一道新加坡百年历史的回廊。从这个保留区内的形形色色人物和事迹,二战时期防空壕内的悲欢离合,到街坊们如何为了巷弄间一只伤残的街猫而发动救援呼吁,中峇鲁的人、事、物,都各有引人入胜的地方。
包括参观平时不对外开放的中峇鲁防空壕--新加坡首个住宅建筑内的大型民用防空袭设施的难得机会。
所有义工带领的导览活动都是免费的,不过我们吁请大家捐助我的社区(My Community是个由义工运作的非营利慈善组织),以便我们扩展文化历史相关的活动,谢谢!
注意:
• 活动大约两个半小时,包括步行时间。
• 中文导览
• 请提前15分钟报到。
• 活动不管是雨天或晴天都会进行
• 您不需把门票打印出来,当天到联络所的报到处签到即可。
贴心提醒:
o 请穿着舒适的衣装和鞋履。
o 请携带适合手机/mp3随身听使用的耳机(以便通过无线收听器聆听导览员的讲解)。
o 建议使用防晒用品、墨镜和驱蚊配备。请自备饮料,以便沿途饮用。
o 请自备雨具或雨衣;若逢小雨,活动还是会继续的。
o 有哮喘的参与者,请记得携带药品
防疫规定:
o 在导览的路途中,不需要戴口罩。
o 如果您不确定您的行程的话,请吧这个机会让给别人。我们的义工都是在百忙之中抽空为大家做导览。如果您报名但没参加的话,会让义工很难在为此活动付出时间。
o 如果身体不适,请不要出席此活动。到时候请取消您的票以让其他人能够报名参加
o 如果您报名但没出席的话,会被禁止参加My Community 未来的其他活动
o 请提前15分钟报到
o 只要已经完成疫苗接种的人才可以参加此活动
若想多了解中峇鲁历史街区和导览活动,或浏览过往活动的照片,请至:Facebook: https://www.facebook.com/groups/177683299032084/
谢谢您的支持!
About this event
Take a walk around Singapore's only conserved housing estate with our volunteer guides to explore the pre-war and post-war architecture and learn about the culture and arts, food and romance, as well as intriguing people and stories associated with this charming and picturesque neighbourhood.
This tour includes an exclusive visit to Singapore's first communal civilian air raid shelter in a residential estate, which saved and gave lives during the war years in 1941-42. What stories lie behind this charming conservation neighbourhood dating back to the 1930s? Who are these streets named after?
Explore the charming corners, picturesque alleys and great food offerings of Tiong Bahru with our heritage guides! Each of our walks is guided by our passionate and experienced volunteers, some of whom have lived in or around Tiong Bahru for many years. Walk with us and learn more about the rich heritage of Singapore's oldest public residential estate - from stories of prominent pioneer community leaders such as Tan Tock Seng and Tan Kim Cheng, to residents who were born in the air raid shelter during World War II, to religion and rituals, culture and food, and more.
Who should come?
• Everyone is welcome to participate in this exciting tour!
Duration & Meeting Place
• Approximate Duration: 2.5 hours
• Language: Chinese
• Please meet at Tiong Bahru Community Centre (in front of the General Office) 15 minutes before the start of the tour.
• The tour will end at the Tiong Bahru Air Raid Shelter.
• The tour will proceed rain or shine.
What to bring?
• Wear a mask, comfortable clothes and suitable shoes.
• Bring along hand sanitiser, insect repellent, EZ-Link card, a bottle of water and an umbrella.
• If you have earphones with a standard 3.5mm audio jack, please bring them along (for radio guides during the tour).
• Asthmatic individuals are encouraged to bring their inhaler.
COVID-19 Safety Precautions
• Participants must be fully vaccinated to attend our tours.
• Mask wearing is optional.
• Please do not sign up for the tour if you are unsure of your schedule. Our volunteers have committed their time to this tour - Your absence is discouraging our volunteers from organising any physical tours.
• You must cancel this ticket if you were unwell and could not turn up.
• Participants who have signed up for the tour but did not turn up will be banned permanently from My Community's future tours.
• Please arrive 15 minutes before the tour for registration.
Disclaimer
• By agreeing to participate in the tour, every participant will be responsible for any injury, loss of damage due to careIessness of other actions on his/her part or that of children under his/her charge.
• It is compulsory for a parent/guardian to accompany any child of or under the age of 12
• Videos and photographs may also be taken during the event. By registering for this event, you give My Community full rights to use the photos for marketing and publicity.
For updates:
• Follow us at @mycommunitysg on Instagram and @myqueenstown on Facebook.
• Visit mycommunity.org.sg to learn more about our initiatives.