This hybrid event is part of SAW Dialogues 2022, organised by NAC in partnership with A&M, as part of Singapore Art Week.
About this event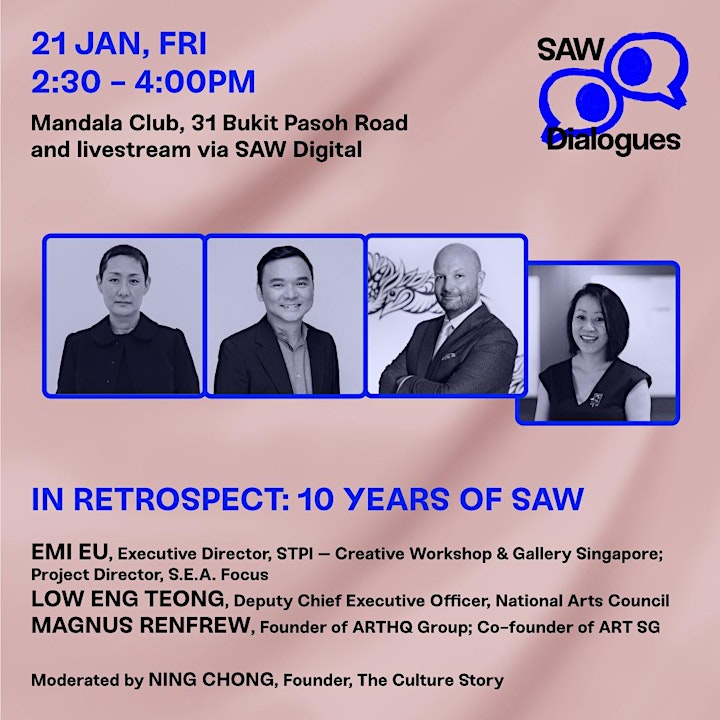 This panel discussion will reflect on the past ten years of SAW, discussing Singapore's position as a vibrant arts hub in a regional context. From a commercial perspective, three leading art professionals will share their insights on what makes a successful art week. Who benefits most from Art Week; how do we strike a balance between quality of art versus quantity of programmes; is the current model sustainable? In this pandemic-era, how will Art Week evolve and what can we look forward to in future?
Speakers
EMI EU, Executive Director, STPI – Creative Workshop & Gallery Singapore and Project Director, S.E.A. Focus
LOW ENG TEONG, Deputy Chief Executive Officer, National Arts Council
MAGNUS RENFREW, Founder of ARTHQ Group, Co-Founder of ART SG
Moderated by NING CHONG, Founder, The Culture Story.
This hybrid event takes place physically at Mandala Club(limited seats) with a virtual livestream on SAW Digital. Register to secure your on-site or online spot!
This panel is co-presented by S.E.A. Focus. More information here.

Organiser of 21 Jan | In Retrospect: 10 Years of SAW
Join us as a we take stock of current practices and gain insights from networks across local and regional art communities.
The year 2022 sees us at an inflection point, made plain in part by the effects of the pandemic. It has hurled us into a technologically sophisticated, hyper-connected future brimming with anticipation and opportunities, yet we cannot deny the dichotomies that have surfaced alongside. Responding to this overarching theme of retrofuturism, we look back while looking forward, ruminating on past lessons learned to make smarter plans for the future.
Streaming live on SAW Digital with selected physical talks at Gillman Barracks, Block 47. More information on www.artandmarket.net/saw-dialogues-2022.
SAW Dialogues 2022 features a series of talks and panels organised by National Arts Council, in partnership with Art & Market and in coordination with our stakeholders, as part of Singapore Art Week.