This hybrid event is part of SAW Dialogues 2022, organised by NAC in partnership with A&M, as part of Singapore Art Week.
About this event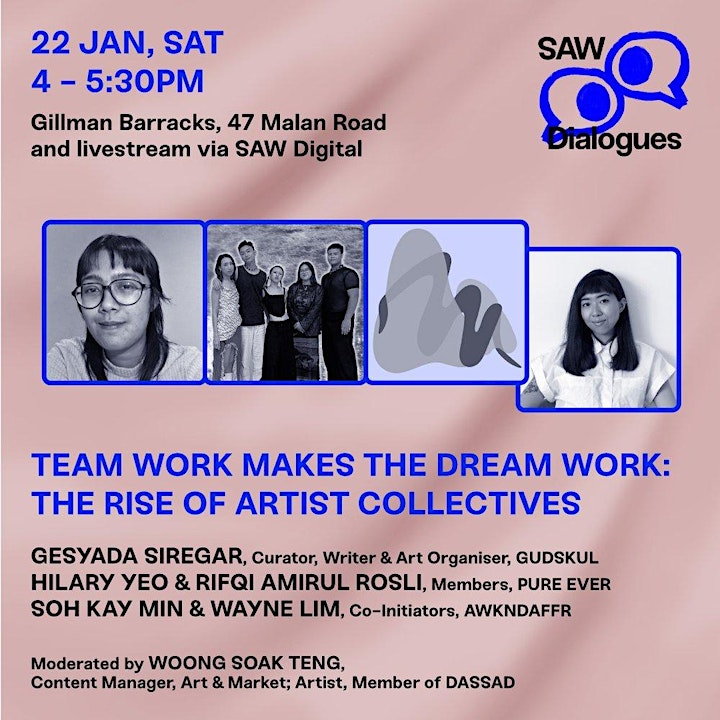 Why have artists become increasingly drawn to creating collectives? What does working in a group offer to its members, and how is an artist collective's success measured by themselves and others? We consider how these teams gain strength in numbers and work towards common goals.
Speakers
GESYADA SIREGAR, Curator, Writer and Art Organiser, GUDSKUL
HILARY YEO and RIFQI AMIRUL ROSLI, Members, PURE EVER
SOH KAY MIN and WAYNE LIM, Co-Initiators, AWKNDAFFR
Moderated by WOONG SOAK TENG, Content Manager, A&M Artist, Member of DASSAD
This hybrid event takes place physically at Gillman Barracks, 47 Malan Road, #01-21 (limited to 30 pax) with a virtual livestream on SAW Digital. Register to secure your on-site or online spot!
This panel is co-presented by Art & Market. More information here.

Organiser of 22 Jan | Team Work Makes the Dream Work
Join us as a we take stock of current practices and gain insights from networks across local and regional art communities.
The year 2022 sees us at an inflection point, made plain in part by the effects of the pandemic. It has hurled us into a technologically sophisticated, hyper-connected future brimming with anticipation and opportunities, yet we cannot deny the dichotomies that have surfaced alongside. Responding to this overarching theme of retrofuturism, we look back while looking forward, ruminating on past lessons learned to make smarter plans for the future.
Streaming live on SAW Digital with selected physical talks at Gillman Barracks, Block 47. More information on www.artandmarket.net/saw-dialogues-2022.
SAW Dialogues 2022 features a series of talks and panels organised by National Arts Council, in partnership with Art & Market and in coordination with our stakeholders, as part of Singapore Art Week.