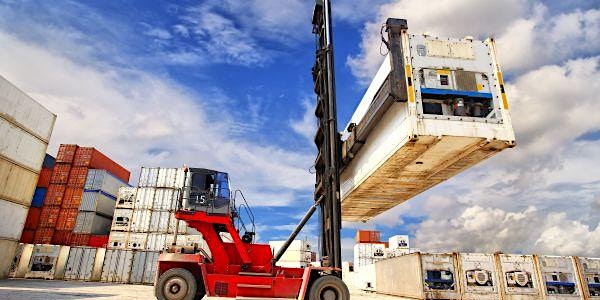 2nd GPF Executive Workshop on Reefer Container Log, 23-26 May 23 Singapore
Exclusive- 2nd GPF Executive Workshop on Reefer Container Logistics,23-26 May 23 Singapore
By Global Ports Forum Pte Ltd
Date and time
Tue, 23 May 2023 09:00 - Fri, 26 May 2023 17:00 +08
Location
Copthorne Kings Hotel 403 Havelock Road Singapore, 169632 Singapore
Refund Policy
Contact the organiser to request a refund.
About this event
Exclusively by Global Ports Forum - 2nd Executive Workshop on Reefer Container Logistics, 23-26 May 23 Singapore
Dear industry colleagues
About the Course
This 4-days Program is aimed to provide a deep understanding of the subject matter.
The course will introduce the participant to key techniques and procedures to help and avoid damage and ensure that the integrity and quality of the reefer cargoes handling in the shipment process.
Slides, photos, video clips and cases with E-Book will be used to re-enforce learning and provide participants with techniques and skills which can be easily transferred to the work place.
Course outline
Day 1
1) Introduce to Temperature Controlled/Reefer container Logistics
Basic Terminology in Reefer Container Logistics
Negligence causing big losses in maritime transport for refrigerated cargoes
Commodity Flow in a Cool chain Process – From field to consumption
Case Study: Zespri Kiwifruit cold supply chain management system
Management process of cold chain in pharmaceutical firm in Sea Freight and Air freight
Cold chain in pharmaceutical firm – A total Cold Chain Protection
Air Freight or Ocean Freight in cold chain Logistics
Refrigerated Freight Train intermodal service
Evolution of the Cold Chain Management – Unbroken Perishable supply cold chain refrigerated container shipment
Reefer Container Logistics & Cool Chain Management
Term used in Cold Chain Management
Gensets
Temperature-controlled cargo Service
-Rules & Regulations Summary
Regulations and Standards for Temperature – Controlled Supply Chains
Temperature-controlled transport operations
Refrigerated Tank Containers
Insulated shipping containers
Thermal Shipping Blankets and Liners for Cold Chain Shipping
Mega-Inliner® System
Non Operating Reefer (NOR)
The COLD BOX
PharmaPort 360 Air Freight Container
Passive Vaccine Storage Device & etc
Day 2
-Refrigerated Cargo Carrying Vessels
.General Cargo Reefer Ship,
.Multipurpose Reefer Vessel – dry and reefer Containers, reefer break-bulk and reefer project cargo.
.Reefer RORO Ship/Reefer RORO with Refrigerated Containers
.Fully Reefer Containerized Ship/Reefer-heavy box ships
.Container Ship with Reefer – capable (Normal Container + 10 to 25% of Integrated Reefer Containers in holds and on decks)
Top 10 conventional reefer ship operators
Cargo containerization and Reefer Box Fleet
-Perishable trade
Reefer Shipping Market Review
Cold Shipping in Hot Demand as the World Craves More Fresh Food
Global Perishable Goods Transportation Market 2016-2020
GDP VS Perishable trades
Share of Refrigerated Transport Capacity in Maritime Shipping: Reefer Containers vs Reefer ships
Seaborne Trade of Perishable Products
– Refrigerated Containers and Refrigerated commodities
What kind of goods should be shipped with reefer containers?
a) Chilled & Types of chilled cargo
b) Frozen & Types of frozen cargo, Key factors that affect the shipment of frozen cargo, Fresh Frozen meat storage
c) Special & Exotic Cargo, Types of special & miscellaneous cargo, Key factors that affect the shipment of special & miscellaneous cargo
Chilled (+2°C to +8°C) and ambient (+15°C to +25°C) pharmaceuticals in sea freight – active cooling (cooler engines) or passive cooling, High Value Pharmaceuticals & dedicated reefer expert team
Temperature-controlled cargo Service – Making the Right Choice for Your Cargo
– Climacteric vs Non-climacteric fruits
What is fruit Ripening & ethylene ? Factors of commercial controlled ripening
-Introducing the Reefer Container, porthole (or Con-Air) containers vs Integrated Reefer Containers,
Refrigerated container specification, Reefer Container Cooling methods, T-Bar flooring, Electricity supply, ISO Containers, Reefer Container ISO Size Type Code, Cargo Worthy Shipping Containers, International Convention for Safe Containers (CSC), The American Bureau of Shipping (ABS) – Rules for Certification of Cargo Containers;
Reefer Container – Steel vs Aluminum, Muffler Grade stainless steel (MGSS) & High Grade Stainless Steel, Cargoshell composite Reefer container; Insider the Reefer Container: Wall information, Polyurethane foam (PU Form), Container floor, ATO-certified Reefer Container for flower bulb transportation, Baffle Plate, Drain Plug and Drain hole to release water residue, Doors and walls;
Power Supply: Maintaining the Power Supply When Shipping, Power Supply – ISO 1496-2, power consumption, Transport by rail/road Truck(Typical Clip-On Genset, Typical Undermount Genset), Reefer Backup Power System, Shore power system – Electric Standby Infrastructure for Reefers, IoT-Enabled Gensets, Alternative Maritime Power(Shipboard reefer outlet, Shore Based Power when ship docked), Container Terminal – Reefer Power sources, Reefer Stacking Area, Reefer Power Packs, Container Terminal Reefer Services;
Refrigerated container train, Refrigerated boxcar/refrigerator car, Gen-Sets are used for reefer on rail;
Advanced Solar Panel for Reefer Container, Dual Refrigerated Container, Dual Refrigerated Container – Ocean transportation for biopharma products transportation
-Cooler Brand: Daikin(Japan), Mitsubishi (Japan), Carrier (USA), Thermo King(USA), StarCool ( Maersk)
Carrier Transicold's product, Thermo King's product, StarCool ( Maersk)'s product, Mitsubishi reefer container, Daikin's product
-How the reefer container works ?
Basic of Reefer cooler system, Frozen mode, Chilled mode, Bottom Air-delivery system, Components of a reefer refrigeration system, Evaporator Fans, Defrost Intervals, Temperature Sensors, Datalogger, Microprocessor-based Temperature Controller, Temperature digital display, -Temperature Management: Shipper – Temperature Management, Remote Reefer Monitoring, New reefer sensor to cater to pharmaceuticals
– Last-mile deliveries – Transport refrigeration unit :
Transport refrigeration unit(TRU), Refrigerated trailer , Reefer vans, Refrigerator truck
-Inbound & Outbound cold chain Logistics Management, Reefer cross docking
Top reefer container carriers around the world
-Benefits of using shipping containers for refrigerated transport,
– Refrigerant
Global warming potential(GWP) of the gases, Refrigerant: R-134A, EU F-GAS(Fluorinated greenhouse gases) legislation, CO2 as a Refrigerant — Properties of R744, Next generation refrigerant for container refrigeration unit, Fake Refrigerant
Day 3
-Reefer Cargo Shipments – From the booking to the delivery of refrigerated cargo
Booking, Pre Trip Inspection (PTI) of the container, Pre-treatment of Products, Pre-Cooling Cargo, Packaging, Guidelines on Packaging Perishable Products, Loading with or without cool Tunnel facilities , pre-cooling or without pre-cooling of container, Block stow of break bulk cargo, Palletized cargo stowage , stowing chilled vs frozen cargoes, Blocking and Bracing, Placing temperature recorder, Temperature setting, Fresh Air Vent Settings, Air circulation;
During the journey -On board Vessel monitoring, Reefer Terminal – Bonded warehouse Cool Room services, Handling of the refrigerated cargoes at destination, Measures to be taken during delivery to cold room, Unstuffing, Inspection & Re-distribution;
Cold Chain Practices for freight shipment, Risk analysis, Dedicated Reefer Specialists and reefer team.
Air Freighting – Cool Dolly – cool and cold transportation system, Passive air cargo covers – Thermal blankets for Boxes & etc.
– Customized reefer solutions & transportation
Day 4
-Temperature monitoring, Cool Treatment, Vapour heat treatment, Multi-Temperature system, High freezer containers, Deep Freezer Container – Dual System,
-Humidity Control, Fresh Air Exchange, AFAM – advanced fresh air management, Container Atmosphere management, One Trip Passive System, Active System,
-Modified Atmosphere vs controlled atmosphere , Ozone Enhanced Atmosphere, Ethylene filters, Automated Fresh Air Exchange System, Thermo King – AFAM+ (Automatic Fresh Air Management)
-Controlled Atmosphere and Modified Atmosphere Guidelines for Refrigerated Cargo Ships and Refrigerated Containers
-Code of Practice for handling fresh fruit and vegetables in refrigerated shipping containers
-Next-Gen cold chain transportation, Electric Field Freshness Preservation System, Electromagnetic waves Freezing Technology
-Reefer Container Monitoring and Tracking System – IT Advancements for Reefer Container Logistics Applications
-Temperature Controlled Freight Shipping – End-to-End Supply Chain visibility Global Tracking solution
-Sensors, Thermal imaging and simulation
-The 'intelligent container' and Smart Reefers
– From passive to active dynamic Control
– Smart Reefer Container
Cases: Processing of Frozen and chilled Food for export:
– Sea foods
– Banana
– Pineapple
– Dragon Fruits
Learning Objectives
By the end of this course participants will gain knowledge and skills on:
1) Understand Improper Cold Chain Management of reefer Container
2) Reefer Container Logistics – the present and trend
3) Reefer cargoes handling
4) Integrity and quality assurance
5) Reefer monitoring solution
6) Claims and incidents
Who should attend?
The course would be benefit to those who through their role or position undertake reefers container operations from:
Shipping Companies;
Shipping Agencies;
Container lessors;
Logistics and supply chain companies;
Freight Forwarders;
Third Parties logistics operators;
Importers/Exporters;
Cold chain logistics providers;
Port/ Terminal Operators.
About the Course Director (subject to final confirmation)
Mr Ng Koon Seng
Ng Koon Seng (FCA Singapore, FCCA UK, FCPA Australia) has over 30 years of experience in a global logistics, ocean freight operations and container transportation conglomerate. He has a wealth of international experience from his career in shipping, global container equipment operation; process Optimization, end to end finance system setup for the shipping business start-up operation, transformation, change management, merger & acquisitions and divestures. He was engaged by Jurong Port Pte Ltd in year 2014 as a Finance system lead and business process consultant for a Joint Venture start up Port/Terminal project, providing finance IT project management and translate user requirements into solution concept, prepare training manuals specific to each finance processes and setting up the finance organization, Multi-Purpose Port/Terminal billing system and implementation of the real time integrated Enterprise financial full system from scratch through end to end finance process innovation and design, develop innovation and out-of-box solutions, lean and digitize, user & finance-friendly administration, workflow integrated for Marunda Center Terminal - PT. Pelabuhan Tegar Indonesia, the 1st private international & domestic multi-purpose seaport which focusing in General Cargo & Bulk Cargo (dry & liquid) in greater Jakarta area. The port is a joint venture between Marunda Center Industrial Estate (www. marundacenter.com) Indonesia and Jurong Port Pte Ltd (www.jp.com.sg) a leading international multi-purpose port operator in Singapore. The integrated port billing and finance system is up and live in Marundra Center Terminal.
He was also tasked to do research on the Ports in Thailand, training, financial modelling with Activity-based costing Analysis for the Aggregates and sand Terminal project.
Mr Ng spent 25 years of his career with NOL/APL, a world leader in shipping and logistics services with annual turnover of US$8b., holding various senior management positions from liners services, special cargoes, freight forwarding, shipping agencies, manage PSA's appropriated Berth scheme for shipping consortia to global equipment operation including M&A of APL, lead Post Merger integration and transformation of the NOL/APL global equipment operation, depots, trucking, rail, land and intermodal operation which involved more than US$1.5 Billion worth of operational cost globally. Head of the NOL global equipment management and achieved significant hard core saving per company's testimonial thru dynamics operational modelling. He was also appointed as deputy general manager of its container/reefer/tank depots, fully automated warehouse (ASRS) & 3rd party cold chain Integrated FMCG Logistics, warehouses and distribution services based in Singapore. He was sent to china as deputy general manager partnering with the local management team for the setting up of the Joint Venture Shipping Services, business and operation control. He was the chief accounting officer of NOL group corporate Accounting and head of group consolidation of more than 200 of NOL's shipping/vessel/port related subsidiaries, associated and Joint venture companies globally. Lead and manage M&A project for the acquisition of a major shipping logistics corporation in China.
Mr Ng is a Fellow Chartered Accountant from Institute of Singapore Chartered Accountants, Fellow of Associate chartered Certified Accountant of UK and Fellow Certified Public Accountant of Australia. Beside undertake project work in shipping and finance, research and coaching, Mr Ng currently doing research in the area of dynamics modelling on port operation, global container transportation and empty repositioning, business process optimization, dynamics company cash flow planning and forecasting.
Thomas Ng
Thomas Ng has over 28 years of consulting experience in the ports and shipping industry. Thomas is known for developing innovative solutions for players within the ports & shipping industry, — in areas of investments advisory, port strategy, development, marketing, planning & redesign, customer services and port operations; and delivering superior results.
He is the Executive Chairman of The Global Ports Forum (GPF) since 2008. The Global Ports Forum is a platform where all ports stakeholders in the ecosystem- port customers, port authorities, port operators, port people, port suppliers & service providers are gathered together to discuss about issues furthering the interests of ports globally.
Thomas is well-respected in the ports & shipping circles — recognized for his in-depth industry knowledge and far-reaching personal industry network and linkages. Some of his recent port investments advisory work include ports in the Middle East, Africa, Southern Europe, South East Asia, Latin America, etc.
Given Thomas' far-reaching personal port industry network and linkages, Thomas is often seek out by port investors and port privatization candidates all over the world for collaborative partnership.
Thomas is invited regularly as speaker & facilitator for Ports conferences, roundtable and executive programs and workshops.
He is the senior port & terminal training expert for the Singapore Ministry of Foreign Affairs (MFA) Singapore Cooperation Programme (SCP) for foreign ports officials for over 10 years. Recent programmes conducted by Thomas include the 5 days executive program in "Port Development and Competitiveness", Singapore on 12-16 Dec 2016 where Thomas was the key trainer for over 60% of the whole executive program. Some other early SCP programmes that Thomas taught over 20 senior foreign government transport officials included the 2 weeks Singapore MFA Executive Programme in Logistics & Distribution Management on 28 Aug – 10 Sep 2007 & again on 6 Oct – 17 Oct 2008.
Thomas spoke recently at the Transport Intelligence Singapore 2013 Infrastructure panel, together with senior executives from the World Bank & UPS, the Container Depot Association Singapore Conference 2014 on ports and infrastructure, Tank Storage Asia Conference in 2015 and an exclusive Roundtable on Smart ports & ships and Internet of Things in Jun 2016.
On a professional level, Thomas is a veteran Chartered member of the Chartered Institute of Logistics & Transport Singapore since 2001. He is also a Board Member of the Singapore Branch of Chartered Institute of Logistics & Transport for over 18 years.
15th GPF Anniversary Special. Pay for Two participants, another Two comes free. No other promotion applicable.
Costs:
On or Before 23 Mar 2023: The 'Early Bird' Rate is USD6590 – Save USD800!
Special Offer! – 3 Delegates For The Price of 2 in This Category! Save USD6590!
From 24 Mar 2023: The Regular Rate is USD7390
Special Offer! – 3 Delegates For The Price of 2 in This Category! Save USD7390!
Note: All fees stated include luncheons, refreshments and complete set of documentation. It does not include the cost of accommodation and travel.
REGISTER NOW!
To register, please submit the following details to thomasng@globalportsforum.com:
Name:
Position:
Organisation:
Address:
Tel:
Fax:
Email:
What Best Describes Your Industry Sector?:
Billing information:
For cheque payments: To be made payable to 'Global Ports Forum Pte. Ltd.' Please do not send post-dated cheque.
For telegraphic transfers:
Account Name:             Global Ports Forum Pte. Ltd.,  
Account No. :                695 477 141 001.
Beneficiary Bank:          Oversea-Chinese Banking Corporation Limited, Singapore. (Swift: OCBCSGSG),
                                    Address : 65 Chulia Street #01-00, OCBC Centre, Singapore 049513.
Please supply confirmation via email of the TT from your bank. Transmitting bank charges must be paid by sender. Please quote both delegate and company name as reference.
Kindly note that as we are providing a special rate for 'early bird' sign up, we will need to receive your company payment by 23 Mar 2023 to enjoy the discount.
Looking forward to welcoming you and your colleagues at the executive workshops/forums!
Kind regards
Thomas Ng
Chairman
The Global Ports Forum
GLOBAL PORTS FORUM PTE. LTD.
10 Anson Road
#18-11
International Plaza
Singapore 079903
Website: http://www.globalportsforum.com/
DID:    +65 65197662
Fax:    +65 6725 8438
Email:  thomasng@globalportsforum.com
Terms & Conditions:
No delegate registration will be accepted without completing registration details and full payment.
Upon receipt of your registration details and full payment, further programme information will be emailed to you including your proforma invoice and, if required, a letter of invitation for entry visa application.
Delegates will not be admitted unless payment has been received in Full.
Flights, Airport Transfers and Accommodation are not included in your delegate registration fee.
Refund Policy - a reimbursement of the registration fee, minus administrative charges will only be made if the participant has notified Global Ports Forum Pte. Ltd. in writing that he/she is unable to attend the event no less than 45 days prior to the commencement of the event. No cancellation is allowed after that, but a replacement with another participant is allowed.
This programme is subject to change without notice, E&O.E.
About the organiser
Global Ports Forum Pte Ltd
(GPF) is committed to improving global ports and furthering the interests of ports globally!
GPF offers an overview of emerging trends in the ports industry covering ports, harbours and terminals across the globe.
Collaborating with Port Authorities around the world, the Global Ports Forum today bring together members from the ports ecosystem and organises quality port related events, executive workshops and short courses.
Working in collaboration with our senior port experts, we also provide port consultancy services, feasibility studies, survey and research.
Yours sincerely,
Thomas Ng
Global Port Singapore