3-Days Review and Exam Workshop

Monday, 5 September 2016 at 09:00

-

Wednesday, 7 September 2016 at 17:00 (Singapore Standard Time Singapore Time)
Event Details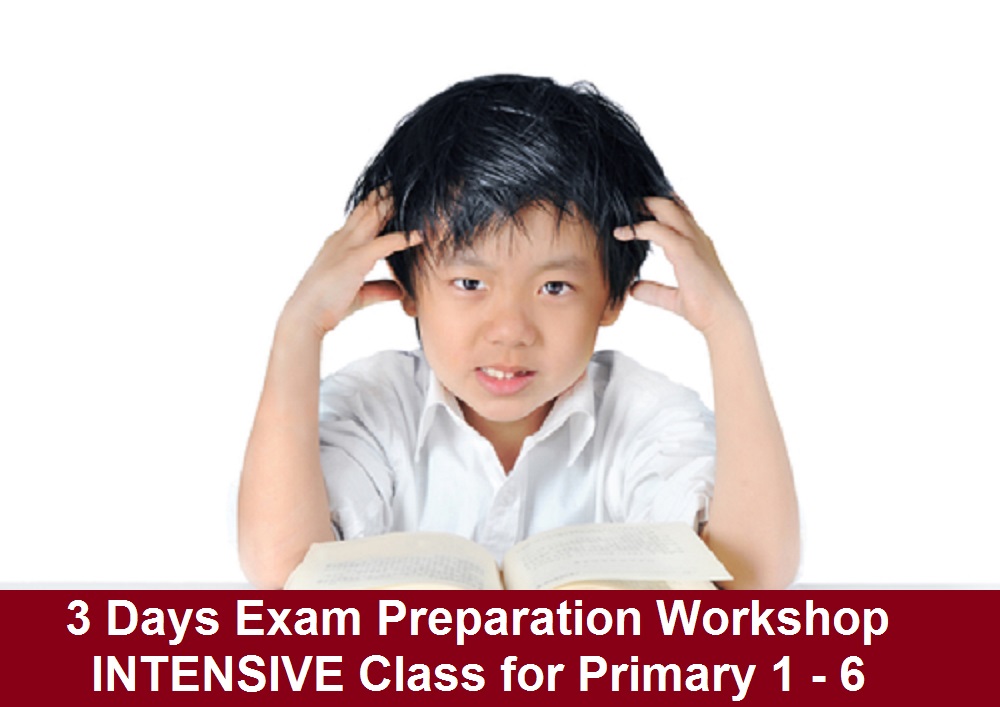 With a balanced mix of MOE Mathematics curriculum review and problem solving, MathsExCEL 3-Days Exam Review Workshop is just the thing to get you exam-ready. After reviewing each topic of the Mathematics curriculum, instructors use problems and exam-like questions to help reinforce your knowledge, practice your exam techniques, and improve your exam-taking skill and speed. It exactly what you need during the final weeks of preparation in order to build your confidence and perform effectively on the Mathematics exam. 

For MathsExCEL students, $50 rebate will be deducted from the next tuition fee

Materials & light refreshments will be provided

15 students : 2 tutors
---
Primary 1 & 2
 

9:00am - 11:00am (2 hours)

$180 per student
Primary 3 & 4
11:30am - 1:30pm, (2 hours)

$180 per student
Primary 5 & 6
2:00pm - 5:00pm, (3 hours)

$220 per student
WHAT WILL YOUR CHILD LEARN
3 full days of exam preparation

Thorough review of key topics

Extensive work with practice questions and answer techniques

Instructor exam tips and strategies

Review Workshop Workshop Set 

Exam Workshop Mind Maps Book (Review Slides)

Exam Workshop Questions Book (Practice Questions)
THE TRAINER
NAME: MDM SITI SUHAILAH
Suhailah is the author of the Step-by-Step Model Drawing Series. She trains tutors, teachers, parents and students in various heuristics concepts and applications, with special focus on pupils in their critical year (PSLE). She also conducts heuristics workshops for parents and educators. Self-trained Suhailah taught primary Maths, in various streams, for more than 17 years in the 90s. During that time, she observed how today's transformed primary Maths syllabus stumped students, parents and, sometimes, even teachers. 
---
contact us:
t: (65) 6291 0656, (65) 9457 5811, f: (65) 6491 5960
MathsExCEL.com | MathsExCEL - Making Math Easy | ask@MathsExCEL.com
When & Where

MathsExCEL Educational Centre
734 North Bridge Road
#02-02
SINGAPORE 198702
Singapore

Monday, 5 September 2016 at 09:00

-

Wednesday, 7 September 2016 at 17:00 (Singapore Standard Time Singapore Time)
Add to my calendar
Organiser
-------------------------------------------------------
An education centre specializing in Singapore Math model drawings using the clear and simple conceptual approach for primary school (P1 - P6) students. 

We offer classes from Pre-School, Primary & Secondary.
-------------------------------------------------------
OUR SERVICES
SMART Tots - English & Math (K1 & K2) 
SMART Math (Pri & Sec)
SMART Science (P3 - P6)
SMART Science - Phy & Chem (Sec)
SMART English Creative Writing (P1 & P2)
Model Drawing for Parents (Termly)
Enrichments Programme
Tutor's Programme
-------------------------------------------------------
9457 5811 
ask@SmartExcel.sg