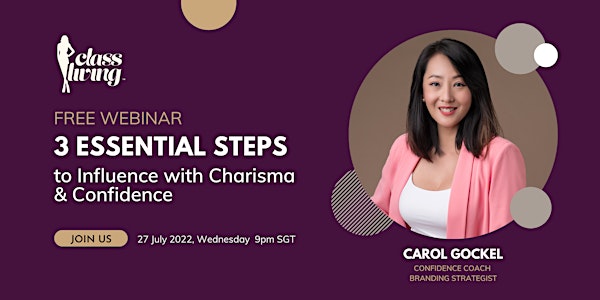 3 Essential Steps To Influence with Charisma & Confidence!
Standout and influence with charisma and confidence in this visual world with these 3 steps.
About this event
NOTE: This online meeting will be conducted "LIVE". that is why you need to Register with your accurate particulars in order to access the link.
We live in a visual world where it takes seconds for people to form an impression, even an opinion of someone just by looking at how they present themselves externally.
With social media a mode of daily living, how you are seen, the image that you project need to influence and exude charisma and confidence to gain likeability and trust.
Being able to influence is essential to reach your target audience and potential customers sets your apart from the crowd.
Learn how to stand out with these 3 essential steps you can apply immediately at this webinar.
Sign Up for the FREE Webinar NOW.
If you are looking to stay in the background, stay invisible and hidden. Then this isn't for you.
This is for WOMEN who are looking to:
Dress for success
Wear colours with confidence
Attract your ideal customers
Elevate your current style
Show your credibility & authority
Then you are on your way to your dream life.
Sign up for this webinar now!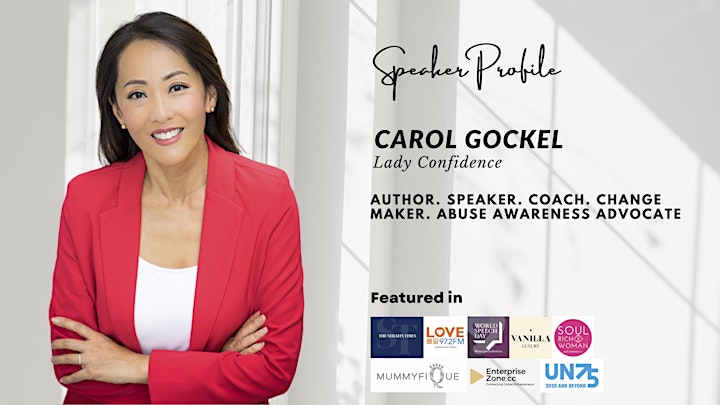 Author. International Speaker. Coach. Community Leader. Change Maker.
These are the words that described Carol Gockel's work yet those words aren't in her vocabulary as a female growing up in Singapore.
Plagued by severe acne in her adolescent years left deep scars both physically and emotionally. With her self esteem crushed, it motivated her to attain in depth proficiency in skincare, makeup and personal development to regain her confidence. Those knowledge attained became the foundation of her work as a Coach.
Carol's mission now is to help women to RISE with CONFIDENCE to live their dreams without the fear of judgement, restraints and feeling inadequate with her methodology .
Credentials:
• NLP Coach and Practitioner with American Board of Neuro Lingustic Programming
• Certified Style Coach with Style Coaching Institute, London
• Certified Makeup Artist with Carrie Academy
• Certified Ho'oponopono Practitioner
• Community Team Leader at Women of Courage Asia
SUCCESS STORIES & TESTIMONIALS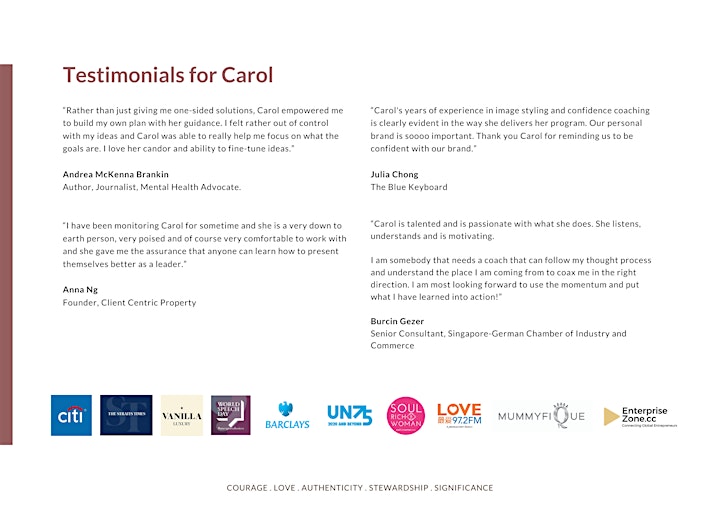 REGISTER NOW!
*NOTE:
IN ORDER TO RECEIVE THE LINK & DETAILS, PLEASE MAKE SURE YOU SUBMIT YOUR ACCURATE PARTICULARS.