Looking to pick up a new skill/hobby? Try Modern Calligraphy! This class is perfect for all beginner/intermediate learners.
About this event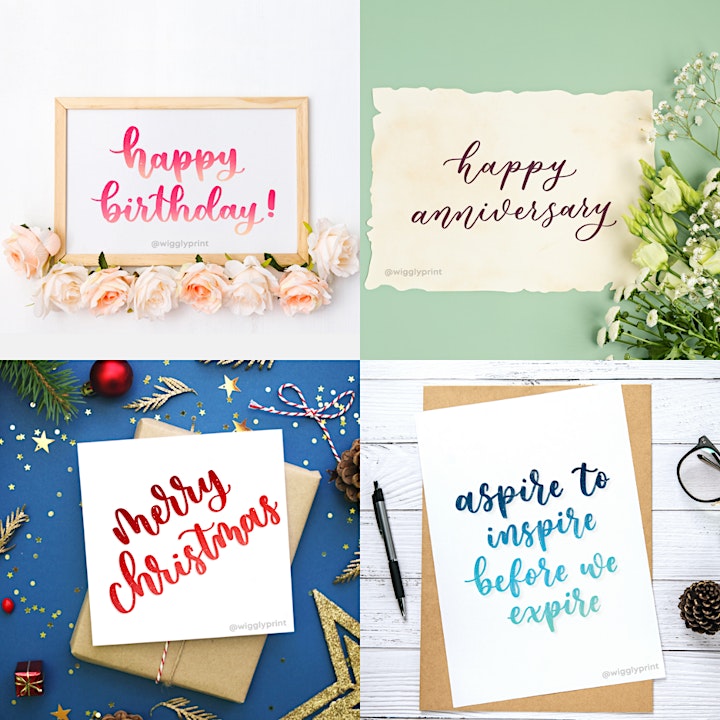 Beginner/intermediate Modern Calligraphy Class
⭐A 3-hour session that covers everything that you need to know about Modern Calligraphy as a beginner/intermediate learner.
⭐Only 10 pax per class for a more personal and engaging learning experience.
⭐Bring A Friend Promotion⭐
Bring a friend (or more) to enjoy the discount of $30/pax instead of the normal price ($49.99)! Do provide your friend's details (name, email, phone number)by sending us an email at wigglyprint@gmail.com.
Are you looking for an extra source of income stream or would like to pick up a new hobby or learn something new?
Well, if you love that modern calligraphy look that you keep seeing everywhere and you'd like to have a go at creating it yourself then look no further to our 3-hour class here.
What will be covered?
- Advanced fundamental strokes
- A-Z lower + uppercase letters
- Combining difficult letters
- Take-home practice worksheets (30 pages)
- 1-on-1 feedback on worksheets
You will receive 30-pages worth of printable guided worksheets to practice on during the class. Practice them after the class and receive constructive 1-on-1 feedback on your work to further improve your skills.
*Workshop materials and Zoom link will be sent to your email 1 week prior to the class.
ORGANISER:
WigglyPrint (https://wigglyprint.com/) is a creative platform started by two sisters. Our aim is to help to inspire more people through creative artworks, from business owners to any individuals who wish to communicate their message better via the word of art.
For more artwork, you can visit us at:
Instagram: https://www.instagram.com/wigglyprint/
NFTs: https://opensea.io/WigglyPrint