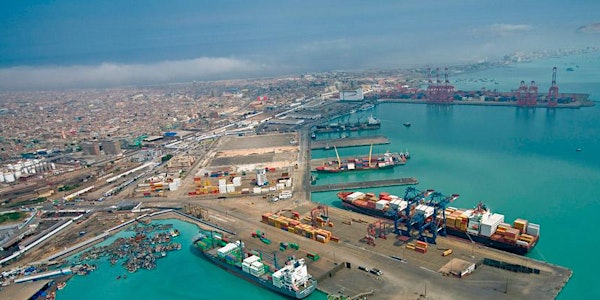 3rd EW on Investm Strategies for Green / Brown Field Port Proj, 11-12 Sep23
Global Ports Forum presents – 3rd GPF Executive Workshop on Investment Strategies for Green / Brown Field Port Projects, 24-25 Feb 23, SPR
By Global Ports Forum Pte Ltd
Date and time
Mon, 11 Sep 2023 09:00 - Tue, 12 Sep 2023 17:00 +08
Location
M Hotel Singapore Anson Road Singapore, 079908 Singapore
Refund Policy
Contact the organiser to request a refund.
About this event
1 day 8 hours

Mobile eTicket
Global Ports Forum presents – 3rd GPF Executive Workshop on Investment Strategies for Green / Brown Field Port Projects, Sep 11-12, 2023, Singapore
Dear industry colleagues
SIGN UP TODAY !
About the Course:  
This two days training program is focused on Pre-­commencement of Port business usually about 3 years in advance of intended start­up. Port business is a capital intensive and long term project with relatively high gestation period. A long period prior to commencement of the business, a lot of preparations on part of the promoters and investors and all related stake holders are essential.
Objective of this program is to provide a clear perspective and development horizons of the Port Project to the decision makers and supporting personnel responsible for the Project.   
Deliverables:
At the end of this course, the participants will be able to:
Identify elements of Maritime Infrastructure and estimate investment required.
Understand National PPP policy for Maritime Infrastructure Development.
Analyze Model Concession Agreement to make them more Investment friendly.
Learn the elements of Detailed Project Report for a Port Project
Prepare Hinterland Mapping for a Port Location
Work out Business Volume Forecast for Port with logical assumptions
Arrive at a basic financial model for Port Project Report  
Methodology:  
A combination of Class room Training, Interactive workshops, Individual and group case studies will be used. Participants will be provided with advance study / reading material on each topic covered under deliverables.
Policy Related:
Each participant will be encouraged to prepare and make a presentation in accordance with participant's regional geo­economic conditions, national policies and local practices. Group studies will be done based on inputs from individual presentation and group findings will be presented during the interactive discussions. Group discussions will be duly moderated. These group discussions would enable the participants to arrive at comparative analysis of: Maritime Infrastructure, Investment options and PPP practices, Concession Agreements / investment friendly incentives in different parts of the globe.
Project Investment and Appraisal Related:
Participants will be provided with a blank structure of Detailed Project Report (DPR) for a Port. Thereafter, they will select a port location form their region and prepare natural hinterland which is targeted for generating cargo volume for the port. While preparing Hinterland Mapping, each participant will take into account outputs from Mineral, Agriculture, Manufactured goods and existing infrastructure linkages with the Port location. When possible, participants will also include planned linkages. The linkages cover Pipelines, rail and road network.  Based on Hinterland Mapping for each participant's region, groups of participants will prepare business volume forecasts for the port project. Case study will be provided for a group exercise to prepare Financial Model for a Port project. In order to create real­life simulation, periodic variations in business volume / revenue may be introduced during the Financial modelling exercise.
Structure:
The course is structured in four sessions:
Session1:
This covers Port Development Perspective and Elements of Maritime Infrastructure. Level of port infrastructure and investment required in order to cater to the market requirement. It will also address the National PPP Policy for Port infrastructure development.
Session 2:
This session covers Concession Agreements for Port Development. In order to attract private investments for Port development, most of the maritime nations offer attractive terms under Concession Agreements for port development. Draft / model Concession Agreements from different regions will be analysed and discussed in the interactive session.
Session 3:
Assessment of market and estimation of business volume for the port is the fundamental and first step in the process of port development. This session covers methodology and structure of market assessment. It also covers mapping of port's hinterland, identification of infrastructure linkages, competition analysis and preparing USP for the proposed port. Business Volume consists of traffic in metric tons and revenue which form the basis of further evaluation and preparation of Financial Model and Detailed Project Report.
Session 4:
This session addresses the subject of Financial Modelling. Based on the inputs from earlier sessions, basic financial model for the port project will be prepared by the participants themselves. This will be done by way of a group case study in which participants will be encouraged to make Business Volume estimation, detailed costs of the project, Income – Expenditure – Profit & Loss and arrive at Financial viability of the Port investment. Financial results of alternate investment options help the decision makers to arrive at optimum decisions in Green / Brown field Port Projects.    
Endorsement for the executive workshop from past participants:
"Excellent workshop – case study was related to real port developments & operations. We get to appreciate strategic investment feasibility."
Ahmad Damanhury Bin Ibrahim, Head of Ports Projects, Westports Malaysia Sdn Bhd
"We got to understand measurement of lease payment to port authority, leant the need of detailed port project and understand the prerequisite of information to engage the government involved for concession agreement."
Veeranaidu A/L Ramandu, Head of Finance, Westports Malaysia Sdn Bhd
"Learnt the full processes involved in investment decision making and had the chance to interact among the participants and understand further on the few key areas of greenfield/brown field port projects."
Vijaya Kumar A/L S Puspowanam, Former Head of Marketing (Container & Conventional), Westports Malaysia Sdn Bhd
Who should attend:
Port Authorities; Port / Terminal developers, Port operators; Port investors, Banks, PE, Financial Institutions; Port Service providers; Shipping Companies, Forwarders, Logistics companies, Intermodal Service providers; Port Equipment Suppliers; Port Designers / Planners; Port Consultants
About the Course Director: (subject to final confirmation)
Mukesh Parikh
Mr. Mukesh Parikh is associated with Global Maritime Industry for over 40 years. He has a distinction of having hands on Maritime Industry experience with continuous involvement in Training and Development throughout his distinguished career.
He has been conducting a number of executive training programs on ports and terminals at Singapore, UAE, South Africa and other international locations, in addition to his current position of Adjunct Professor at Adani Institute of Infrastructure Management.
Mr. Mukesh Parikh has a post graduate degree in Management with specialization in Marketing and Finance. He attended one year training program Professional Shipping at Norwegian Shipping Academy, Oslo.
During his career of 18 years in the Commercial Shipping, he was associated with UNCTAD/UNDP as a Trainer and Course developer. He attended two weeks instructors' Workshop (Training for Trainers) organized by UNCTAD / UNDP in collaboration with The Ministry of Transport and Ports in Malaysia at Penang Port Commission. He conducted a number of training Programs in the Middle East, South East Asia and Indian subcontinent including developing a training program on General Shipping Management for Arab Maritime Transport Academy, Sharjah, UAE.A sound foundation of Shipping Industry and clear understanding of market and customer expectation and requirement from service providers enabled Mr. Mukesh Parikh to build the next phase of his career in Ports and Terminal Industry.
He worked with The Adani Group in Senior Management position for 10 years from the inception stage of Mundra Port in India and made a major contribution to set up Business Development and Marketing team as well as establish Standard Operating Procedures for the entire spectrum of Operations in the port. He successfully built marketing and operations teams and trained them.
Since July 2014, Mr. Mukesh Parikh has taken up advisory and consultancy role for The Maritime Industry. His assignments cover Business volume estimation and hinterland mapping with competition analysis, Revenue forecasts for the life of the project and financial modelling, investment optimization in line with market potential; Commercial and legal aspects of logistics, cargo handling, warehousing contracts; business excellence and standardization of operating procedures; Organization development, structuring and Manpower planning and training. He has also advised a number of clients about the Concession agreements and entering in to sub-concessions.
Thomas Ng
Thomas Ng has over 28 years of consulting experience in the ports and shipping industry. Thomas is known for developing innovative solutions for players within the ports & shipping industry, — in areas of investments advisory, port strategy, development, marketing, planning & redesign, customer services and port operations; and delivering superior results.
He is the Executive Chairman of The Global Ports Forum (GPF) since 2008. The Global Ports Forum is a platform where all ports stakeholders in the ecosystem- port customers, port authorities, port operators, port people, port suppliers & service providers are gathered together to discuss about issues furthering the interests of ports globally.
Thomas is well-respected in the ports & shipping circles — recognized for his in-depth industry knowledge and far-reaching personal industry network and linkages. Some of his recent port investments advisory work include ports in the Middle East, Africa, Southern Europe, South East Asia, Latin America, etc.
Given Thomas' far-reaching personal port industry network and linkages, Thomas is often seek out by port investors and port privatization candidates all over the world for collaborative partnership.
Thomas is invited regularly as speaker & facilitator for Ports conferences, roundtable and executive programs and workshops.
He is the senior port & terminal training expert for the Singapore Ministry of Foreign Affairs (MFA) Singapore Cooperation Programme (SCP) for foreign ports officials for over 10 years. Recent programmes conducted by Thomas include the 5 days executive program in "Port Development and Competitiveness", Singapore on 12-16 Dec 2016 where Thomas was the key trainer for over 60% of the whole executive program. Some other early SCP programmes that Thomas taught over 20 senior foreign government transport officials included the 2 weeks Singapore MFA Executive Programme in Logistics & Distribution Management on 28 Aug – 10 Sep 2007 & again on 6 Oct – 17 Oct 2008.
Thomas spoke recently at the Transport Intelligence Singapore 2013 Infrastructure panel, together with senior executives from the World Bank & UPS, the Container Depot Association Singapore Conference 2014 on ports and infrastructure, Tank Storage Asia Conference in 2015 and an exclusive Roundtable on Smart ports & ships and Internet of Things in Jun 2016.
On a professional level, Thomas founded the non-government voluntary organization — The Global Ports Council (GPC) in 2008. As of today, over 192 C-level executives globally presents themselves as members of our council. Our prestigious list of Council members are as follows:
http://globalportsforum.com/the-global-ports-council/
Thomas is also a veteran Chartered member (since 2001) of the Chartered Institute of Logistics & Transport Singapore. He serves as a Board Member of the Singapore Branch of Chartered Institute of Logistics & Transport for over 16 years.
15th GPF Anniversary Special. Pay for Two participants, another Two comes free. No other promotion applicable.
Costs:
On or Before 11Jul 2023 :               The 'Early Bird' Rate is USD3995 – Save USD800!
Special Offer! – 3 Delegates For The Price of 2 in This Category! Save USD3995!
From 12 Jul 2023 :                          The Regular Rate is USD4795
Special Offer! – 3 Delegates For The Price of 2 in This Category! Save USD4795! 
Note: All fees stated include luncheons, refreshments and complete set of documentation. It does not include the cost of accommodation and travel.
REGISTER NOW!
To register, please submit the following details to thomasng@globalportsforum.com:
Name: Position:
Organisation:
Address:
Tel:
Fax:
Email:
What Best Describes Your Industry Sector?:
Billing information:
For cheque payments: To be made payable to 'Global Ports Forum Pte. Ltd.' Please do not send post-dated cheque.
For telegraphic transfers: 
Account Name:             Global Ports Forum Pte. Ltd.,   
Account No. :                695 477 141 001. 
Beneficiary Bank:          Oversea-Chinese Banking Corporation Limited, Singapore. (Swift: OCBCSGSG),
Address : 65 Chulia Street #01-00, OCBC Centre, Singapore 049513.
Please supply confirmation via email of the TT from your bank. Transmitting bank charges must be paid by sender. Please quote both delegate and company name as reference.
Kindly note that as we are providing a special rate for 'early bird' sign up, we will need to receive your company payment by 11 Jul 2023 to enjoy the discount.
Looking forward to welcome you to our executive workshops/forums. 
Kind regards
Thomas Ng
Chairman
The Global Ports Forum
GLOBAL PORTS FORUM PTE. LTD.
10 Anson Road
#18-11
International Plaza
Singapore 079903
Website: http://www.globalportsforum.com/
Mobile: +65 9684 3289
DID:    +65 65197662
Fax:    +65 6725 8438
Email:  thomasng@globalportsforum.com
Terms & Conditions:
No delegate registration will be accepted without completing registration details and full payment.
Upon receipt of your registration details and full payment, further programme information will be emailed to you including your proforma invoice and, if required, a letter of invitation for entry visa application.
Delegates will not be admitted unless payment has been received in Full.
Flights, Airport Transfers and Accommodation are not included in your delegate registration fee.
Refund Policy - a reimbursement of the registration fee, minus administrative charges will only be made if the participant has notified Global Ports Forum Pte. Ltd. in writing that he/she is unable to attend the event no less than 45 days prior to the commencement of the event. No cancellation is allowed after that, but a replacement with another participant is allowed.
This programme is subject to change without notice, E&O.E.
About the organiser
Global Ports Forum Pte Ltd
(GPF) is committed to improving global ports and furthering the interests of ports globally!
GPF offers an overview of emerging trends in the ports industry covering ports, harbours and terminals across the globe.
Collaborating with Port Authorities around the world, the Global Ports Forum today bring together members from the ports ecosystem and organises quality port related events, executive workshops and short courses.
Working in collaboration with our senior port experts, we also provide port consultancy services, feasibility studies, survey and research.
Yours sincerely,
Thomas Ng
Global Port Singapore