5 Secrets to SUPERBOOST Your Presentation Skills by 500% CAUTION: If you attend this session your presentations will never be the same again
About this event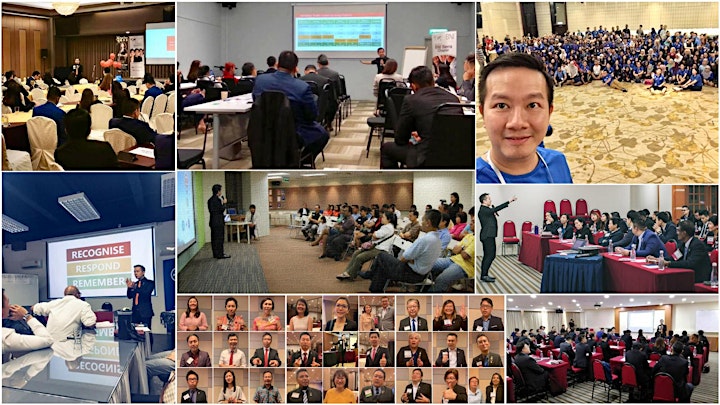 5 Secrets to SUPERBOOST Your Presentation Skills by 500%
CAUTION: If you attend this session, your presentations will never be the same again!
Who is Cheanu?
Cheanu Chew is better known as the "Remote Groceries Shopper" whose post had been viralled and received a multitude of media coverage from the likes of:-
The Star, The Smart Local Malaysia, RedChili21 MY, 马来西亚星洲日报 Malaysia Sin Chew Daily, China Press (中國報), Astro AEC 新闻报报看, Astro AEC 八点最热报, Moretify, 988, WORLD OF BUZZ, MY (Malaysia), Yahoo Singapore, TheAsianParent
...and many more social media coverage from Singapore to Philippines and South Korea.
Original (viralled) post: https://www.facebook.com/cheanu/posts/10156980610255848
What does Cheanu do?
Cheanu has been presenting to live audiences as part of his passion, and he has been doing this every week for more than 15 years. His skillsmanship in stage mastery, and capturing audiences has been recognised by large networking and business referral organisations, as well as in the business and coaching community. 
He conducts trainings and coaching to business owners, salespeople and especially those who rely on their presentation skills to increase their income and business connections with potential business partners and investors. 
It might be a fact that not everyone is good in presenting to live audience, or able to capture their attention and interest; but what makes presenting challenging is our lack of awareness and preparedness before the presentation. From his years of experience in speaking and training, Cheanu will share juicy tips and practical strategies that you can immediately apply, tweak and improve your presentation skills. 
These tips are especially useful for:
businesspeople who need to present their business plans or company visions with a more compelling approach
young adults who are establishing their career and often need to present their ideas their co-workers
salespeople who rely heavily on their presentation skills before a sale is made
network marketers who want to move away from the traditional sales pitch and expand their recruitment with their own personalized stories
High Impact Presentation workshop by Cheanu Chew
This workshop is designed to offer you ready-to-use practical tips that will permanently set you apart to be an awesomely outstanding presenter. Learn how to win your audience over and to engage them while making an impact with our black-belt presentation skills.
If you can turn just ONE "maybe" into "YES" among your clients, this workshop would have been well worth it! Present better, sell more, and grow your client base with these black-belt presentation skills that have been tested and proven to work effectively!
For a limited time only, Cheanu is sharing what he learnt throughout his 15 years of presenting and delivering speeches, to a closed group of participants.
What will you get as a participant of this Special Workshop?
You get exclusive access to live streams from Cheanu Chew on how to apply these learning in your profession
Meet other passionate learners, entrepreneurs and students who are committed to growth
Peer-to-peer support and a network of like-minded people who are committed to growth and learning together with you
You get to stay in a closed community for unlimited replays of all our past live streams for unlimited revisions
You get free access to all upcoming live streams and trainings in the future as long as you are within this closed community
Reserve your spot today and SUPERBOOST your Presentation Skills by 500% with these 5 Secrets!
Date and time
Location
Refund policy
Organiser of 5 Secrets to SUPERBOOST Your Presentation Skills by 500% [10 July 2020]