Description
If you are trading for some time but has yet to achieve consistent returns on your portfolio, it's time you should relook into the process of how you build up your trades. By incorporating simple to apply concepts in your process will help to attain the consistency you have been seeking.
In this seminar, Jay will showcase a 5-steps blueprint that incorporates tools of analysis with prudent money management and winning psychology that has allowed him to build consistent performing trades month after month.
You will learn:
Why Most Retail Traders Fail
Building Blocks Of A Successful Trader
How To Find Star Performing Stocks
How To Choose A Fundamentally Good Stock In Just 10 Minutes?
How Can Incorporate Technical Analysis To Identify Rewarding Areas For Entry?
How Can Money Management Directly Affect Your Portfolio Outcome?
Seminar Outline
Why Most Retail Traders Fail?
The habits and work process of a professional trader vs a retail trader.
How professional traders get their edge consistently?
Building Blocks Of A Successful Retail Trader
The need to have a work flow & a structured trading process.
The 3 M's framework behind a successful trader.
Why should a retail trader choose consistency over higher returns?
5-Steps Blueprint (To Build A Consistent Performing Portfolio)
How to find the star performing stocks?
How to make sure that the stock is in a primed for a big move?
How to identify a fundamentally good stock?
How to use technical analysis to identify the good areas for entry?
How money management strategies affect your portfolio?
Money Management: Risk Game
There will be a live "game" segment with you to illustrate how money management can directly affect your portfolio.
Who should attend this workshop:
Intermediate traders and investors who:
Have basic knowledge on trading/investing

Have invested or traded but are trying their best to be profitable consistently
Strictly limited seats only. No refreshments provided.
About the speaker: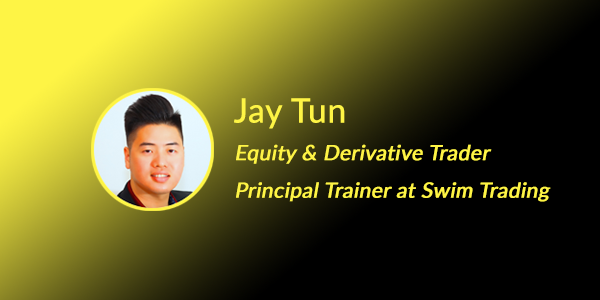 Jay Tun is an independent trader who seeks to educate through his own trading successes and missteps, Jay began his own trading journey at the age of 23.
He is a self-taught trader who has read more than 100 books on trading and investment since college and models his trading methodologies after several veteran traders.
Jay has since amassed 7 years of experience trading in different market conditions with consistency. Of the many disciplines in trading, he specializes in selling options and swing trades on equities, currencies & futures.
Hundreds of retail traders from Singapore & Malaysia have benefitted from his Swim Trading Tutorial. Being well trained to understand market forces, master the necessary tools for analysis and having developed a defensive psychology alongside with prudent money management strategies, his graduates are able to create an additional income consistently.
Jay is actively involved in speaking engagements in Singapore and Malaysia. You can connect with him at www.jaytun.com.