5 STEPS TO ACHIEVE YOUR PHYSICAL FREEDOM
Transform the way you feel about your body, mind & soul
About this event
NOTE: This online meeting will be conducted "LIVE". that is why you need to Register with your accurate particulars in order to access the link.
You don't need more information, a new diet, or an exercise gadget.
What you need is change: a new approach, a new freedom mindset, and a new system to lose that weight without suffering or guilt.
The 5-step Body Freedom Method consists of practical, achievable, and sustainable changes that lead to long-term success.
You can look and feel your best without falling victim to some fad or short-lived diet.
The body freedom method is designed to cut through all the noise out there, eliminate the hype and provide you with a simple yet tangible plan to finally lose weight holistically.
This is for you if you are ...
Lacking motivation and support
Struggling to lose weight or keep it off for good
Hating the way you look in the mirror
Feeling tired all the time
Depending on diet pills and diet shakes
What you will learn
How to find your long-term motivational factor so that you will exercise and eat healthier consistently and stop procrastinating
How to personalised your nutrition and fitness plan that works for your body and your lifestyle
How to reframe your mindset so that you can pick yourself back up when you fall off the wagon
Are you ready to finally take control of your life?
It's time. You know it is. You got this. I'm here to help.
5 steps, simple, achievable goals, and support.
Enroll in this 5- STEP TO ACHIEVE YOUR PHYSICAL FREEDOM NOW!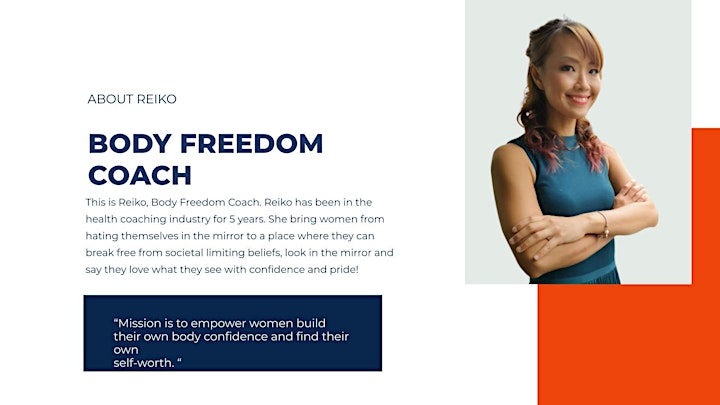 SUCCESS STORIES & TESTIMONIALS
"Reiko helped me to work on my inner health, pushed me to go beyond my limits and be a better version of myself." ~ Vanessa, Nurse
"Reiko was always there for me when my mental well-being was being challenged, she gave me motivations when I feel like giving up." ~ Aishah, physical therapist assistant
"Reiko connects with me very well, she helps me remain motivated in my journey and always checks in with me on my mental state and my progression." ~ Jeslin, Admin
REGISTER NOW!
*NOTE:
IN ORDER TO RECEIVE THE LINK & DETAILS, PLEASE MAKE SURE YOU SUBMIT YOUR ACCURATE PARTICULARS.