5 Strategies to Easily Motivate Your Child for Success
About this event
5 Strategies to Easily Motivate Your Child for Success
12 Aug 2021
8pm - 9:30pm
Synopsis
Do you want to motivate your child to do well in their studies?
Are you interested to know your child's strengths and giftedness?
Do you want to set your child up for success?
If your answer is 'YES' to these 3 questions, then come and attend this webinar to find out more. The answer to these questions is amazingly simple!
Every child is unique and has his/her own communication and behavioural style.
Parents need to know what their child's communication style is so that they can use certain phrases that are framed in their child's behavioural language to communicate with them.
This way of communication motivates their child to do many things, including their studies willingly.
Learn these skills at the webinar:
Understanding your child's strengths and giftedness
Communicating in your child's behavioural language
Setting your child up for success
Speaker:
Andrew Soong has more than 15 years of speaking and training experience. He is also a father of two sons and brings with him a wealth of more than 30 years of parenting experience. Andrew considers himself to be a 'Bridge Builder' of parent and child relationships. He has been interviewed on the topic of Parenting on Money Mind CNA938 radio, and spoken to groups of parents in USA, Europe, Africa, Middle East, and Asia. He has helped to bridge the communication and relationship gap between many parents and their children. Andrew is a certified Speaker, Trainer and Coach and an Executive Director of the John Maxwell Team. He is also a certified Human Behavioural Analysis Trainer and Consultant.
Personal Data Protection Act (PDPA)
In filling this form, I consent to the collection, storage, retention, adaptation , modification, reading, retrieval, use, transmission, blocking, erasure or destruction ('Processing') of the personal data provided by me in this Form ('Personal Data') for the purpose of communicating information and publicity related to this "5 Strategies to Easily Motivate Your Child for Success" talk and other Education Programmes.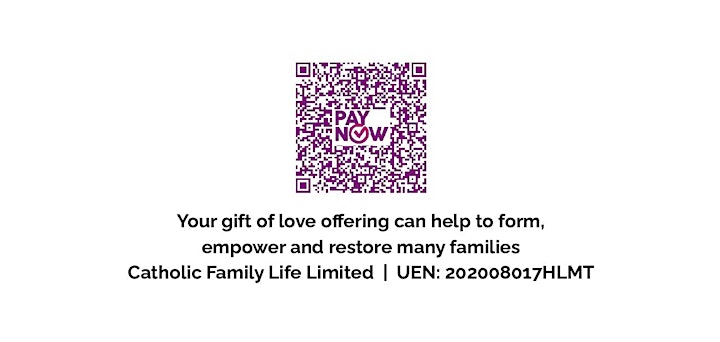 Organiser of 5 Strategies to Easily Motivate Your Child for Success
WHO ARE WE

We started in 1985 as Family Life Society, a registered charity and a member of the National Council of Social Services with the mission to strengthen families, marriages and uphold dignity of life. We are grounded and driven by our Catholic roots, using these values, which are universal, to reach out to ALL.

After 35 years, we endeavour to serve all families better as Catholic Family Life, remaining true to our Catholic roots and ethos. Our mission is to form, empower and restore all individuals at every stage of life through creating family-centric services and programmes, to bring back beauty, truth and goodness into Family Life. Through our programmes and services, we will continue to promote the dignity of life and remind all of our true identity as Children of God so that all may flourish into communities of life and love.
VISION

Hopeful and courageous communities upholding the dignity of human life according to God's plan

MISSION

To Form, Empower and Restore individuals, married couples and families in every stage of life so all may flourish in the intimate love of God