Multiple Dates
5 Week Somatic Yoga & Meditation program: Strength in Softness
Take care of yourself with a 5 week gentle Home yoga & meditation journey to restore your body, center your mind & prepare you for 2021.
About this Event
ANCIENT WISDOM TO HELP YOU WITH MODERN LIFE
Each week in this 5 program you will be guided through one of the 5 lesser-known Niyamas mentioned in the philosophical text, the Hatha Yoga Pradipika:
#1 Dāna (दान): generosity, charity, sharing with others
#2 Āstikya (आस्तिक्य): faith, conviction
#3: Hrī (ह्री): acceptance of your past, modesty, humility
#4: Mati (मति): capacity to understand, reconcile conflicting ideas
#5: Vrata (व्रत): making and keeping your vows (resolutions)
SOMATIC YOGA TO RESTORE & CALM YOUR BODY & MIND
Soma is a greek word, which means your body. Somatic Yoga is a practice that incorporates meditation, pranayama (breath techniques) and asana (practice of poses) from traditional Hatha Yoga, Yin Yoga and Dr. Thomas Hanna's Somatic Movement exercises to help you to:
Feel relaxed and free in your body and mind
Cultivate comfort, trust and security within you
Meditate so you feel more calm, think more clearly.
The practice is slow, gentle and suitable for all levels, including complete beginners.
JOIN LIVE OR WATCH THE REPLAY, WITH WEEKLY SELF-CARE
Each week in your email inbox you will receive:
5 Weekly email check-ins containing: link to access 5 x 60 minute classes live streamed via zoom at 7PM CET | 1PM NY
Guidance during the class through movement and meditation
Access to video recording for each class for 1 week after if you cannot join live
WHO THIS IS FOR: This is perfect for you if you
have back pain/tension & want to release these safely
are moving /working too fast and want to slow down
are suffering from insomnia & want to sleep better
are impatient but would like to cultivate patience
are feeling stressed and want to cultivate calm
WHO THIS IS NOT FOR: This may NOT be suitable for you if you:
Want a strenous or physically-exerting program e.g. a 'workout'
Want to see results immediately
Want something fast, quick
PROGRAM FEE:
US$85 for 5 week program
Other payment method are available: Paypal, Satispay, Paynow. please write wenlin@wenlintan.com to find out more
FINANCIAL SUPPORT:
Every dollar helps ensure I can continue to support you with high-quality yoga education. However, money should never be the reason stopping you from joining this program. If you are in genuine hardship please email wenlin@wenlintan.com with your request for access to this program.
I am a beginner, can I join in?
Yes! Classes are all levels with options for beginners.
I can't join at the livestream time.
No problem! You receive a video recording of every class!
I don't have a yoga mat, or yoga blocks. Can I still join in?
Yes! All you need is a padded surface such as a carpetted floor or non-slip towel to practise on. If you don't have yoga blocks, toilet rolls do just fine!
I can't afford this as I lost my job :(
You are welcome to select the financial difficulty tickets which have been priced low, to cover just the operational costs. If you need further support, please write wenlin@wenlintan.com explaining your situation and why you need financial support, and we'll work something out for you :)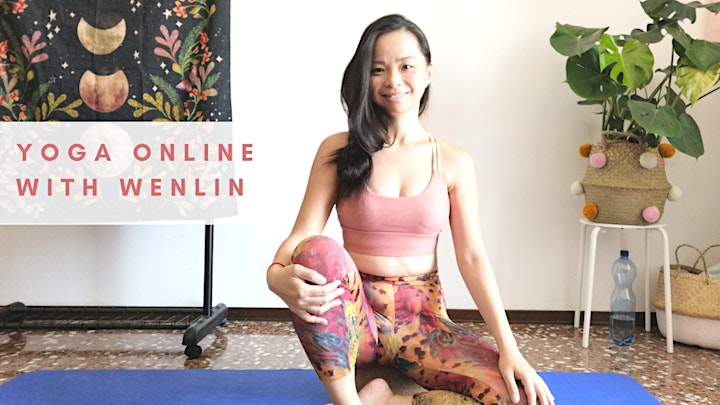 Your guide: Wenlin Tan
(Resident teacher at YogaUnion, Turin, Italy)
Wenlin Tan is a E-RYT® 200, RYT® 500, YACEP®, IAYT-IT Yoga-Alliance certified Yoga trainer who has been studying movement since she was 9. Originally from Singapore, Wenlin is now based in Turin, Italy, and has taught for private resorts, hotels, studios and Yoga festivals and led retreats, workshops and masterclasses. Students know her for her unique teaching style which integrates Qigong, Somatics, Vinyasa Yoga and Philosophy and her warmth, humour, knowledge and clarity.
Wenlin offers support and guidance so you can gain clarity, direction to build your Best You.