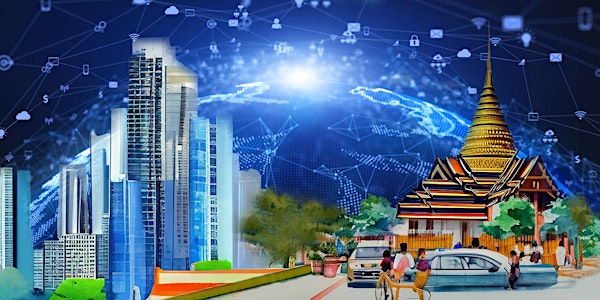 5th Annual Thailand OpenGov Leadership Forum 2023
5 October 2023 Amari Watergate Bangkok
Date and time
Thu, 5 Oct 2023 08:10 - 16:15 +07
Location
Amari Watergate Bangkok 847 Phetchaburi Rd, Makkasan, Khet Ratchathewi, กรุงเทพมหานคร Bangkok, 10400 Thailand
About this event
8 hours 5 minutes

Mobile eTicket
Strengthening Thailand 4.0 Strategy - Transforming Thailand into an Innovation and Knowledge-based Digital Hub
Thailand has risen to be Southeast Asia's second-largest economy. It has made remarkable progress in social and economic development, moving from a low-income country to an upper-income country in less than a generation. As such, Thailand has been one of the widely cited development success stories, with sustained strong growth.
Thailand is aiming to be the digital hub of Southeast Asia and has concrete plans to digitalise the country and create a knowledge based society with increased focus on ICT and digital investments. The concepts of Digital Thailand and Digital Economy endeavours to transform Thailand and to digitalise areas such as infrastructure, manufacturing, government services, businesses as well as various other sectors.  Smart nation and Smart city plans are given a thrust, pushing forward with public investments in many areas.
The objective of the plan is to strategically digitalise Thai government agencies, to deliver best citizen-centric services, with a high level of efficiency and transparency.
OpenGov is pleased to bring the highly anticipated 5th Annual Thailand OpenGov Leadership forum to be held on the 5 October 2023.
Our award-winning OpenGov Gamification Table (OGT) allows for intimate interaction with delegates, speakers and technology experts, especially those who influence and determine digital strategies within their organisation.
Every OGT showcases a gamified experience where delegates get to learn, allowing to discuss, share and learn with the technology partner and a speaker.
Every activity and facet of the event is designed for in-depth discussion, learning, collaboration and exclusive insights from industry leaders.
Who Should Attend:
Chief Compliance Officer
Chief Data Officer
Chief Data Protection Officer
Chief Executive Officer
Chief Financial Officer
Chief Information Officer
Chief Information Security Officer
Chief Medical Information Officer
Chief Operating Officer
Chief Technology Officer
Heads of Compliance
Heads of Finance
Heads of IT Security & Government
Heads of Risk
Heads of Technology
IT Directors
Managing Directors
Deans
Provosts
About the organiser
OpenGov has over 20 years' experience in providing a platform enabling collaboration. The last 5 years, solely to Public Sector within the Asia Pacific Region, including Australia and New Zealand. We are a team that has revolutionised the traditional conference platform, having developed a method to return real and tangible value to the delegates that attend. By creating an environment that enables and enhances true collaboration and knowledge exchange, OpenGov enhances the experience which provides true insights from lessons learnt. These insights are delivered from, and by the many leaders in government agencies from around the world that attend these events. These events cover ICT, Health, Education and Crisis Assessment Response Effectiveness (CARE). Our team has been past winners of the "Best CEO Level Conference in Asia" award.
In speaking with over 500 Government ICT officials this year, we have detailed the challenges many government CIO's face. Due to the ever changing digital environment, CIO's struggle to keep up with all these changes. To assist these CIO's, OpenGov has embarked on a journey of exploration, finding solutions and best practice examples to assist CIO's in bridging this knowledge gap.
OpenGov has organised many types of events. These events being small training seminars, large scale conferences and industry based exhibitions. They specifically focus on Government, in the areas of Public Sector ICT, Health care and Education. To add further value to these events, we have included private sector representation, which has further expanded on our knowledge based and understanding in the delivery of services to our citizens.