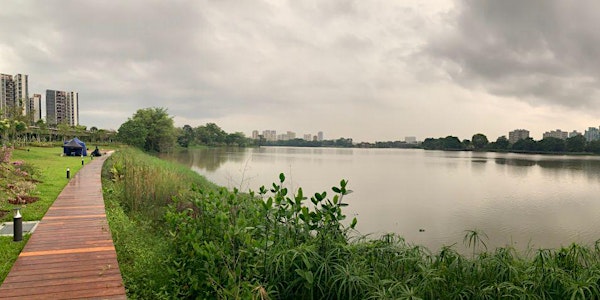 6 steps to Eco-Wellness at Jurong Lake Gardens
A different kind of nature walk
Date and time
Saturday, June 3 · 8 - 10am +08
Location
Jurong Lake Gardens Yuan Ching Road Singapore Singapore
About this event
Experience a different kind of nature walk at Jurong Lake Gardens and learn 6 simple steps to Eco-Wellness. What is Eco-Wellness? It is a state of harmonious balance between planet and people via 6 simple steps: Be mindful, be active, be kind, be grateful, connect and learn.
Be active: walking in nature improves physical health
Be mindful: observing and connecting with nature in the here and now enhances mental health
Be kind: practising nature's etiquette develops kindness
Be grateful: appreciating and giving thanks to nature leads to gratitude
Connect: with other people and improve social health via sharing sessions after the walk
Learn: from nature and each other
Learning from nature:
"Water flows from a higher to a lower place. It occupies the lowest of the low and does not compete or compare. It is patient and cuts through the hardest rock. Water is flexible and takes all shapes and forms. Water accepts all and rejects none. Water particles takes all possible paths around obstacles and cuts through canyons and valleys. Water is effortless: it does nothing and achieve everything. Water transform from one state to another - nothing is permanent, everything changes."
Useful Information:
This is a public outreach programme and we aim to make it as affordable as possible. We charge a small fee to cover meals and transport. Please email us if you would like to give what you want.
Check in: 7.55am. Departure: 8am
Meetup point: Lakeside MRT station (outside Guardian)
Duration: approximately two hours (one hour of nature walk and one hour of sharing session @ Fusion Spoon)
Level of difficulty: easy
What to bring: Wear comfortably, hat/cap, good walking/sport shoes, insect repellent, sun protection, reusable water bottle, snack, small towel, umbrella/rain coat.
Language: English, Mandarin, Singapore Sign Language
Please note that this is not a wildlife, heritage, biodiversity or nature's tour.
As this is an outdoor programme, we might have to postpone it if it rains heavily. We will contact you one hour before the programme to inform you.
Please let us know if you have any needs or concerns and do clear this programme with your doctor (if required). This programme is not intended to serve as medical or professional treatment and therapy.
Visit our micro Eco-Wellness website or email us @ therainbowartisan@gmail.com if you have any enquiry.
Please note the terms and conditions for this programme:
a) By registering for our programme, I consent to The Rainbow Artisan collecting, using or disclosing my data as provided here, now or in the future for the purpose of (i) administering the said programme, (ii) contacting me via email/phone to provide me with event updates or conduct surveys. (iii) customer service matters (iv) conducting data analytics and profiling to improve customer experience (v) marketing materials. Please email us if you would like to withdraw your consent.
b) I hereby understand, accept and acknowledge that by registering for this programme, The Rainbow Artisan retains the rights to use any and all photos taken during the event as deemed necessary. Please inform us prior to the event if you are not comfortable with having your photos taken.
c) All participants (adults/children/parents/caregivers/guardians) are responsible for your own health and safety and that of your charges (the children under you). I hereby understand, accept and acknowledge this condition and will not hold The Rainbow Artisan responsible for any mishap, accident, injury or death as well as loss or damage to personal property that may occur in the course of the event.
d) The Rainbow Artisan reserves the right to cancel bookings and the event/programme at our discretion and will inform the participants via email or sms.