A-CERTS SIC Training: WSQ Manage Site Emergency (2 Days) Run 44
Description
Date: 19 & 20 November 2019, Tuesday and Wednesday

Time: 9.00am to 6.00pm
Duration: 2 Days
Training Fees: S$620 per pax for A-CERTS Members / $700 per pax for non-members (WSQ funding available for this course)
Accreditation: WSQ Advanced Certificate Module / SCDF: 5 CPD Points / SISO : 15 SDU Points

Overview
An incident is any event that has caused or has the potential to cause damage to an organisation, people, assets, systems or reputation. The response to an incident / emergency in an industrial environment can present unique challenges to the safety and effectiveness of the frontline incident responders. Understanding the characteristics of hazards in the industrial environment and the appropriate tactics to be employed can ensure your response is not only safe but highly effective. This course is designed to demonstrate the value of a structured Incident Management response when dealing with an incident.
This is also a WSQ module accreditated by WDA and awarded by SCDF for 5 CPD points.

Who Should Attend?
CERT member holding the responsibility as the Site Incident Controller (SIC)


Emergency Response Team members wishing to gain a broader understanding of incident management

HSE/Fire Safety Manager looking to build organisational Incident Management capability

All personnel who may have direct or indirect involvement in managing an incident or crisis

Applicable Skills & Knowledge After Course Completion:
To understand the overall philosophy of ER within the petrochemical, refinery, oil terminal and pharmaceutical industries

To raise awareness of the hazards associated with the process plant operations

To be familiar with the Emergency Response Plan & Incident Management Process


To gain confidence in your various individual roles and also as a team
Course Outline Included:
The types of incidents that can develop into crises

The valuable insights on the nature and dynamics of incidents today

Understand the functional approach to Incident Management

Recognise the various type of hazards present during an incident / emergency

Understand the consequences of those hazards on people and plant

Determine appropriate tactics for your operating plant

Utilise concepts such as "dynamic risk assessment" and "command and control"

The incident management planning, preparation and practice session through table top exercise, and case studies discussions

Scenario based exercises

The necessary characteristics of a capable and competent leader when managing an incident

Recognise the various communications methods used when managing an incident

The principles behind and the operation of an effective system for managing information
What Will You Get Upon Completion?
A downloaded electronic copy of the Statement of Attainment (SOA) issued by WDA upon completion of assessment.

Do You Need Any Pre-requisite(s) to Attend This?
Preferrably have some experience in the CERT.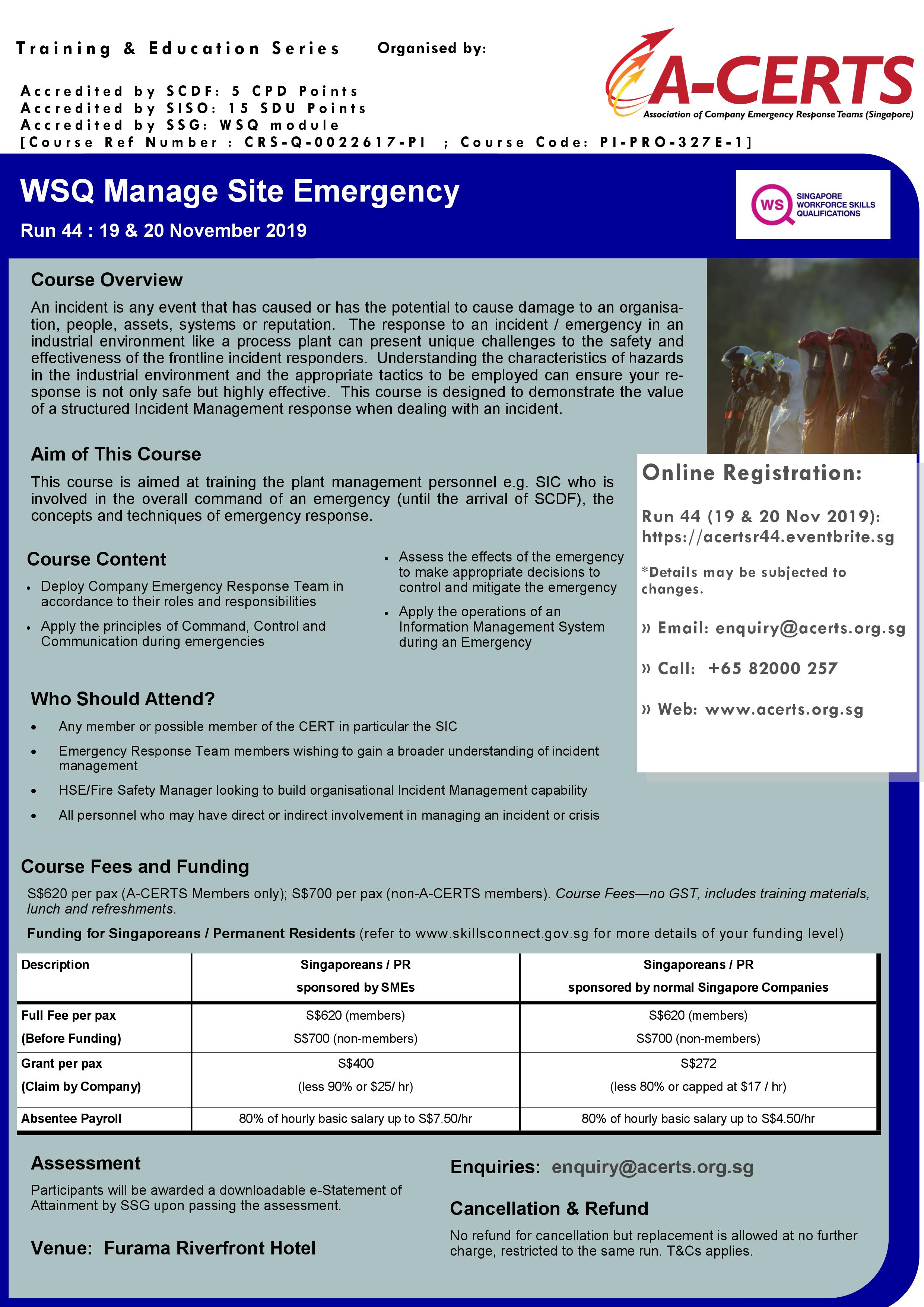 You may visit A-CERTS website to download the full training directory.
FAQs
How much is the training fees?
S$620 per pax (all inclusive) for members of A-CERTS and S$700 per pax for non-members. You can write to A-CERTS at enquiry@acerts.org.sg for more details.
Is this course subsidized?

Company sponsored participants (Singaporeans & PRs) can apply for subsidies under the WSQ funding scheme. For more details of the subsidies, please refer to www.skillsconnect.gov.sg.
What are my transport/parking options getting to the event?
The directional details will be sent to participants upon registration of this training.
Where can I contact the organizer with any questions?
You can contact the administrator at enquiry@acerts.org.sg
Is my registration transferrable?
Your registration can be transferred but you will have to inform the A-CERTS Administrator at enquiry@acerts.org.sg at least 10 working days in advance.
How do I pay for the training?
Upon registration, the A-CERTS Administrator will advise you on the payment details. Please note that event confirmation is only confirmed with full payment.
What is the refund policy?
A-CERTS does not refund but you are allowed to transfer your seats. Please give notice of at least 10 working days.
The name on the registration doesn't match the attendee. Is that okay?
As Certificate will be issued upon completion of this training, please ensure that your details are correct.
A-CERTS Terms and Condition
- By participating in the above programme, you certify that the information provided is correct. You will not hold the organizer responsbile for any mishap occur during my participation.
- All decisions made by the organizer shall be final.
- By attending this event, you agree to be photographed (if photos are taken by organizer). You hereby grant the organizer a royalty-free right to use photos and information in media press and materials and marketing materials connected to the event.
- For SSG-approved/funded courses, personal/office email address and mobile number are required for submission to SSG for generation of electronic Statement of Attainment and for survey purposes.
- Information provided will be treated with confidentiality and is collected for the purposes to be submitted to the governing bodies, third party service providers, agents and other organisations for, and if applies:
a) accreditation of CPD points,
b) accreditation of SDU points,
c) assessment result submission to SSG,
d) generation of electronic certificates/Statement of Attainment,
e) notification to trainees from SSG,
f) Submission of Info to SSG for TRAQOM surveys (Training Quality and Outcomes Measurement), and
g) for performing obligations in the course of or in connection with our provision of the goods and/or services requested by you;
*Trainee must attend full training, sit for and pass all required tests/assessments.
*Training must not have applied for SSG (previously known as WDA) course fee subsidy for this particular training course.
Upon failing the above, trainee is required to pay full fees.
- Please note that event confirmation is only confirmed with full payment.
- Registration is on First-Come-First-Served basis. We regret to inform that reservation of seats will not be entertained.
- Email confirmation generated by Eventbrite will be official.