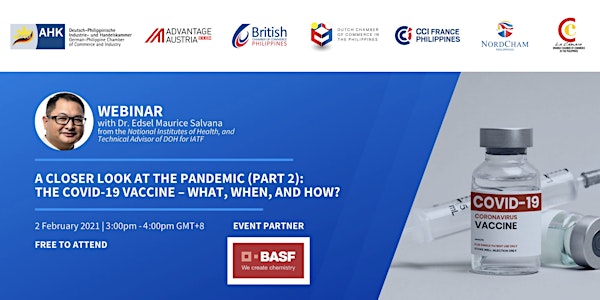 A Closer Look at the Pandemic (Part 2): COVID-19 – What, When, and How?
Together with Edsel Salvana from the Institute of Molecular Biology
About this event
The vaccine development has been well anticipated by everyone around the world. But the question remains on how the vaccine shall be fairly accessed by different countries (through COVAX), and how effective will it be.
Hosted by the German-Philippine Chamber of Commerce and Industry, and in partnership with BASF, DCCP members are invited to this webinar to hear the latest progress and reflect on these crucial questions.
About the Speaker:
Dr. Salvana is the Director of the Institute of Molecular Biology and Biotechnology at the National Institutes of Health at the University of the Philippines Manila, and is Clinical Associate Professor and Research Coordinator at the Section of Infectious Diseases of the Department of Medicine at the Philippine General Hospital. He is also Adjunct Professor for Global Health at the University of Pittsburgh.
He is currently the head of the subcommittee for HIV of the Philippine Society forMicrobiology and Infectious Diseases and led the formulation of local clinical practice guidelines for the treatment of opportunistic infections in HIV. He also sits as an institutional representative on the Global Fund Country Coordinating Mechanism. Currently he is also a member of DOH Technical Advisory Group that advises the IATF in fight against COVID-19.