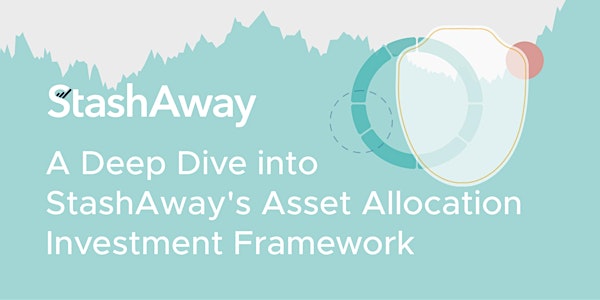 A Deep Dive into StashAway's Advanced Investment Framework
Our CIO and co-founder, Freddy Lim, will dive deep into our investment technology, and answer questions you may have about our strategy.
About this event
The live webinar link will be sent to your email an hour before it starts i.e 6 pm on the day of the webinar.
Do you have questions about how to navigate your portfolios across economic cycles? How to achieve true diversification? How to evaluate ETFs? Are you curious about what's under StashAway's investment hood?
Our CIO and co-founder, Freddy Lim, will dive deep into our investment technology, and answer questions you may have about the strategy or the company.
Please note: This seminar requires an intermediate-level understanding of investing. If you are looking for something a little more basic, check out our webinar for beginners, where we'll discuss how to budget and set yourself up to reach your financial goals. By registering for this event, you are giving permission to receive occasional email communications from StashAway on our products, marketing and events. We promise to send only good stuff. However, if you ever wish to opt out, you can easily unsubscribe using the Unsubscribe feature included in the emails.
About the Speaker:
Freddy Lim, Co-founder and CIO of StashAway
He was the Managing Director and Global Head of Derivatives Strategy at Nomura and has built and spearheaded a global team that won the "Global Derivatives – Research and Strategy House of the Year" award by GlobalCapital (September 2015).
Freddy was regularly invited to speak in the field and was notably the keynote speaker at the prestigious "Global Derivatives USA" conference (Chicago, Nov-2014) and at the RISK's Quant Congress USA (New York, July 2015). Freddy is the architect behind StashAway's ERAA (Economic Regime-based Asset Allocation), which is a framework that identifies the right mix of asset classes for a given economic regime and makes forward looking adjustments based on medium term valuation gaps.
About StashAway
StashAway is a digital wealth manager that offers investment portfolios and wealth management solutions for both retail and accredited investors and operates in Singapore, Malaysia, the Middle East and North Africa, Hong Kong, and Thailand.
As of January 2021, the company surpassed $1 billion USD in assets under management. It achieved this milestone faster than it took the world's largest digital wealth managers, Betterment and Wealthfront, to reach the same milestone. In 2020, StashAway was recognised as a Technology Pioneer by The World Economic Forum and a Top 10 LinkedIn Startup.
By registering for this event, you are deemed to have understood and consented to StashAway collecting your personal data that you directly input into the registration forms and contacting you thereafter in relation to our products, services, and events. We promise to send only the good stuff. However, if you ever wish to opt-out, you can easily unsubscribe using the Unsubscribe feature included in the emails. If you wish to know more about our Privacy Policy, you can visit our Privacy Policy page where the policy will apply mutatis mutandis to the event that you have registered for.