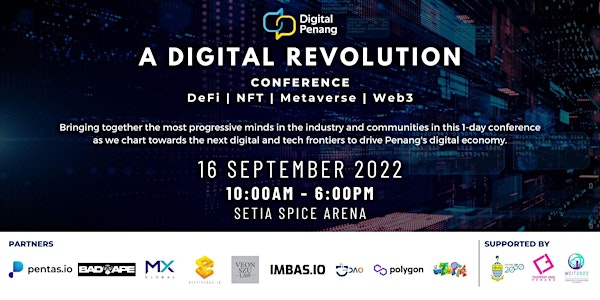 A Digital Revolution: DeFi | NFT | Metaverse | Web3
Digital Penang's very first conference themed 'A Digital Revolution' covering DeFi, NFT, Metaverse and Web3.
When and where
Location
SPICE Arena 108 Jalan Tun Dr Awang Bayan Lepas, Pulau Pinang 11900 Malaysia
About this event
Are you new to non-fungible tokens (NFTs)? Curious about opportunities in Web3 and the blockchain? Interested in starting your own NFT projects? Want to know what's next on decentralised finance (DeFi) for Malaysia? Be sure to join us at this conference as we cover topics ranging from DeFi, NFT, Metaverse to Web3 and blockchain! More info on our website at https://digitalpenang.my/a-digital-revolution-2022/
The conference 'A Digital Revolution' will feature speakers and panellists from:
Pentas.io, Malaysia's very own NFT Marketplace established by a group of like-minded individual who aims to advocate and educate the masses about blockchain technology
MX Global Sdn Bhd, a Malaysian FinTech company that runs a crypto exchange platform licensed by the Securities Commission of Malaysia
BadApe.io, Malaysia's fastest growing NFT project in Southeast Asia with 10,000 bad apes stored on the Binance Smart Chain
Veon Szu & Kok Thye, a Penang-based team of Business and Intellectual Property lawyers
Seetizens Plus Sdn Bhd , a team of multi professionals who envision a future that integrates the realm of physical and digital worlds
Polygon, a global & sustainable Web3 infrastructure built on Ethereum
KopiDAO, a learning community supported by like-minded people learning about no-code + Web3
Utopia AsiaX, a multifocal collective brought together by a belief in Blockchain. Their engine comprises Tech, Business, Finance, Game Development and Marketing.
TOPICS & SPEAKERS
Empowering a New Digital Economy by Tony Yeoh, CEO of Digital Penang
The Future of DeFi and what it means for Malaysia by Dato' Fadzli Shah, CEO of MX Global Sdn Bhd
Endless Possibilities IRL with NFTs by Mohamed DW (Mo), Co-founder of Malaysia's NFT Marketplace Pentas.io
Mapping A Successful NFT Project by Ikbal, Chief Technology Officer of BadApe.io
Legality, Intellectual Property and Copyrights of NFTs by Khaw Veon Szu, Senior Lawyer of Veon Szu & Kok Thye
The future of Metaverse by AR Ahmad Ridha Abdul Razak, Founder & CEO of Seetizens Plus
Web3: Opportunities and Demand in Malaysia and Beyond by Jason Chew, KopiDAO member and Founder of Codeless
Panel session #1 - Building On The Blockchain for Mainstream (Polygon, KopiDao & Pentas.io)
Panel session #2 - How NFTs & Metaverse Can Boost the Gaming Industry (Utopia AsiaX, Seetizensplus.io & BadApe.io)
About Digital Penang
Digital Penang (https://www.digitalpenang.my) is a government linked company owned by the State of Penang, which began operations in April 2020 to accelerate efforts to capture opportunities in the digital economy and promote a digitally engaged society. To bring to life the Penang2030 vision of a family-focused, green Smart State, the journey of transformation will focus on driving digital adoption amongst the community, more data-driven governance, a diverse talent pool for entrepreneurship and investment, and a resilient digital infrastructure to sustain a liveable environment.