Multiple Dates
A Forest Bathing Retreat (2021 Year End Celebrations): Part 2 - Fallow
Join us in this 2-part Forest Bathing Retreat series to restore and celebrate as the year comes to a soft closure.
About this event
The year end is a natural time to shift out of the frenzied time of productivity, and to begin to reflect on the seasons that have passed. Year 2021 has continued to be surreal to many. What has 2021 offered to you? How has being in 2021 been for you? We invite you to join us in becoming unbusy now - permitting ourselves to restore and celebrate all our little wins, appreciate and be grateful for the wild wisdom gathered in the past 12 months.
This Forest Bathing Retreat is a 2-part series:
Part 1 - Harvest on 11 December 2021 | We reflect and harvest our stories as we prepare to transit out of the darkness.
Part 2 - Fallow on 18 December 2021 | Held just before the Dongzhi Festival or the Winter Solstice, slowly we transit into the light. But let's not hurry to fill up our days - to fallow is to allow nourishment to be replenished so that we can grow better.
You can choose to attend either parts of this Forest Bathing Retreat series, or attend both!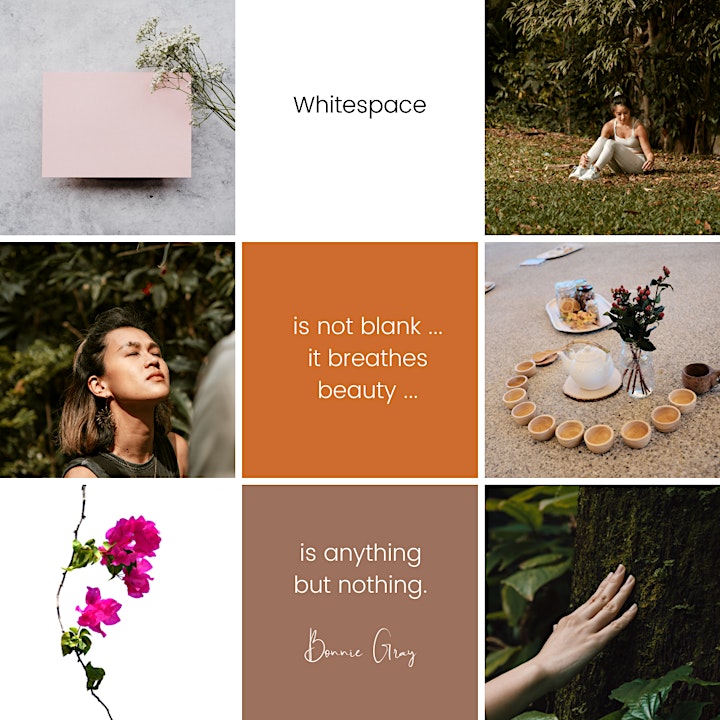 Part 2- Fallow
18 Dec 2021, Sat, 6.30 pm - 9.30 pm
To fallow is to allow for rest and recovery. Before we rush into sowing seeds of intentions for the new year, let's lie fallow and approach it with openness and curiosity. In this session, we will immerse in a delicious restful journey through a sequence of soft yoga movements, a sensory forest bathing and grounding, and guided yoga nidra. As we rest our minds, bodies and spirits and receive open-heartedly, I wonder what possibilities may come on to our blank canvas for us to bring forth to the new year?
What to expect
Both parts of this series are independent of each other. You can join either Part - Harvest or Part 2- Fallow, or both for a complete restful year end closure.
Sessions will take on a slow immersive and restful pace. They are not physical and non-strenuous.
Sessions are held at night but will not be completely dark. The space is quiet but safe. The group will always be within sight of one another.
An experienced and certified guide will facilitate the sessions.
Light tea and snacks, and stationery will be provided.
No prior experience in forest bathing and/or yoga nidra is required.
You should bring along a yoga mat or beach towel or something to sit on / lie down on.
A detailed information kit will be sent to all registered participants.
You can find out more about forest bathing and yoga nidra here.
Payments and registration
We also accept payment via Paynow and/or bank transfer. If you prefer to pay via Paynow and/or bank transfer, please write to hello@xiunatureconnections.com to complete your registration and reserve your spot.
Reviews
"... one thing that touched my heart was the candle light labyrinth, drinking tea and tang yuan together. I am grateful how the retreat has helped me to remember important moments of the year. " - Yenn A.
"The retreat has been a valuable opportunity for me to arrive at stillness in a way that is gentle, personal and embraced by nature. I was delighted by how I could arrive at a place where I did not feel a need to reflect, to conceptualise or to do anything but be here. And I was touched by the care and attention to detail in curating the experience for every participant. " - Harpreet D.
Private groups and bookings
If you will like to book a private, group or corporate session, please write to hello@xiunatureconnections.com .
COVID-19 safe management measures
Let's keep this experience safe, enjoyable and enchanting for everybody. We are committed to holding space in a safe and mindful way, and also appreciate your participation in upholding all precaution measures.
You are required to:
Wear your mask at all times.
Keep to your allocated sub-group at all times.
Respect safe distancing measures.
Check in and check out using TraceTogether where necessary.
Maintain personal hygiene.
About your facilitator
Youmin is a certified nature and forest therapy guide and a yoga nidra facilitator. A pioneer and leader in Singapore and the Southeast Asia, she is passionate about sharing nature connections and deep restorative rest for well-being, especially for stressed out and disconnected city dwellers. In this frantic world we live in, she believes that we need to go into the 'rest space' to find ourselves, we need to slow down in a practical manner, and then, we can thrive sustainably. Working with individuals, groups and organisations, Youmin's intention is to support them to rise up as well-rested leaders. She has also guided and taught at overseas workshops, retreats and seminars including Finland, Bangkok, Chiang Rai and the Philippines. Her work has also been shared at international and local conferences, as well as publications. She is also a mentor and trainer to trainee guides and is the founder of Xiu Nature Connections.
Please read our Terms and Conditions.
We reserve the rights to cancel and/or postpone the session if the minimum number of participants is not met. Class itinerary may also be subjected to changes.
Questions? Please contact hello@xiunatureconnections.com .
Organiser of A Forest Bathing Retreat (2021 Year End Celebrations): Part 2 - Fallow
休 means 'to rest'. Rest, is the basic ingredient in all approaches to wellness. To deeply rest and restore is a skill lost and forgotten as we traverse and hustle through our modern busy lives. To rest is to allow yourself to be in the space of no-thing-ness.
Through our programmes such as forest therapy (forest bathing or shinrin yoku) and yoga nidra, we invite you to rest. We invite you to re-connect. We invite you to rise.
From our regular forest bathing walks to yoga nidra workshops to customised rest programs, we are committed to promoting 'a good life' across all ages and communities in Singapore.
Private or customised nature connection programmes are available and are suitable for wellness, coaching as well as corporate retreats.
Join us to rest for our mental, emotional and physical wellbeing. Join us in #ThrivingFromRest !
Connect at hello@xiunatureconnections.com !