Sales Have Ended
Ticket sales have ended
Thank you for signing up for the IB Biology crash course! We will contact you soon!
Sales Have Ended
Ticket sales have ended
Thank you for signing up for the IB Biology crash course! We will contact you soon!
Introducing IB Lounge's Biology Crash Course. Come find out how you can ace your IB examinations with thorough preparation!
About this event
Be Part of our IB Biology Crash Course
Free first session whereby Zander will be conducting an intensive revision session for The Cell! Select the free ticket and you will be enrolled!*
IB Lounge is rolling out its first ever crash course for Biology!
Need help urgently in IB Biology for the upcoming exams?
IB Lounge is proud to present an exclusive IB Biology crash course conducted by Zander Tay, geared towards helping you excel.
Zander has helped close to 20 students (UWC, SOTA, OFS) over 150+ hours to see great improvements in their results over his tutoring experience of 3 years. Zander scored 43 points for his IB examinations and attained a 7 in IB HL Biology. He is currently studying in NUS's Yong Loon Lin School of Medicine and has a flair for passing on his knowledge!
During this course, you will be able to either choose our:
Full Package (14 sessions of different topics)
Individual Sessions (Based by topic- topic schedule will be posted shortly)
NOTE: The free session will be conducted on 29 February 2020 from 130pm - 330pm
Up to 14 Sessions of Intensive IB Biology Examination Crash Course.
*Note that this offer is only for IB students - IB Lounge may request for proof of such.
* Do note that this is a physical in-person event. Location will be at The Hive, 36 Carpenter Street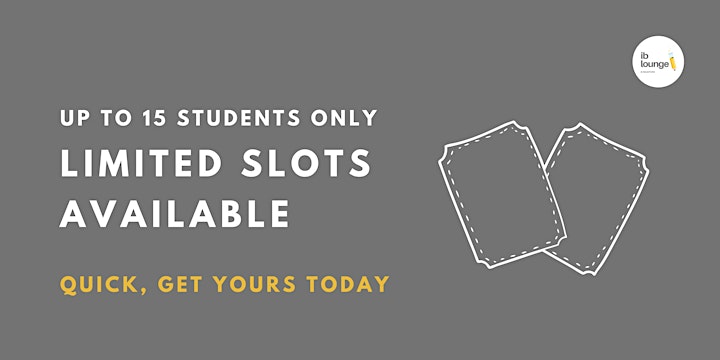 From Our Tutor
Hi I'm Zander, currently a 3rd year medical student, and I will be the Biology tutor conducting the Biology HL/SL Crash Course for the upcoming IB May session examinations.
My course will cover all the key high yield points across all 6 SL topics and 5 HL topics (and Option D, if you choose to attend).
I have taken 4 batches of students through their examinations and they have found my review sessions to be effective and useful.
I will also be teaching you how to look out for:
High yield questions
Study smart and spot questions intelligently
Highlight common pitfalls.
I will also be going through some questions to demonstrate my answering techniques, which have served me well through IB & NUS Medical school.
I believe that everyone has something to gain: whether you're a struggling student trying to obtain a better grade, or a student trying to nail a 7 to enter a biology-related course (e.g. medicine/dentistry).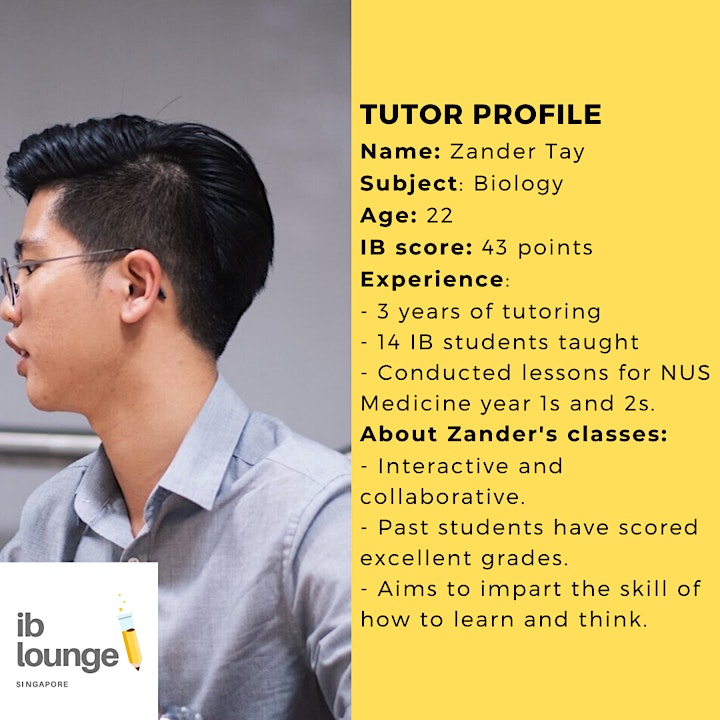 Course Details
This course is meant for students looking for a way to revise the ENTIRE IB Biology syllabus to prepare for the upcoming 2020 May examinations.
You will learn simple and actionable content:
Effective tips on scoring a Grade 7 in Biology
Common key points and pitfalls of the Bio Examinations
Refreshing 2 years worth of educational content from scratch
You can also get answers to your burning questions about the IB Biology syllabus
Day: Saturday/Sunday (check ticket schedule for details)
Address: The Hive, 36 Carpenter Street
Duration: 2 Hours
IF you have any questions, please contact us at +65 81683082 or email us at ibloungesg@gmail.com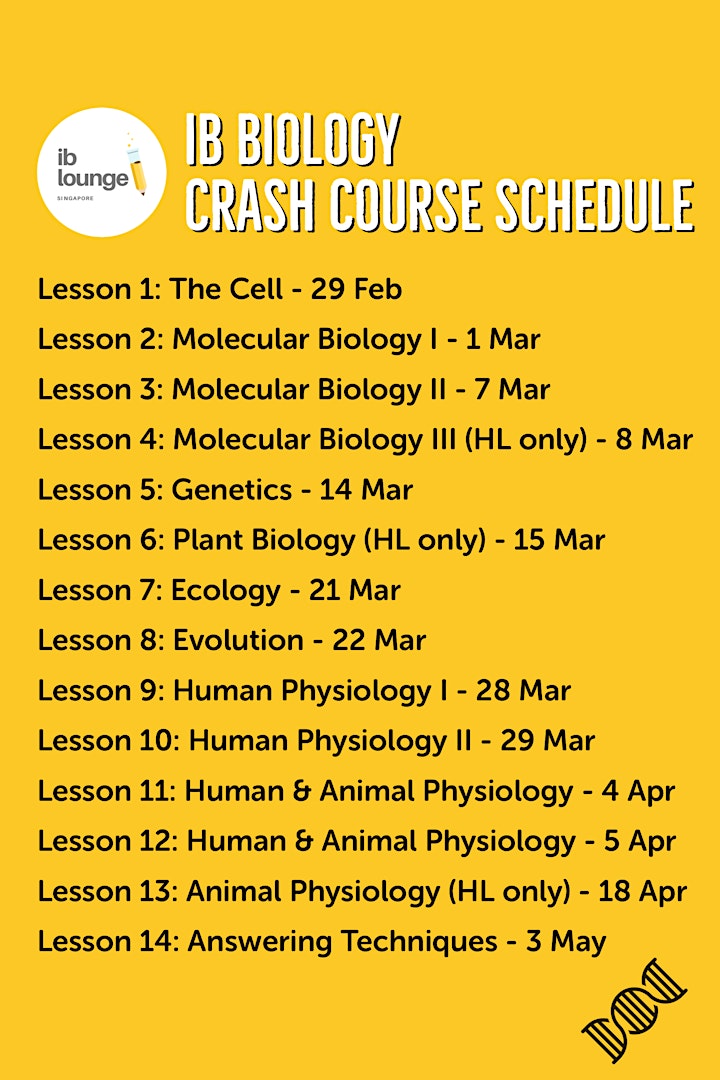 Pricing
FREE first session for The Cell (29th February 2020)
Limited seats available so register quickly!
Full Package: $105 per session
You will be registered for 15 sessions that you can choose from. Each session, a new topic will be taught.
Individual Sessions: $115 per individual session
If you are not keen on signing up for the full package, you may choose the single session or 2 session combo package which will give you the freedom to pick and choose sessions, based on which topics you want to revise.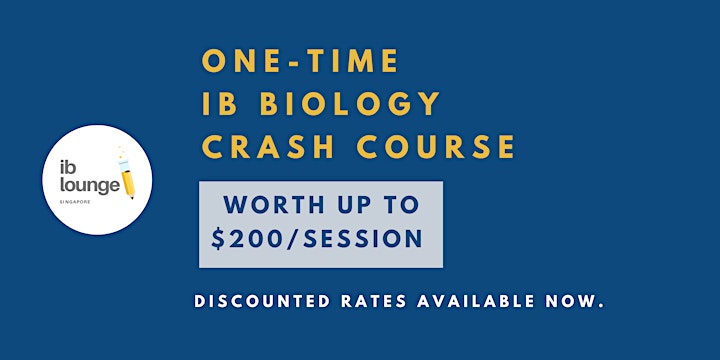 FAQs
1. How should I pay for the remainder of my sessions?
A: You will be required to pay for the remaining sessions during/before your first session. Payment will be either in cash or through ibanking. More details will be given after you have purchased your ticket.
2. What should I bring for the classes?
A: Some stationery and a good learning attitude!
3. How will the lesson be structured?
A: My style is to spend the first 1-1.5 hours going through key points and concepts, and the last 0.5-1h going through some questions and refining answering techniques.
4. Will there be refunds for classes not attended?
A: We will not be providing refunds if you are unable to come as class slots are limited. In the event that we have to cancel the event (e.g. if the tutor is sick), then refunds will be provided.
5. Which lessons should I attend?
A: Please refer to the information page where the specific topics for each lesson is stated. All classes are for SL and HL unless it is stated HL only.
6. Will the course cover option topics?
A: Option topics will not be covered during the crash course. Please feel free to contact (contact) for enquiries about separate classes to cover the option topics. Note that our centre only covers options C & D.
7. I have a question not covered by FAQ, where can I direct it?
A: Just drop us an email at ibloungesg@gmail.com!
Testimonials About Our Centre
For Economics Class:
"Coming into the IB lounge for the first time, I felt quite nervous as I knew my foundations for economics were very shaky. However, the tutor was really friendly and explained concepts in a manner that was easy to understand. It allowed me to learn and catch on a lot more quickly and for the first time I felt like I had substantially improved. Moreover, with each concept that we covered he made sure to refresh what we went through so far to reinforce the idea in my head and got it to stick. He also probed me a lot of times in order to make sure that I had fully grasped what he was teaching. The notes were well organized and easy to digest too; the content was very well organized and coupled with the essay planning skills that our tutor went through with us, I am fairly confident in scoring in my econs essay tests now."
- Year 6 IB Student (SJI)
"In the IB lounge, the tutor was very welcoming and engaging during the lesson. He listened to our queries and our misconceptions and patiently worked with my friend and I to correct our mistakes. He also gave us notes that were a summary for the topic we would be learning during that lesson. I felt that really helped me to focus and make my own notes so that I can remember what I learnt. I also felt that the environment which the tuition was set in was very conducive for studying and there were no distractions that I was faced with. Overall, I felt that this tuition was very beneficial as it provided a conducive environment for me to study in and the tutor was kind and helped me clarify my doubts. I will definitely recommend this tuition to my friends that require help in their studies."
- Year 6 IB Student (SJI)
Contact Us
Feel free to contact us through these channels:
Mobile: +65 81683082
Email: ibloungesg@gmail.com
Instagram: @ibloungesg
Check out our helpful resources and social media.
Click here for Our FREE Telegram Channel. We broadcast IB and university application tips and resources, and life hacks in general!