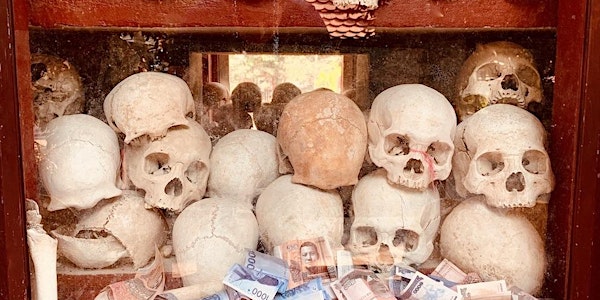 A tour to a dark past
Once upon a cruel past in Cambodia
Refund Policy
Contact the organizer to request a refund.
Eventbrite's fee is nonrefundable.
About this event
Highlights
Live Streamed tour from the Wat Thmey Temple, where the skulls of those who died during the Khmer regime have been kept
Learn about the brutality of the Khmer Rouge from a survivor of the regime.
Visit the grounds of the Wat Thmey killing fields, converted into the site of Temple with your guide Sopanha on an online tour. Here, you will see a large stupa memorial with glass sides, filled with the skulls and bones of those who died during the Khmer Rouge.
These have been diligently gathered by local residents in memory of their families and friends.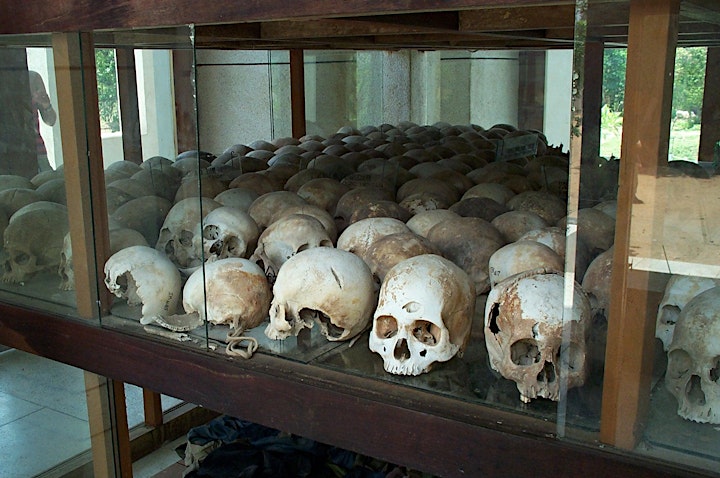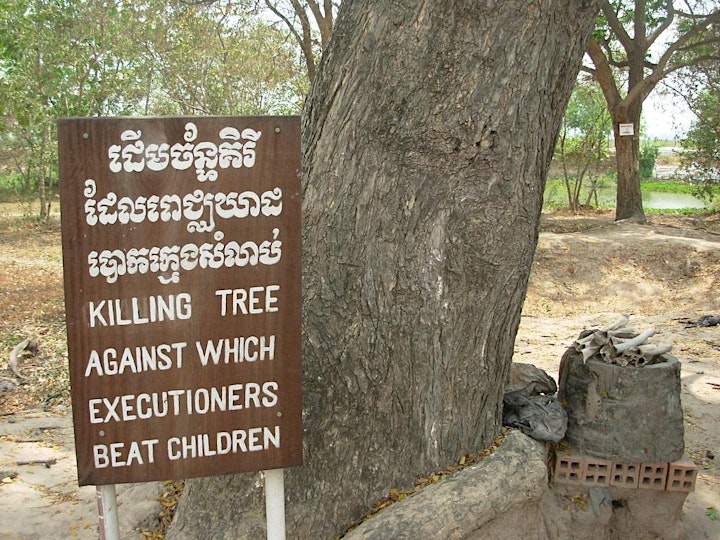 Today, Wat Thmey serves as a Buddhist monastery and also as a memorial site that is visited by tourists. More than just a holocaust spot, many come to the Wat Thmey Temple to pay homage, and to remember those who lost their lives in the Cambodia Killing Fields.
While walking around this site, I will show you the Museum, exhibits, the infamous well, and also tell you how my family was personally affected by the excesses of the Khmer regime.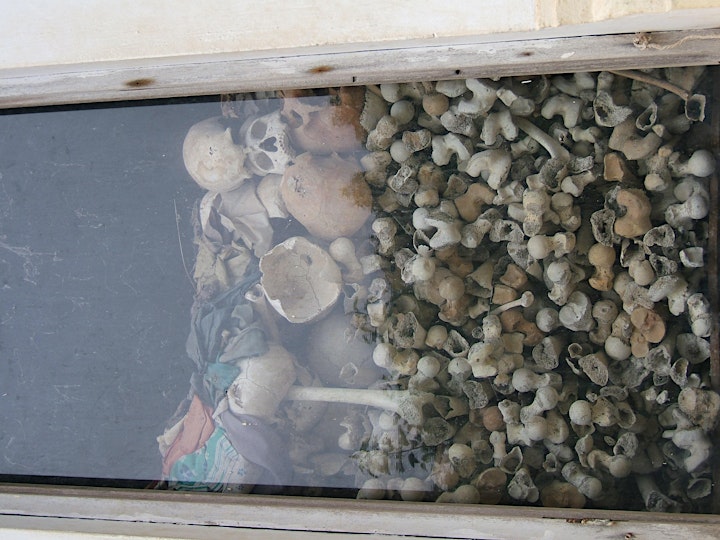 Know before you go
Since this tour is conducted outdoors, at times the internet connection may be weak. However, we will attempt to minimize such disruptions
Since these are live tours, they may be subject to last minute cancellation due to inclement weather, Internet disruptions or other unforeseen circumstances.
Virtual tours – essential things to know
Welcome to your virtual tour! Before you proceed, we would like you to spend the next 10 minutes reading this. This is important for us to have an understanding with you, and for you to enjoy your experience with us.
1. Virtual tours can be tricky, even if they are virtual; the real time live ones are subject to elements like the weather, acts of God, venues sudden closures etc. We ask for your understanding.
2. Virtual tours are always at the victim of poor Wifi connection. Please do be patient when there is the intermittent instability in the connection.
3. At times, the unexpected can happen with our guides. Once in a blue moon, the guides can fall ill, sick or may suddenly have personal exigencies. Tours may have to be cancelled. When they are cancelled, we may not do a refund. Instead, we will reschedule.
4. Live real time virtual tours are also sometimes prone to things like lockdowns, restricted movements imposed by the state; we may have to cancel because of that. We may have to reschedule.
5. When rescheduling, you may not always find something you totally like. That is understandable. We will try and match your preferences.
6. Accent can sometimes be a challenge for the audience especially when the guide is not a native speaker of the language delivered in the tours, which will usually be English. We ask for your patience.
7. Please always read the description of the tours before you book. Some tours are real time live ones, some are not.
8. Timings can be extremely tricky. As the tours are delivered by guides from different parts of the world, please make sure you get the correct timing. We will always endeavour to remind you.
9. If you feel that there are certain things you would like to experience, let us know. We can convey your request to the guide, before the tour starts.
10. It is always good to be 10 early for the tours, as IT issues may sometimes happen.
11. We will not be recording the tours for intellectual property reasons.