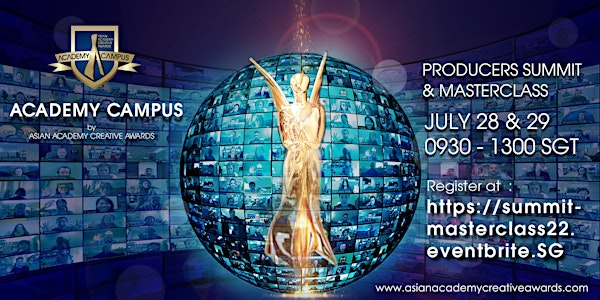 AAA Academy Campus 2022 Producer Summit & Masterclass (Online)
Asian Academy Creative Awards 2022 Academy Campus Producers Summit & Masterclass is your ticket inside some of the worlds' media powerhouses
About this event
THE ANNUAL SKILLS EVENT THAT GREW TO BECOME
THE CONTENT INDUSTRY'S HOTTEST CAMPUS
It has (not so quietly) become the Must Attend annual Skills Development event for the entire Film & TV Industry.
After the first year, word got out that this was THE event to attend so the second year was a standing room only affair at Nanyang Polytechnic lecture theatre. The next year it went online and that's when people from all over the world started to catch on and log in.
Run by the prestigious Asian Academy Creative Awards, as part of its Academy Campus, the highly anticipated 2022 Producers Summit and Masterclass will be especially aimed at media professionals and final year students. As always, it will feature award winning speakers and acclaimed industry experts (which is probably why it attracts so much attention).
For a nominal fee of SGD60 per person (Students SGD35), you can attend all sessions, staged over two convenient mornings.
Who should attend? All students, lecturers, TV & Film Media executives and anyone who aspires to be in the TV & Film industry.
Proceeds from this event help the Academy Campus to extend its training programmes, especially to students from Emerging Nations within our region.