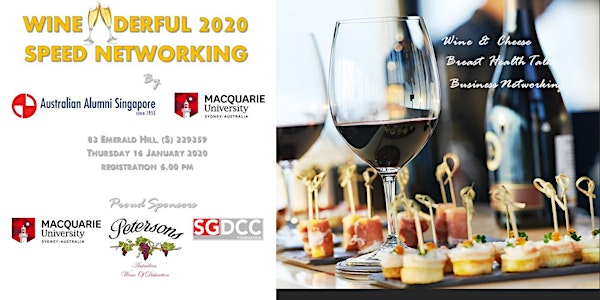 AAS-MUAAS WINE•DERFUL 2020 SPEED NETWORKING
Attendees will enjoy complimentary wine and cheese all evening at the much-anticipated AAS-MUAAS WINE♪DERFUL 2020 Speed Networking Session
When and where
Location
83 Emerald Hill Rd 83 Emerald Hill Road Singapore, 229359 Singapore
Refund Policy
Contact the organiser to request a refund.
Eventbrite's fee is nonrefundable.
About this event
In today's day & age, networking is crucial. Relationship built by networking can lead to professional partnerships or even future job opportunities. Bring more than a handful of business cards to this limited seating engagement. Be prepared to give your "elevator pitch" during the five-minute networking intervals.
Thursday, 16th January 2020 - Schedule of Event
18:30 Wine & Cheese Reception
19:00 Speed Networking
20:00 Breast Health Talk by Dr Anthony Tang
20:15 Q&A Session with Dr Anthony Tang
20:30 Event Ends
Registration is underway and please do reserve your slot early and we look forward to welcoming you and your loved ones.

Guest Speaker's Topic : What everyone needs to know about the human breast
Overview : Mention the word breast, and you may get some sniggles and some cheeky smiles. On the serious side of things, 1 in 10 women in Singapore and 1 in 7 in the US get breast cancer. Learn what everyone needs to know about breast health, because knowledge will save lives, and save breasts.
About our Guest Speaker : Dr Anthony Tang is a specialist Breast Cancer surgeon, with clinical interests in Breast Conservation Surgery, Breast Reconstruction (Oncoplasty) and Sentinel Node Biopsy (for minimal lymph node removal).
An ASEAN scholar in his pre-university days, Dr Tang was subsequently awarded the prestigious Commonwealth Scholarship for Medicine for his undergraduate medical education in Melbourne, Australia. He went on to complete his postgraduate surgical training and was conferred a joint specialist fellowship with the Singapore and United Kingdom (Edinburgh) boards. Apart from his surgical training, Dr Tang also attained 2 postgraduate Masters degrees, in Medicine (Surgery) and in Public Health (Clinical Epidemiology) respectively.Dr Tang has a strong research interest, particularly in the field of medical device innovation. In 2011, he was awarded the inaugural Singapore-Stanford Biodesign Fellowship. He was also the Fellowship Head at Singapore Stanford Biodesign, and the Clinician Consultant to I²R, A*STAR, and has trained over 400 budding medical device entrepreneurs. As the Clinical Principal Investigator, he was working with grants totaling over $4 million. As a result of his research work, Dr Tang was also conferred an A/Professorship with NUS. As a published scientific author, Dr Tang is a frequent speaker at many local and international conferences. He also often organizes and speaks at public symposiums in Singapore as he is an avid advocate for breast cancer screening.
Personally, Dr Tang enjoys using his professional skills to benefit the underprivileged. He is passionately involved in surgical outreach programs to the underprivileged parts of Asia, and was the co-founder of the surgical volunteer and charity organization within the National University Health Systems (NUHS). Dr Anthony also enjoys racquet sports and divides his time between tennis, and badminton during the wet season.