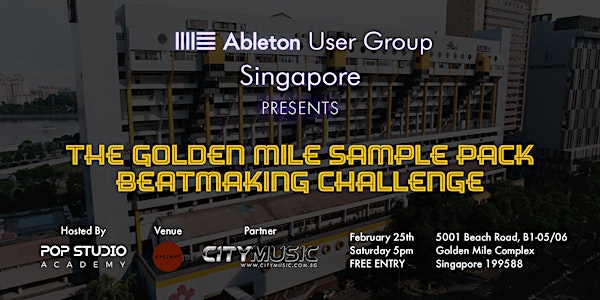 Ableton User Group presents The Golden Mile Sample Pack
Ableton User Group presents The Golden Mile Sample Pack - Beatmaking Challenge
Date and time
Sat, 25 Feb 2023 17:00 - 19:00 +08
Location
Enclave Bar @ Golden Mile 5001 Beach Road #B1-05/06 Singapore, 199588 Singapore
About this event
Ableton User Group Singapore returns this February with bang at Enclave Bar at Golden Mile Complex.
For those who may not know, Golden Mile Complex as we know it will say its final farewell to the public in March 2023 following its en bloc sale.
While the architecture and "signature terraced profile" will be "sensitively restored" because of heritage status, all of the small businesses, eating places, nightclubs, and other fascinating parts that make Golden Mile Complex unique and culturally exciting will be moving out to different places, marking the end of an era.
As a tribute to the heritage and culture of Golden Mile Complex, the February meetup of Ableton User Group Singapore will not only pay tribute to the sounds and essence of the landmark, but will capture and transform them into sonic works that can evoke these memories, long after the changes take place.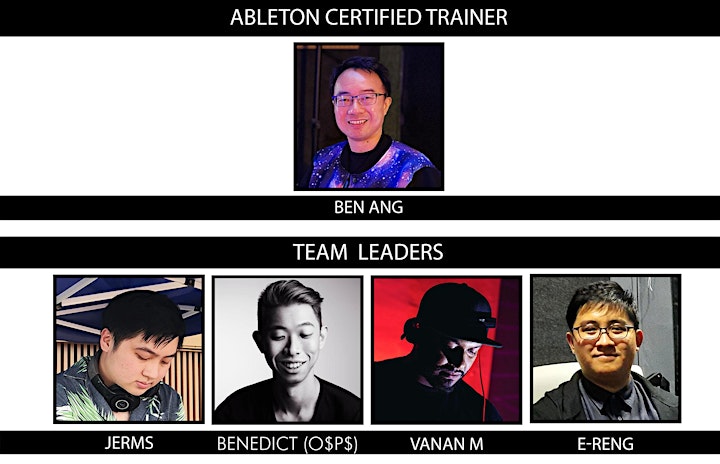 Host
Ben Ang
Ableton Ceritified Trainer Ben Ang has been involved in the Singapore's electronic music scene since the early 1990s. As principal tutor at the National University of Singapore Electronic Music Lab and chief music production instructor at POP Studio Academy, he has helped thousands of students on their electronic music journeys and enabled many to go on to release their own music and launch professional music careers in Singapore and beyond.
Ben is a published recording artist and electronic musician in his own right, and is the producer behind Cosmic Armchair, a futurepop duo signed to European record label Alfa Matrix; and Abyss Simian, a solo electronic project where he creates remixes and performs experimental electronic gigs.
Team Leaders
Benedict (O$P$)
BENEDICT is a veteran electronic musician in Singapore, with over 14 years of strong experience ranging from top residencies and performances in some of the biggest clubs and festivals in Singapore and around the region. Mostly well-known as 'ZUSHAN' which he spent most of his career as, BENEDICT seeks to share his own personal story, whilst staying true to his signature style and music flow.
In his career, BENEDICT has performed and held residencies at many of the top clubs in Singapore, and around the region - including Zouk Singapore and Ce La Vi Singapore which have consistently been ranked as two of the top clubs in Asia and the World. Apart from clubs and festivals, he has had numerous appearances on television, radio, and has performed at major festivals/events such as Ultra Music Festival Korea, ZoukOut Singapore, Storm Festival Shenzhen, Legacy Festival, Wonderfruit Festival, the 2010 Youth Olympic Games, as well as the 2011 Mosaic Music Festival with a live Hip-Hop band. On top of all that, BENEDICT is the music curator for Ritual Gym's Global Locations and Ritual FIT app, applying his knowledge of current popular music to another kind of dance floor.
As a former competitive turntablist, BENEDICT's accolades include winning the Phuture DJ Battle in July 2007, and also becoming the 2012 Pioneer Digital DJ Battle Singapore Champion, and going on to represent Singapore at the Pioneer DJ Asia Final in Bangkok and coming in as 2nd Runner-up.
As a Music Producer, BENEDICT is one-half the mastermind and architect of 2 different audio/visual projects. The first being 'GEYLANG CRUNK by Owe Money Pay Money (O$P$)', as well as the Progressive 'Meta-house' sounds of 'BENEDICT & PALMER'. Coming up with his own solo project, BENEDICT seeks to share his own personal story, using his preferred medium of House, Techno & Bass, whilst staying passionate with the sounds that he grew to love over the years.
In 2020, BENEDICT Co-Founded 'Metamo Industries', a digital and immersive media production house that develops audio-visual experiences.
Vanan M
Vanan M's interest in DJing started when he was 14, after being inspired by Nu-Metal Band DJs such as Linkin Park's Mr.Hahn and Limp Bizkit's DJ Lethal. Soon after, he bought his first pair of Technics 1200 and started playing at house parties. This eventually led him to becoming a resident DJ at a live music venue playing in-between the live bands. During his trip to London back in 2010. He spent a lot of time at record stores. This was when he was first introduced to house music. When he returned to Singapore, he started working at KuDeTa and this was where he met the DJs who influenced his sounds further. Starting off as a funk and hip hop DJ, he slowly turned his attention towards house and techno. In 2014 He joined Canvas Singapore as their head of entertainment till 2017. He is currently working on his debut album.
E-Reng
TAN E-RENG (alter ego Falling Islands) is a Singapore-based electronic musician and synthesist who produces and performs music within a wide plethora of genres, with over ten years of experience working with Logic Pro and Ableton Live. On top of regularly releasing his own music as Falling Islands on Spotify, Apple Music, Bandcamp and all major platforms, he has also done scoring, sound design and soundtrack work, most notably for the 2019 mobile puzzle game Takoway, and the 2021 hybrid live-show/short film "Past . Presence . Future ." produced under the NUS Electronic Music Lab in collaboration with the NUS Dance Ensemble, and premiered at the NUS Arts Festival 2021. He also maintains a YouTube channel where he regularly uploads videos of his experiments in synthesis and sound design.
Jerms
Jerms is a DJ/Producer from Singapore. He is also part of Pandemic Collective, alongside like-minded talents. He started out as a DJ picking up turntablism, then picked up music production creating instrumentals for fellow artists. He is known for his groovy beats that will get you vibing for any occasion and is also an open-format DJ who has a love for hip hop and RnB music. He has performed at multiple clubs/bars in Singapore such as Baliza, Get Juiced and Tin Box Retroholics.
Instructors from POP Studio Academy have taken field recordings of interesting sounds around Golden Mile Complex, and turned them into a pack of samples, one-shots, and loops. Register to get the FREE DOWNLOAD link for the GOLDEN MILE SAMPLE PACK.
Come to Enclave Bar (Golden Mile Basement) on Sat 25 Feb by 5pm sharp
Join one of our four Beatmaking Teams (led by the experienced Team Leaders above)
Watch the sampling demo by Ableton Certified Trainer Ben Ang for quick tips and tricks on how to do it
Together with your Team, you then have 45 minutes to turn sounds from the Golden Mile Sample Pack into an interesting 1 minute (or more) track using only Ableton Live.
Your Team Leader will have Ableton Live Suite 11 on laptop and all the samples, just bring your ideas
All levels of experience are welcome
If you're very experienced, come share good ideas!
If you're new, we'll put you in a Team so you can learn from our Team Leaders!
Everyone who helps complete a track gets Ableton swag
Everyone who helps on the most interesting track(s) gets a special prize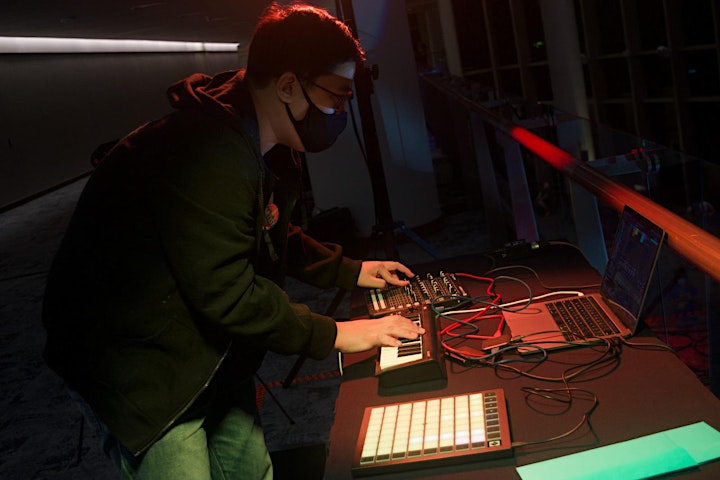 LIVE PERFORMANCE BY FALLING ISLAND & ALU
The Finale of our Meetup is 2 sets of "Live" Ableton performances by FALLING ISLANDS and ALU, two up and coming electronic musicians, on keyboards + pads + Ableton Live! Watch videos of their previous shows at
About the organiser
Our boutique school offers a wide range of electronic music education ranging from introductory classes to advanced instruction for DJ skills, music production and live performing, regardless of where you are starting from and no matter your background.