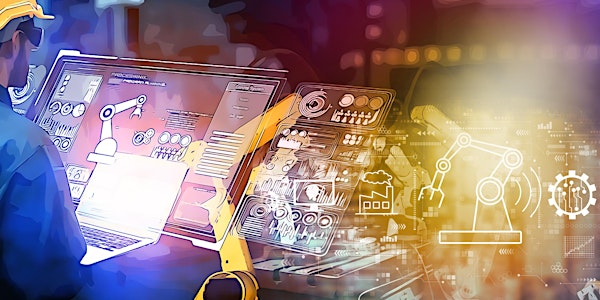 Accelerating Digital Manufacturing Transformation for an Industrial Edge
Singapore Standard Time 8:00 AM - 12:05 PM (GMT+08:00)
Date and time
Thu, 13 Apr 2023 08:00 - 12:05 +08
Location
Sheraton Towers Singapore 39 Scotts Road Singapore, 228230 Singapore
About this event
4 hours 5 minutes

Mobile eTicket
Optimising technical development and plan to maximise automation and new technological waves
Due to the effects of the Ukraine conflict, Singaporean manufacturers have become more concerned about their company's prospects. The prolonged conflict between Russia and Ukraine, is increasing pressures on the supply chain and inflation, raising operating costs for manufacturers. Even with the anticipated lifting of COVID-19 limitations, business expectations remain uncertain.
The Economic Development Board (EDB) for the manufacturing sector and the Department of Statistics (SingStat) for services both released polls that revealed the attitudes.
According to Chubb's analysis, Singapore's manufacturing industry is incredibly competitive because of the country's small domestic market and limited natural resources. Many businesses are automatically integrated into the global ecosystem to find suppliers, develop alliances and look for chances to expand their markets.
This has aided in integrating local producers into a global value chain, which is further made possible by automation and new waves of technology. On the other hand, a natural reliance on the supply chain guarantees efficient operations, production, and delivery.
Local manufacturers have embraced digitalisation quickly, even more so in the wake of the pandemic, thanks in large part to the government's efforts to promote transformation and a smart economy. In addition to employing technology internally to improve speed and transparency during the ordering, assembly and delivery processes.
However, the digitalisation process is not without risk. Consider purchasing systems, which permit suppliers of products, components, and services to connect directly to a manufacturer's system. Devastating consequences could trickle out of the manufacturer's system and into that of other players in the ecosystem if the network is compromised. One result of the storage and exchange of so much sensitive data between parties could be a breach of confidentiality or privacy, among other things.
What actions can the manufacturing sector take to achieve an industrial edge?
Toyota Mapmaster's case study demonstrates how this business accelerated the production of highly accurate, data-intensive map information by streamlining the infrastructure by integrating two systems with high-performance storage at their core and achieving cost levelling over the equipment's lifecycle by using an IT consumption model.
The company updated the "Map Production Core System" and "Differential Map Production System" infrastructure while maximising RoI. The infrastructure was made simpler by merging two systems with high-performance storage at their heart. This allowed for the efficient accounting of IT assets while securing the performance and capacity needed over the next five years.
Modernisation of IT-based Digital Manufacturing Solutions
Solutions from Industry 4.0 assist manufacturing companies in ensuring business continuity, managing operations more intelligently and autonomously, and getting greater insights from data across the enterprise.
Innovating IT for Manufacturing at the Cutting Edge of Industry
Manufacturing will be automated, linked, and digitally based in the future. Numerous use cases across the manufacturing cycle are made available by the convergence of IT and plant floor operations technologies, which can spur innovation, make operations more efficient, decrease downtime, and boost worker productivity.
Technology Advancement to Keep up with the Changing Dynamics of Manufacturing
To stay competitive in the quickly changing business environment of today, manufacturers must overcome several obstacles. This includes finding new revenue streams, running more effective operations, scaling resources to meet shifting demand and using the vast amounts of data at their disposal to make wiser operation decisions. Many firms are moving faster toward advanced digital transformation to maintain the continuity of their operations and keep up with shifting dynamics.
OpenGov Asia is pleased to invite you to an exclusive OpenGov Event that aims to provide the latest information on the main factors that will recalibrate the digital transformation strategies towards sustainability and cost savings. This is a closed-door, invitation-only, interactive session with top manufacturing technology leaders from Singapore.
We will be discussing:
METHODS to adapt to the current technology that is changing the manufacturing industry
OPTIMISING remote visualisation and computer-aided engineering to improve digital design and simulation for more efficient, trustworthy design, modelling, and simulation
ADVANCED methods in guided assembly using augmented reality-based instructions help workers master multiple product configurations and assemblies to reduce defects
TECHNOLOGIES for structured maintenance and repair that put line employees in direct contact with remote specialists for quicker equipment problem detection and resolution
SOPHISTICATED analytics that will accelerate and improve the process of quality assurance
USING current condition monitoring and predictive maintenance, manufacturers may identify maintenance problems earlier and cut down on unscheduled downtime
TECHNIQUES for digitalising plant floor asset performance and processes for monitoring and adjusting production
Who should attend:
Chief Innovation Officers
Chief Information Officers
Chief Digital Officers
Chief Transformational Officers
Heads of Information Technology
Heads of Operations & Data Management
Heads of Infrastructure
Heads of Digital Manufacturing
Heads of Digital Transformation
Heads of Cyber & Information System Management
Heads of Information Management Division
Heads of Information Technology & Digital
Heads of Information Technology Strategy & Governance
Heads of Knowledge Management and Information Technology
Heads of Smart Manufacturing Architect
Heads of Smart Manufacturing Data Scientist
About the organiser
OpenGov has over 20 years' experience in providing a platform enabling collaboration. The last 5 years, solely to Public Sector within the Asia Pacific Region, including Australia and New Zealand. We are a team that has revolutionised the traditional conference platform, having developed a method to return real and tangible value to the delegates that attend. By creating an environment that enables and enhances true collaboration and knowledge exchange, OpenGov enhances the experience which provides true insights from lessons learnt. These insights are delivered from, and by the many leaders in government agencies from around the world that attend these events. These events cover ICT, Health, Education and Crisis Assessment Response Effectiveness (CARE). Our team has been past winners of the "Best CEO Level Conference in Asia" award.
In speaking with over 500 Government ICT officials this year, we have detailed the challenges many government CIO's face. Due to the ever changing digital environment, CIO's struggle to keep up with all these changes. To assist these CIO's, OpenGov has embarked on a journey of exploration, finding solutions and best practice examples to assist CIO's in bridging this knowledge gap.
OpenGov has organised many types of events. These events being small training seminars, large scale conferences and industry based exhibitions. They specifically focus on Government, in the areas of Public Sector ICT, Health care and Education. To add further value to these events, we have included private sector representation, which has further expanded on our knowledge based and understanding in the delivery of services to our citizens.