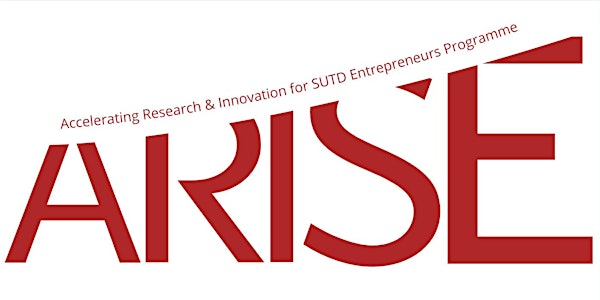 Accelerating Research & Innovation for SUTD Entrepreneurs (ARISE) Demo Day
Join us to hear the pitches from our SUTD research teams and connect with the teams to support their research commercialisation journey!
When and where
Location
Singapore University of Technology & Design 8 Somapah Road LT5, Building 2, Level 5 (2.505) Singapore, 487372 Singapore
About this event
Accelerating Research & Innovation for SUTD Entrepreneurs (ARISE), a 7-week research commercialisation programme that provides guidance and support for the research teams to develop their deep tech venture creation.
9 teams will be presenting their business plans and research projects detailing how they developed, built their operations, go-to-market strategies and financial plans, and pivoted to secure investments and grants.
ARISE Demo Day will be held on-site at SUTD Campus.
Venue: LT5, Building 2, Level 5 (2.505)
Address: SUTD, 8 Somapah Rd, Singapore 487372
Agenda:
2.00pm:
Event commences
2.05pm:
Teams Presentations
1. AHEM: An audio cough screening smartphone app.
2.Aid Tech: AI model and AI system testing tool and service.
3.Checkmate: Investigates user experience at airports and develops solutions for the airport experience of the future
4.Digital Gastronomy: 3D food printing for dysphagia elderly.
5.DISC: Dual-Language Intervention in Semantic Memory Computerised (DISC). App for dementia prevention/care.
6.GlucoRing: Non-invasive glucose sensing device.
7.Ionlysis: An electrocapacitive module for rapid and customizable recomposition of dialysate fluid.
8. Perfusable Knit: A customizable and automated knitting technique to create textiles enabling fluid perfusion through them.
9.Snap Robotics: Vision assisted grasping solution with a collaborative manipulator and a multimodal soft gripper.
4.30pm: Event ended
Refreshment will be served after the event.
We look forward to seeing you at ARISE Demo Day!
For any queries please email: Entrepreneurship@sutd.edu.sg
Best regards,
Venture, Innovation & Entrepreneurship Office