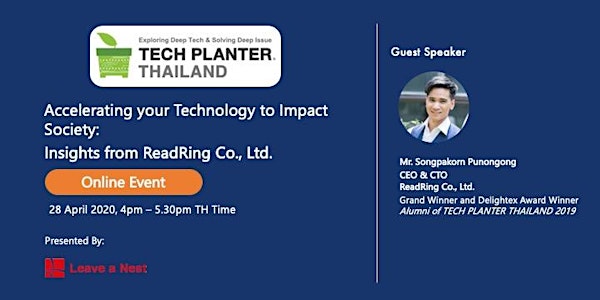 Accelerating Technology to Impact Society: Insights from ReadRing Co., Ltd
Accelerating Technology to Impact Society
About this event
With the rise of technological advancements and disruptive innovations changing the landscape of various industries, it is paramount for early stage deeptech startups to sustain and make it through the death valley curve and accelerate their technologies forward to make a positive impact on society. It is common knowledge that Technological startups often face the issues in funding and POC stages at early stages of development. With hundreds of details competing for a founder's attention, it can be challenging work.
Come join us at this online event as we hear from ReadRing Co. Ltd and discuss how accelerating technologies through various methods can impact society!
We will be sharing a simple QPMI© framework which will support creative design thinking and the , as well as introduction about TECH PLANTER programme in which support will be provided to researchers in various ways.
Date: 28 April 2020, Thursday Time: 4pm – 5:30pm Thailand Time
Speaker:
Mr. Songpakorn Punongong, CEO & CTO at ReadRing Co., Ltd.
Who Should Join:
Students, Academic researchers and Faculty members who wish to learn more about entrepreneurship and how you can incorporate this mindset into your work daily to become better at research and innovation.
For More Information:
email to: elizabeth@lne.st or huiling@lne.st