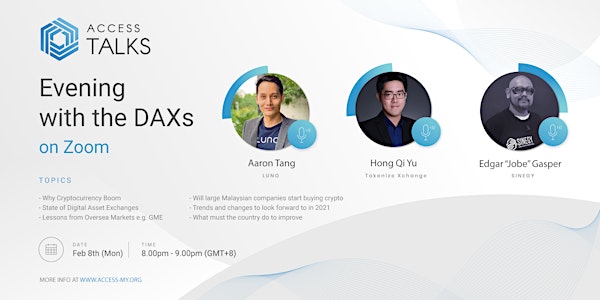 ACCESSMY TALKS | EVENING WITH THE DAXS | LUNO, TOKENIZE & SINEGY
Dialogue with Luno, Tokenize and Sinegy on where we are now and where we are heading with digital asset trading in Malaysia.
About this event
What a crazy start to 2021 for digital assets like Bitcoin, Ether and XRP!
In this moderated forum session, we have a virtual sit down with:
Aaron Tang, Country Manager for Luno Malaysia
Hong Qi Yu, CEO for Tokenize Xchange
Edgar "Jobe" Gasper, COO for Sinegy Technologies
To discuss pertinent topics including:
Why Cryptocurrency is Booming in 2021
How our regulated DAXs rate themselves in 2020
Lessons to draw from Oversea Markets e.g. GME
Will large Malaysian companies start buying crypto
What is missing in the ecosystem and needs to be built in 2021
Attendees are welcome to ask questions throughout the session and there will be dedicated 10 ~ 15 min window for our guest panelists to answer during the one hour session.
This event is free for AccessMY members to attend.