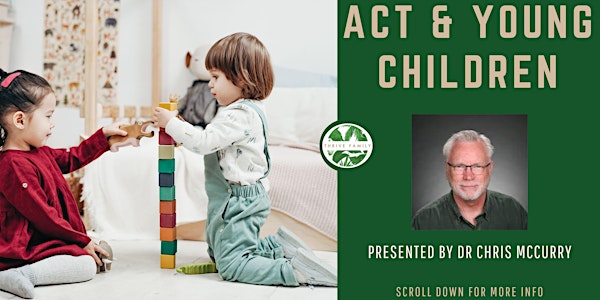 ACT & Young Children
Acceptance and Commitment Therapy (ACT) is a form of cognitive behavioural therapy
Refund Policy
Contact the organiser to request a refund.
Eventbrite's fee is nonrefundable.
About this event
What is ACT:
ACT have two major goals:
1) We foster acceptance of what is, at the moment, including negative thoughts and feelings, so that
2) Action can be taken toward committed goals.
Within the ACT world, clinical work with children is a relatively small area compared to work with adult clients. While the formal research literature in this particular area is not vast, there is some promising research and much clinical experience to show that ACT can be effective in helping even quite young children to be more psychologically flexible.
About the Training:
This webinar will describe and demonstrate techniques for engaging children from preschool through preadolescence. It will guide you to conceptualize typically seen referral problems in terms of ACT-related processing. It will help children and their carers to become less stuck in unhelpful stories about themselves and the world. A bibliography will be provided.
How will your clients benefit:
Learn to become psychologically flexible
Learn to engage more in pre-school
Develop skills to socialise and contextualise to the world around them
About Dr Chris McCurry:
Chris McCurry, Ph.D. is a clinical child psychologist in Seattle, Washington. He specializes in the treatment of childhood anxiety disorders and parenting challenges generally. Chris received his doctorate in clinical psychology from the University of Nevada, Reno, where he studied with Acceptance and Commitment Therapy cofounder Steve Hayes in the early days of ACT. He completed his predoctoral internship and postdoctoral fellowship at the University of Washington and Seattle Children's Hospital. In the past 20 years, Chris has given over 50 ACT-based webinars, workshops, conference presentations, and in-services for both professional and lay audiences.
He is the author of several books. His first, published by New Harbinger in 2009, is Parenting Your Anxious Child with Mindfulness and Acceptance. This was followed by a clinician's guide, Working with Parents of Anxious Children: Therapeutic Strategies for Encouraging Communication, Coping & Change (2015) from W.W. Norton. In 2016 Chris and Emma Waddington, Ph.D. saw the publication of four small books for children and parents; Why must I eat my greens? Why are people different colours?, Why do I have to say 'please' and 'thank you'?, and Why don't we all live together anymore? (Francis Lincoln). Along with coauthors Sheri Turrell and Mary Bell, Chris published The mindfulness and acceptance workbook for teen anxiety, through New Harbinger, in 2018.