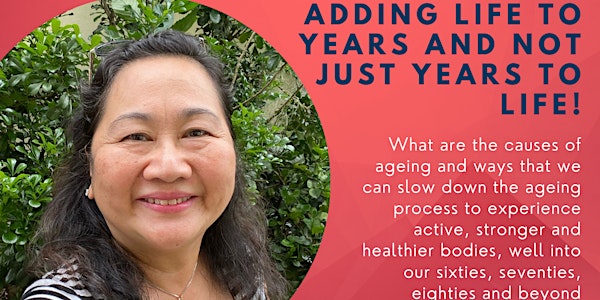 Adding Life To Years and Not Just Years To Life! (2nd Session)
ELDEX Asia Workshop Series: Adding life to years and not just years to life! (2nd Session)
When and where
Location
Suntec Singapore Convention & Exhibition Centre Hall 403 1 Raffles Boulevard Singapore, 039593 Singapore
About this event
Synopsis: What causes ageing and what was we can slow down the ageing process to experience an active, stroner and healthier bodies, well into our sixties, seventies, eighties and beyond.
About the speaker: A Life Scientist, Social Entrepreneur & Educator - Rosemary Chng believes strongly in applying her knowledge of science and her life experiences to improving the quality of life for her family, friends and others. Using her years of hands-on experiences and knowledge in health and wellness, she founded Elixir Botanica Pte Ltd in 2008 to provide natural medicine and botanical remedies for today's discerning and health-conscious consumers, and those seeking better health. She now runs a fully stocked apothecary that includes natural health supplements, and botanical tinctures and has over the years been actively supporting many of her customers in getting the best out of integrative healthcare.
Through her other previous senior and leadership positions, she has also a proven track record of empathy, high emotional quotient and problem solving skills.
She would be best described as a very tenacious and compassionate person, caring daughter, devoted wife, and dedicated mother to three sons.
Her primary hope now is to be able to become a professionally qualified health coach so that she can served her family and community of clients better.
Admission is free. All are welcomed to attend this workshop.
Pre-register at https://fireworksvirtual.com/sg-eldex-reg/ to get your pass to visit ELDEX Asia.