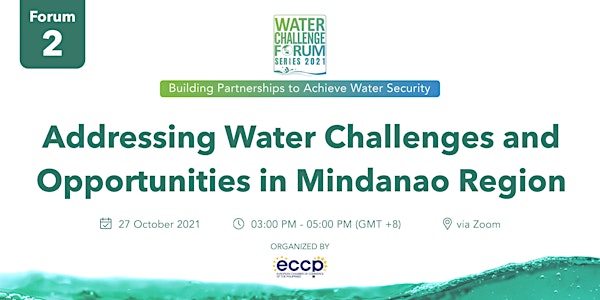 Addressing Water Challenges and Opportunities in Mindanao
Join us in the second series of the Water Challenge Forum & get updates on the challenges and opportunities of the water sector in Mindanao.
Refund Policy
Contact the organizer to request a refund.
About this event
In Mindanao, particularly, there is an annual increase in total demand for groundwater resources while the supply remains finite. Furthermore, Mindanao, despite being rich in its ecosystem and water resources, is continuously threatened by the environmental issues such as erosion, effects of flood and even detrimental actions of humans such as mining and logging.
In the second installment of the Water Challenge Forum, the session will focus on the state of water in the Mindanao Region. The speakers will provide updates on the initiatives to address water concerns in the region as well as provide participants with the available opportunities to explore in the regions.
With the theme "Building Partnerships to Achieve Water Security" the ECCP 2021 Water Challenge Forum Series aims to provide an avenue for discussions on collaborative efforts of the water sector stakeholders to support the Philippines with its water challenges and achieve the goal in ensuring and sustaining water resources for future generations.