Description
Advanced Certificate in Local Content Development
12-16 March 2017 | Kuala Lumpur, Malaysia
Course Overview
Increasingly Local Content criteria and legislation is being implemented globally within the Oil & Gas sector. From the inception of the local content concept, where use of local agents was deemed compliant, governments are now more specific in what constitutes true local content, presenting an ever-increasing challenge to both Multi-National upstream and downstream operators and Ministries tasked with ensuring Local Content Compliance.
This advanced course leads delegates through the key building blocks and strategies which underpin true local content development and ongoing management. The course expands to incorporate developing effective measurement of Local Content benefit, including: Economic Benefit Analysis to enable delegates to swiftly and confidently implement their learning upon their return to the workplace and to develop leading edge and sustainable local Content compliance and capacity/capability building.
ACLCD™ provides the understanding, framework, tools, and principles that allow organisations to build, embed and develop world-class Local Content compliance and development.
On completion of this five-day training course you will receive your certificate which has been fully accredited by Qualifi, an official UK Government recognized awarding body.
Benefits of Attending

• Gain an accredited Certificate approved by a UK regulated body - Advanced Certificate in Local Content Development (ACLCD™)
• Use ACLCD™ on your business card and on your resume,
• The ACLCD™ shows that you have completed International qualifications and that you have the skills and experience to manage inventory effectively on a national, regional and global level.
• The ACLCD™ certificate will be received approximately one month following the close of the training course and will be issued jointly by Qualifi and BMTG.

Who Should Attend
Procurement Directors, Business Owners / Managing Directors, Inventory Managers, Supplier Managers, Supply Chain Managers, Buyers / Senior Buyers, Operations Managers & Directors, Compliance Managers, CSR Executives & Managers, State Ministry managers & staff, Project Managers, Executive Directors, General Managers, Divisional Heads, Project Directors, Project Engineers, Administration Managers, Project Leaders, Bid team leaders and members.
PLUS anyone who is responsible for / involved in Local Content Compliance, or anticipates being involved with Local Content Compliance in the future.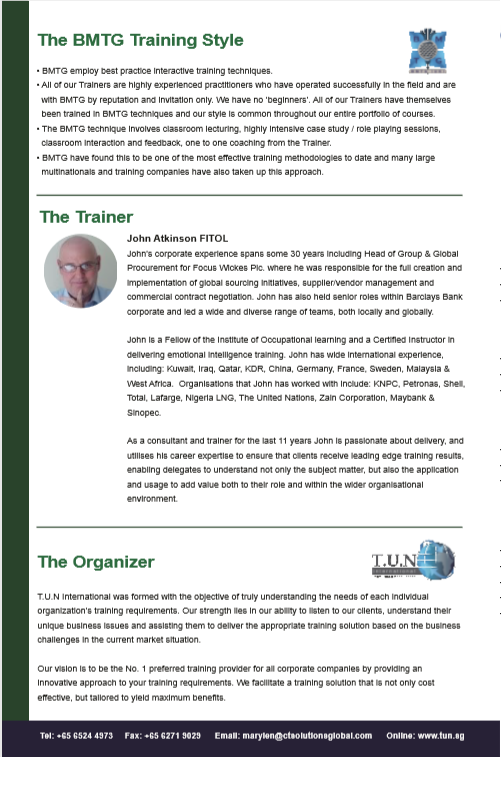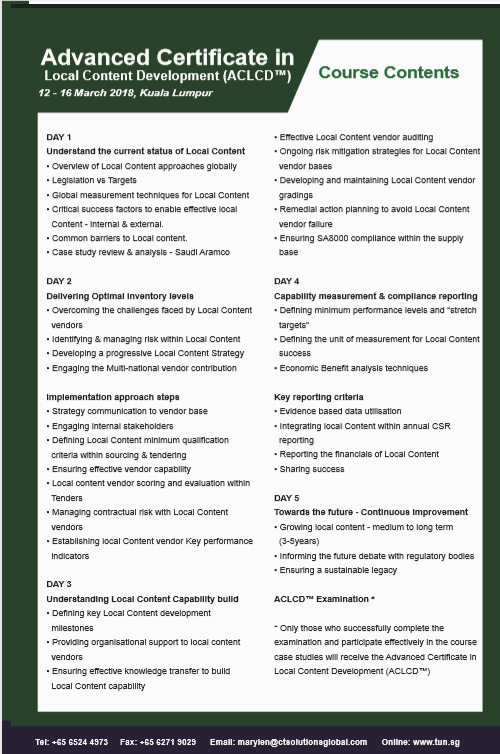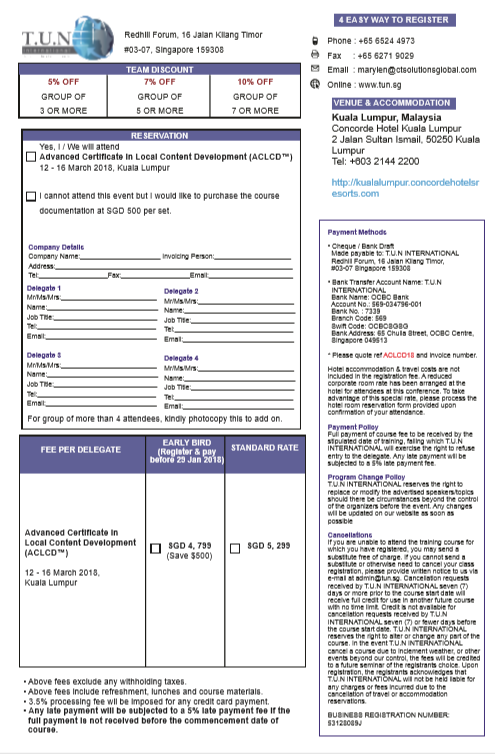 For more information, registration or any inquiries, kindly contact us at:
Customized Training Solutions Pte. Ltd. Registration No. 201621001H
Email: enquiries@ctsolutionsglobal.com
Tel. #: +65- 6524 4973 Fax #: +65- 6226-1209