2 Days Extensive Workshop on Advanced Microsoft Excel
About this event
Lesson 1: Using Custom & Conditional Formats
Reasons for Using Custom Format
Understanding Conditional Formatting
Managing the Conditional Format Rules
Changing the Conditional Formatting Rules
Locating Cells with Conditional Formatting
Working with Conditional Formatting
Lesson 2: Using Range Names
Managing Named Range
Assigning Names to Groups of Cells
Using Names in Formulas
Lesson 3: Using Formulas & Functions
Understanding Formulas & Functions
Quick Way to Insert a Function
Viewing the Formulas (and not the results)
How to Delete Values and not Formulas
Create a Relative & Absolute Reference
Working with Logical Functions
Using SUMIF and COUNTIF Functions
Working with Text Functions
Working with Date and Time Functions
Working with Lookup Functions
Understanding VLOOKUP Function
Lesson 4: Managing, Sorting & Filtering Tables
Create and Modify Tables
Sorting and Filtering Data in a Table
Getting Summary Information in a Table
Calculate Total Row in a Table
Display Special Formatting for First/Last Column
Outline a List of Data
Validating Data During Entry
Working with Database Functions
Using Advanced Filters in Excel 2016
Quick Analysis With New Features of Excel 2016
Lesson 5: Working with Charts in Excel
Summarizing Data Visually Using Charts
Creating a Chart Quickly
Changing the Chart Type
Customizing Chart Data
Show or Hide Chart Gridlines
Creating a Pie Chart
Saving the Chart as a Template
Creating Combination Charts
Using The New Pareto Chart Functionality
Using Recommended Charts Effectively
Lesson 6: Working with Pivot Tables
What is a Pivot Table
Anatomy of a Pivot Table
How does a Pivot Table Works
Create a Basic Pivot Table Report
Rearranging a Pivot Table Report
Customizing a Pivot Table
Changing Summary Calculations
Adding and Removing Subtotals
Sorting in a Pivot Table
Filtering in a Pivot Table
Create Report Filter Pages
Using Slicers in Pivot Table
Working with Pivot Chart
Lesson 7: Working with Shared Workbooks
Working in a Group Environment
Sharing Workbooks in Excel
Commenting in Cells
Tracking Changes in Workbooks
Accepting or Rejecting Changes
Keeping a Backup of your Changes
Lesson 8: Working with Multiple Workbooks
Linking to Other Workbook
Consolidating Multiple Sets of Data
Consolidate Multiple Worksheets
Lesson 9: Protecting Your Worksheet and Workbook
Protecting Your Worksheet
Protecting Your Formulas
Protecting Your Workbook
Save Your Workbook with Password
Encrypting your Workbook
Lesson 10: Working with Excel Macros
Recording & Testing a Macro
Using the Developer Tab
Create a Macro
Relative and Absolute Recording
Testing the Macro
Running and Deleting Macros
Using a Shortcut key
Placing a Macro on the Quick Access Toolbar
Short Introduction to Macro Programming in Excel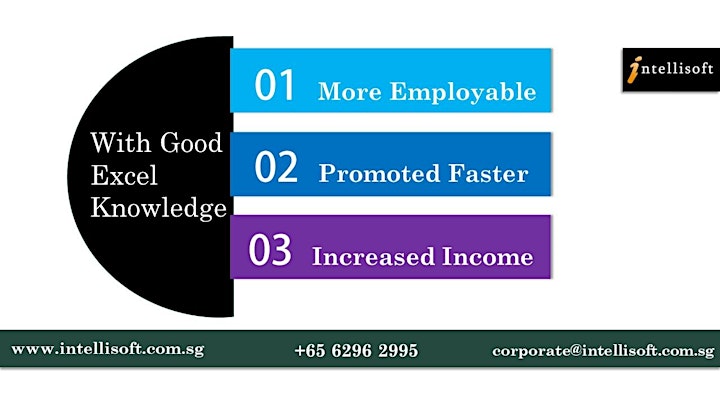 Organiser of Advanced Microsoft Excel
Intellisoft Training Pte. Ltd. was setup by industry leading experts from the Education industry for the sole purpose of providing quality training to companies and individuals, which lead to Best-in-Class Industry Certifications.
These short training courses help companies to improve their productivity, efficiency and save time.
Intellisoft Training Pte. Ltd. has partnered with ICDL Asia to highest rated International Computer Driving Test Accreditation to Singapore. We are an Approved ICDL Test Center to conduct all ICDL Core and ICDL Advanced Courses in Singapore.