Advanced Scratch Programming, 12-16 Dec Holiday Camp (PM) @ Collision 8

Monday, December 12, 2016 at 2:00 PM

-

Friday, December 16, 2016 at 5:00 PM (Singapore Standard Time Singapore Time)
Event Details
Holiday Camp
Advanced Scratch Programming
Schedule: Mon 12 Dec - Fri 16 Dec, 2pm-5pm
Ages: 7 - 12
Requirements: Completion of an Intermediate Scratch Programming course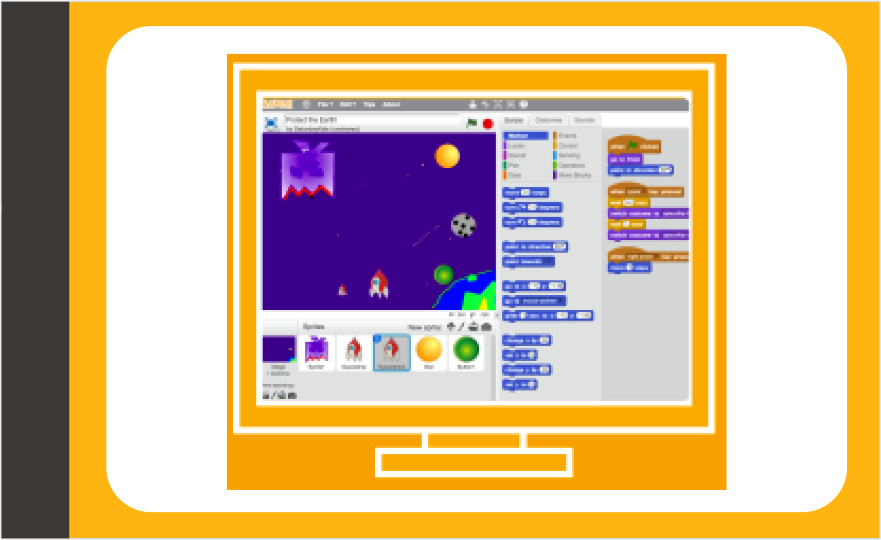 Goals
By the end of this course, kids will learn to break down complex project ideas, and understand how more complex games are made. They will be able to express ideas computationally, design better and programme more awesome projects.
Course Description
Advanced Scratch Programming guides students through challenging concepts in Scratch Programming. Building on their foundation of Scratch fundamentals, students will be able to create intricate animations and games using complex logic and program design. Students broaden their understanding of variables, operators, and event-driven programming while applying their existing knowledge in new ways of thinking about Scratch.
Instructors
Instructors at Saturday Kids are curious about design and technology. They come from diverse backgrounds such as psychology, design, business and computer science. They are not necessarily software engineers by training, but having taught themselves programming as they believe computational thinking and digital literacy are basic skills every child needs.
Course Outline
1. Visualising Data: Video Motion, Seeing Sounds
Students experiment with visualising data gathered from sensors such as the computer's microphones and video camera. They learn how to build this into their games, using design rules and conditional statements.
2. Scrolling Games
Students learn how to make a scrolling game with a physics game engine (think supermario and flappy bird). We'll learn how to build horizontal and vertical scrolling projects.
3. Making Interactive Animations
Students programme short animations in Scratch. Students learn how to craft a story, and design the looks, behaviours, and sounds of characters. They will build pages and interactivity into their projects to make more fun and complex animations.
4. Scratch That Bug!
Students test and debug each other's codes and programme final changes to their games, using logic and systematic reasoning.
5. Share and Present!
Students share their projects with their friends and reflect on their creative experiences throughout the workshop.
FAQs
1. My child is new to computers and programming. Will he / she be able to follow?
We would recommend that your child joins our Beginner's Scratch Programming course, as it's developed for new programming students.
2. My child has done Scratch programming before. I'm unsure which level my child should join.
For our Intermediate class the requirement is for kids who have already completed an introductory Scratch course which covers all the basic modules that allows your kid to build on a solid foundation. The advanced course requires that students have gone beyond the basics and are able to build more complex and interactive projects. Please email us a link to your child's Scratch profile and we can take a look and advise you on which level will be most suitable for your child.
3. I've enrolled my child, what will he/she
Have questions about Advanced Scratch Programming, 12-16 Dec Holiday Camp (PM) @ Collision 8?
Contact Saturday Kids
When & Where

Collision 8
High Street Centre
1 North Bridge Road, #08-08
Singapore, Singapore 179094
Singapore

Monday, December 12, 2016 at 2:00 PM

-

Friday, December 16, 2016 at 5:00 PM (Singapore Standard Time Singapore Time)
Add to my calendar
Organizer
Saturday Kids
Kids will invent the future. What if they start now?
At Saturday Kids, students don't just learn to code. They code to learn.
Kids today live, learn and play in a digital world, so it's never been more important for kids to learn digital literacy.
However, we also recognise that technology is ever changing, what's relevant today might not be so tomorrow. It's nigh impossible to teach a kid everything there is to know...
But what we can do is bring out the curiosity in kids.
With our design-based approach emphasising creation, we create an environment where there is no right answer, kids are free to explore, can put theory into practice and develop the mindset of "I can figure this out myself" instead of being spoonfed the answers.
Saturday kids learn how to learn.
If you're a firm believer that what kids learn on Saturdays is just as important as what they learn in school Monday to Friday, let's chat!
Can't find a class below that suits you? Email us at hello@saturdaykids.com
Stay informed of upcoming Saturday Kids workshops, new courses and events... sign up here
Advanced Scratch Programming, 12-16 Dec Holiday Camp (PM) @ Collision 8