Description
How do you generate more leads, increase brand awareness and grow visitor traffic? Does it always have to be a gut feeling? Has a client ever said, "Advertising is really expensive, but I need it to promote my products and services. How can you determine ROI if I am going to do this?"
Research by eMarketer from February 2019 projects that marketers will spend US$26.5 billion in mobile location-targeted advertising in 2019. It is essential that brands understand the different strategies and tactics available in order to target their audiences effectively and achieve their business objectives.
How can data provide creative advertising agencies a new marketing edge?
When you leverage data, you rely on facts and figures instead of gut feeling. The goal is "

Personalisation

". Today, understanding data and the patterns that your consumers create in real-time are central to reaching your targeted audience. The Where, When and How factor are key to delivering ROMI to your campaigns.
Join The Quadrant Team this 16th May at our Singapore Headquarters to find out more!
Event Details
Thursday, 16 May 2019, 7.00pm - 9.00pm | Eon Shenton, 70 Shenton Way, Level 6, Singapore 079118
Agenda
6.45pm: Registration, Level 1 Concierge
7.00pm: Welcome Remarks
7.05pm - 7.30pm: The Proof in Advertising Performance
7.30pm - 8.00pm: Audience Exchange Platform/Open Mic Session
8.00pm - 9.00pm: Networking
9.00pm: End of Event
Speaker

Roger Ganga, Data Scientist | Solidity Engineer, Quadrant
A seasoned data professional with expertise in data, blockchain and machine learning proficient in various programming languages and operating systems such as Solidity, Python, NodeJS, AWS and many more. Roger currently leads the data science team and machine learning initiatives at Quadrant. In his role, Roger brings new data science and machine learning opportunities to the company, working with AI partnerships. He is a part of the core development team and is involved in building the Quadrant blockchain, reviewing Android SDK development, and checking data quality.
Panel Speaker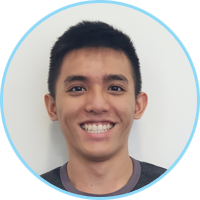 Qi Xuan, Data Scientist, Quadrant
Qi Xuan is part of the data science team in Quadrant where he works alongside his team members on a day to day basis and creates new industry based initiatives. His capabilities includes proficiency in Python, Java, SQL and many more. Qi Xuan is interested in the ways data can be used to provide real-world problem solving solutions to enterprise and consumers.
Topics: Data Analytics, Location Based Targeting, Targeted Advertising, Creative Advertising, Audience Segmentation
Organiser of Advertising Week | GO VIRAL | Create. Locate. Target
What we're about
Created for aspiring and practicing data scientists and blockchain enthusiasts and practitioners, in this meetup we will explore innovations, complexities, and solutions associated with big data and machine learning. You'll learn what's new in big data and blockchain – whether you're an expert looking to sharpen your understanding of critical industry trends and do some networking, or you're an enthusiastic beginner, keen to learn the basics.
We'll also go over what are some opportunities that startups can tap into in this industry.
Why should you care
-  Big data is driving $120 billion of IT spending, according to Gartner.
93% of businesses feel like they're losing money by not being able to use the information they're collecting.
-  38% plan to, or are likely to implement big data projects over the next year.
-  The amount of data is expected to increase by about 60% every year.
We look forward to seeing you at one of our meetups!
--
Who we are
Quadrant maps and authenticates data, making it easier to buy and sell quality, authentic data and spurring innovation and solutions for organisations.
Quadrant consists of two parts, the Quadrant Platform and the Quadrant Protocol, which combined allows businesses and governments to solve their data challenges and optimise data to fit their needs. 
The Quadrant platform processes over 50 billion records a month, enabling organisations in every industry to purchase data which they can then use to make business and policy decisions. It is powered by a protocol that uses blockchain technology to authenticate and map data. The Quadrant Protocol "stamps" data at its source with a unique signature, so any data point that has been stamped can be traced and verified back to its origin at any time, ensuring all stamped data is provably authentic. The technology also allows for the mapping of data into usable, targeted data sets that de-clutter the field of information for professionals and organisations, allowing them to use inputs relevant to their needs and to analyse them effectively, efficiently, and with confidence 
By creating an ecosystem that enables access to data that is authentic, traceable and mapped, Quadrant solves data challenges and spurs innovation. For more information please visit: http://www.quadrant.io
--
For more information, visit:
Website: http://www.quadrant.io
Medium: https://medium.com/quadrantprotocol
LinkedIn: https://www.linkedin.com/company/quadrantio/
Facebook: https://www.facebook.com/quadrantprotocol/
Twitter: https://twitter.com/explorequadrant