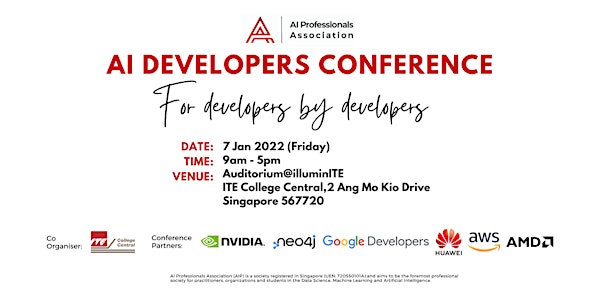 AI Developers Conference
AI Professionals Association is organizing the AI Developers Conference
When and where
Location
ITE College Central 2 Ang Mo Kio Drive Singapore, 567720 Singapore
Refund Policy
Contact the organizer to request a refund.
Eventbrite's fee is nonrefundable.
About this event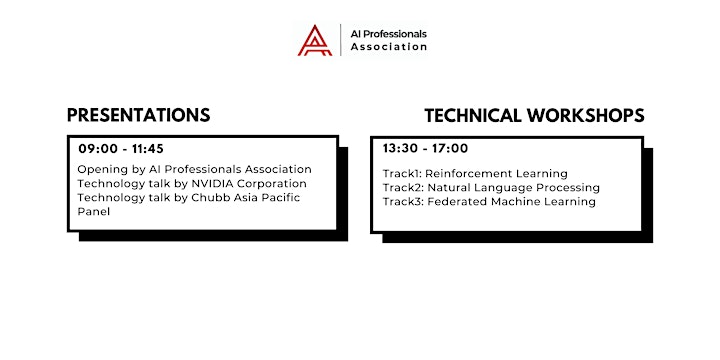 BACKGROUND
AI Professionals Association (AIP) (UEN: T20SS0101A) is organizing the AI Developers Conference. The conference brings technology communities together to exchange ideas, solve problems and shape the future of AI engineering practices. Attendees include Chartered AI engineers, machine learning and data science engineers, technologists and professionals.
This year's theme is "For Developers by Developers" and showcase practitioners championing the advancement of their craft.
This inaugural conference is a single-day event that will feature 2 technical lectures and 6 workshops across three tracks - Reinforcement learning, Federated machine learning and Natural language processing. Future conferences will be annual events organized regionally with AIP's international chapters and partners.
ABOUT AI PROFESSIONALS ASSOCIATION
AI Professionals Association is a professional body registered in Singapore Registry of Societies UEN: (T20SS0101A) and aims to be the foremost professional society for practitioners, organizations and students in Data Science, Machine Learning and Artificial Intelligence.
Its missions are:
To support the professional development & qualifications of our members
To provide resources for our corporate members to use AI ethically and with confidence
To provide a suitable networking platform for professionals to pursue relevant opportunities and businesses to collaborate together for positive impact through AI
To develop and promote professional Standards of Practice so as to build public confidence in AI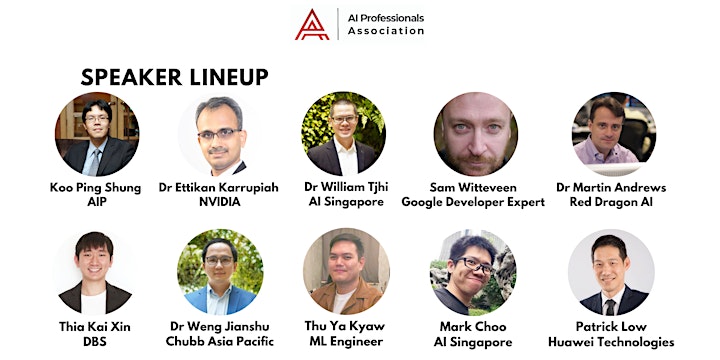 Speakers Insight
Dr. Ettikan Karuppiah
Director, Technologist at NVIDIA
Ettikan works with innovators, researchers and techno-entrepreneurs to accelerate AI & GPU adaptation for their translational R&D and software solutioning needs.
Currently he guides researchers/developers at R&D centers and disruptive startups to implement actionable solutions addressing real world problems, meeting specific requirements leveraging Nvidia GPU/DPU software/hardware capabilities. He has published numerous publications, patents and developed software libraries in the past
Talk Synopsis:
The pandemic has accelerated AI research, development and commercialization activities in every angle, including hardware, software, model creation, frameworks, platforms, compilers, libraries etc.
This coupled with abundant native digital data availability, AI compute power and business urgency for scalable AI solution, demands AI developers to rapidly research, design, develop, test, validate and deploy AI models in short sprint cycles in production ready environment addressing, some of world key problems including supply chain issues (route optimization), conversational AI (STT, NLP, TTS), secure collaborative model development (ie FL), automated manufacturing etc.
My talk will cover open end-to-end platform and development methodology to assist AI developers seamlessly to train their model of preference for specific frameworks, optimize the model meeting specific performance matrix, deploy the model for scalable inferencing and maintain them with continuous updates. Examples of the end-to-end model management will be shared for specific use cases.
Dr. WENG Jianshu
Head of Data Science, APAC at Chubbs
Jianshu has many years of AI/Machine Learning research and consulting experience. In recent years, he has spent most of his time in putting AI/ML into real-world use cases and advocating responsible AI/ML, including topics like explainability, fairness, robustness, and privacy-preserving of AI/ML models.
Talk Synopsis:
Machine Learning is heavily data-dependent. To build a machine learning model often needs a huge amount of data. Oftentimes, those data include sensitive and/or private data which are collected from multiple sources. To build a model by leveraging the value of data without compromising the protection of data sensitivity and/or privacy is one of the key enablers of responsible AI.
My talk will start from some general data protection principles and its impacts on machine learning, and how Federated Learning addresses some of those impacts and where the potential gap could be.
We will zoom into the technical details of Federated Learning, including the key challenges of Federated Learning, and how those challenges can be addressed. Some use cases of Federated Learning will be shared before we close.
Workshop Track 1 : Reinforcement Learning
KYAW Thu Ya
Machine Learning Engineer
Thu Ya is an experienced machine learning engineer who likes to create applications, build data pipelines, scale machine learning models and move them to production. He is also a certified Blue Prism RPA developer.
Workshop Synopsis:
We will start with some basic concepts of Reinforcement learning and illustrate with a hands-on exercise to implement a value iteration algorithm in Python to solve a simple puzzle. Subsequently, we will delve into other concepts including Q-learning, Exploration vs Exploitation, Experience Replay and Replay Memory. This will also be illustrated with a second hands-on exercise using Double Deep Q-Networks.
No prior knowledge of reinforcement learning is required. However, participants are expected to be familiar with Python, Numpy, and PyTorch and bring along their laptop to follow through the hands-on exercises.
THIA Kai Xin
VP, Machine Learning & Innovation Lead at DBS
Kai Xin works at the intersection of data and product innovation for the past ten years. He has led data teams to develop machine learning products such as deep learning sentiment models, knowledge graphs, recommender systems, segmentation & targeting across industries like finance, media, jobs, eCommerce, and healthcare.
Workshop Synopsis:
We will begin by exploring the intuition and logic behind Reinforcement Learning (RL) and how it mimics human decision-making. Next, we will recap the foundations of reinforcement learning from function approximation to deep RL. We will then focus on the advanced topics of hindsight experience replay, entropy, policy gradients, clipping, hyperparameter optimization & MLOps in handling complex, ambiguous real-world scenarios. Finally, we close with deployment challenges and future development trends.
No prior knowledge of reinforcement learning is required. However, participants are expected to be familiar with Python and bring their laptops to follow through with the hands-on exercises on Google Colab and Stable Baselines3.
Workshop Track 2 : Natural Language Processing
Dr William TJHI
Head of AI at AI Singapore
William is the leader of the NLP Hub Team at AI Singapore, building open-source NLP tools and platforms for industry use.
His team recently launched SGNLP and SEACoreNLP to accumulate NLP engineering resources and models to benefit the Southeast Asia region.
Workshop Synopsis:
We will highlight practical challenges of building monolingual models for low-resource SEA languages with a hands-on example. Approaches such as XLM-Roberta will be discussed and we look at the use of IndoBERT, to solve an NLP problem. I will finally introduce the SEACoreNLP project and how this can accelerate the general development of SEA NLP models and resources and familiarise you with the current libraries and some hands-on.
Participants are encouraged to bring along a laptop with installed Jupyter notebook to follow the hands-on.
Sam Witteveen
Google Developer Expert
Sam Witteveen is a Google Developer Expert for Machine Learning. He has extensive experience in AI, startups and mobile applications and a key mentor for Google's startup accelerator in both the APAC and North America regions.
Dr Martin Andrews
Co-founder, Red Dragon AI
Dr Martin Andrews has a PhD in Machine Learning, and has been an Open Source advocate since 1999. After a career in finance (based in London and New York), he decided to follow his original passion, and now works on Machine Learning / Artificial Intelligence full-time. He has worked extensively on NLP applications and voice applications using Deep Learning. Martin is a Google Developer Expert for Machine Learning and regularly speaks at events around the world on the latest trends in Deep Learning.
Workshop Synopsis:
We will take a tour through some of the latest techniques being used in research and industry for comparing and measuring text similarity for tasks such as Search, Conversational AI, Paraphrasing and Summarization. We will also explore how a variety of Transformers are being used for these tasks and compare the advantages and disadvantages of using them.
It is presumed that participants will have a decent understanding of NLP and Transformers before taking the workshop. This is not aimed at beginners.
Workshop Track 3: Federated Machine Learning
Mark Choo
AI Engineer at AI Singapore
Mark is one of the key developers heading privacy-preserving innovations at AI Singapore. His expertise lies in Federated Learning, and traversing the federated technology stack.
Workshop Synopsis:
We will be showcasing Synergos, a distributed platform built here at AI Singapore to facilitate federated training, optimization and deployment as a solution. You will understand the undertakings of deploying a federated system, gain preliminary knowledge of the federated cycle and get a hands-on experience running a full federated workflow.
Participants should bring along a laptop with Python, Docker and Jupyter installed to follow the hands-on.
Patrick Low
Government Industry Expert at Huawei Technologies Co., Ltd
Patrick is currently the Global Government Industry Expert at the Huawei Enterprise Business Group and also a certified Cloud Technology Architect (MCSD), Project Manager Professional (PMP), IT Service Management (ITIL v3) among others.
Workshop Synopsis:
We will take a quick look at ModelArts's AI development capabilities such as data preprocessing, distributed training and automated model building. In this workshop, we will walk through the basic function of ModelArts and build, train, deploy and manage an AI project using federated learning based on ModelArts Notebook Instance. Participants should be familiar with code compiling for modelling and application development and are advised to bring along a laptop with the latest Chrome or Firefox browser.