AIoT ASEAN User Group Launch Event| Empowering Smart Buildings & Facilities
Sales Have Ended
Registrations are closed
Thanks for signing up for the event. You will receive the event dial-in details a few days before the event. If you have any question, please drop us an email: events-apac@aiotug.org
Sales Have Ended
Registrations are closed
Thanks for signing up for the event. You will receive the event dial-in details a few days before the event. If you have any question, please drop us an email: events-apac@aiotug.org
Introduction to the AIoT ASEAN User Group | Empowering Smart Buildings and Facilities with AIoT.
About this Event
Webinar summary
Part1. The AIoT ASEAN User Group launch webinar aims to introduce the concept of the AIoT user groups and give an overview of the benefits they will deliver to AI and IoT practitioners in the enterprise market. These benefits will include best practices sharing across industries, trainings, certification, and more. Join our first knowledge sharing session where we will talk about the AIoT framework, use cases, and business models to help you apply AIoT in your daily operations.
Part 2. The practical part of the webinar is dedicated to smart buildings and smart facility management. The future of smart buildings will be powered by AIoT solutions enabling integrated and touchless workflows, providing a better experience and a safer environment for users. For facility managers, these technologies will bring forth an opportunity to operate their properties at maximum efficiency and proactively address day-to-day challenges.
Who is it for?
Enterprise market players from various industries implementing or considering implementation of AI and IoT technologies to improve their business operations
The second part of the webinar will be of particular interest to real estate companies, property developers, corporate real estate managers, facility managers, and facility management consultants
Agenda (Singapore Time | UTC +8.00)
16.00-16.10 // Introduction to the AIoT User Group
C K Vishwakarma, Founder & CEO, AllThingsConnected | Founder, IoTSG
Thomas Jakob, Regional President APAC, Bosch.IO
CK and Thomas will introduce the concept of the AIoT User Group, a non-profit information exchange organization with free and open membership that aims to bring together AI and IoT practitioners from various vertical industries to share experiences, provide mutual guidance, and develop a good practices framework for the optimal delivery of AIoT-enabled products and solutions.
16.10 – 16.25 //Ignite AIoT Framework and the AIoT User Group training/certification scheme
Dirk Slama, Vice President Co-innovation and IT/IoT Alliances, Robert Bosch GmbH | Conference Chair, Bosch ConnectedWorld
C K Vishwakarma, Founder & CEO, AllThingsConnected | Founder, IoTSG
Developed by members of the AIoT User Group, the Ignite AIoT Framework builds on existing best practices (agile and cloud) and extends them to AI and IoT specifics. It is an intuitive and interactive online format which is derived from real world case studies from different industries.
16.25 – 16.40 // CBRE: User requirements
Shobhit Choubey, APAC Lead, CBRE Host (Host is CBRE's Tenant Engagement & Workplace Digital Platform and Experience Services)
Taranjot Gulati, APAC Lead Sales & Solutions, CBRE Host
In the past year, enterprises and property owners had to start rethinking their offerings and their space usage. Shobhit and Taranjot will talk on how AI/IoT technology is revolutionizing workspaces and transforming employee and tenant experience, increasing flexibility and leading to a greater monetization of space and services in the post-COVID world. You will learn how the blended workplace of the future will require continuous measuring, analysis, and iteration.
16.40 – 16.55 // Reference case study: Bosch Singapore connected campus
Oliver Meili, Head of Connected Solutions APAC, Bosch.IO
Find out how Bosch made its Singapore campus smart by implementing a wide variety of IoT use cases in a decade-old building, including automated light management, location-based services for people and assets, occupancy tracking & space optimization, air quality monitoring, microclimate control, lift monitoring, smart evacuation, and more.
16.55 – 17.10 // Reference case study: Smart façade inspection
Dr. Martin Saerbeck, Chief Technology Officer, Digital Service, TÜV SÜD
This talk introduces next generation drone façade inspection services. Inspection drones carry an array of sensors and on-board computers for flight control, task execution, and system health monitoring, including lidar, thermal, and visual sensors. AI and advanced analytics are used to construct 3D models of the environment and to analyze the collected data for defects, while maintaining privacy for building occupants.
17.10 – 17.30 // Panel discussion | Q&A session
About our speakers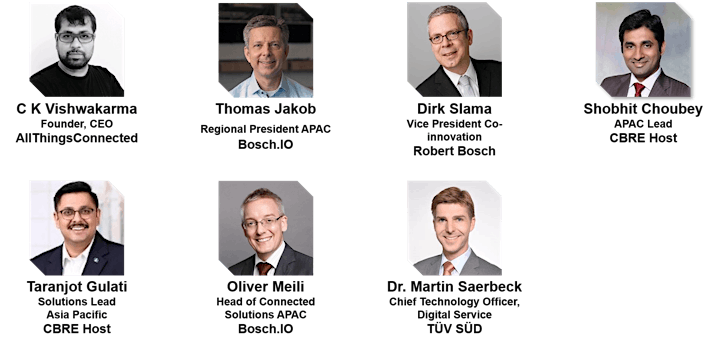 C K Vishwakarma, Founder & CEO, AllThingsConnected | Founder, IoTSG
CK is a senior international Business Strategy, and Digital Transformation leader. As a CEO of AllThingsConnected, founder of IoTSG, CK works with organizations crafting their transformation and complex digital solutions strategy, implementation and ecosystem approach, organizational behavior and excellence frameworks to accelerate their current state to future state journey. CK earned his Bachelor of Technology degree in Electrical Engineering from Indian Institute of Technology Roorkee, and a Master of Technological Design, Mechatronics from National University of Singapore.
Thomas Jakob, Regional President APAC, Bosch.IO
Since 2012, Thomas has been leading the APAC team of Bosch.IO, the digitalization and IoT division of the Bosch Group, delivering IoT solutions to various industries. Thomas has over 25 years of experience in the ICT industry in Europe and Asia. Prior to joining Bosch, he provided strategy advice to high-tech companies, served as regional CEO of T-Systems, and worked in a variety of roles for Deutsche Telekom in APAC, and for Hewlett Packard and Nortel in Europe. Thomas holds a master's degree in Electrical Engineering from the University of Applied Sciences in Dieburg, Germany, and an MBA from the University of Chicago, Booth School of Business.
Dirk Slama, Vice President Co-innovation and IT/IoT Alliances, Robert Bosch GmbH | Conference Chair, Bosch ConnectedWorld
As current chairman of the AIoT User Group, Dirk brings together practitioners from different industries to help advancing the adoption of AIoT. Dirk has 25 years' experience in large-scale IT projects, distributed systems and IoT, including projects for Audi, Daimler, Lufthansa, Boeing, AT&T, NTT DoCoMo, HBOS and others. He is author of 4 successful books and holds a PhD in Information Systems, an MBA, and a Diploma in Computer Science.
Shobhit Choubey, APAC Lead, CBRE Host
As APAC Lead for Host, Shobhit oversees development of the team, GTM strategy, sales and operations. Host by CBRE is a people services and advisory-led technology platform to elevate experience and increase agility for occupiers and investor clients. Shobhit brings many years of experience on workplace strategy, agile real estate strategy, experience design, and PropTech. He has honed his experience across a diverse array of sectors including financial services, healthcare, technology, learning environments, FMCG and energy. Shobhit has an MBA (Strategy & Organisation) from National University of Singapore.
Taranjot Gulati, Solutions Lead Asia Pacific, CBRE Host
Taranjot is a PropTech & real estate technology enthusiast and is presently heading APAC Sales & Solutions for CBRE Host, CBRE's Technology Platform + Tenant Engagement and Experience Services. Taranjot has some great inroads with some of the key developers, investors, enterprises & occupiers in Asia Pacific and has been instrumental in the exponential growth of the various organisations he has worked for in the past. Taranjot has 20+ years of experience in client strategy & business development in different verticals of real estate.
Oliver Meili, Head of Connected Solutions APAC, Bosch.IO
Oliver leads the regional Connected Solutions team at Bosch.IO, overseeing the development of new IoT solutions in Asia Pacific and driving their adoption across the region and globally. He specifically focuses on smart building use cases and brand protection/anti-counterfeiting technologies. Oliver graduated from EPFL, Switzerland, in communication systems in 2001 and has since then worked in connected devices and systems both in Europe and Asia. His particular interest is in new experiences created through the IoT and how it will impact society and businesses.
Dr. Martin Saerbeck, Chief Technology Officer, Digital Service, TÜV SÜD
In his role as CTO Digital Service at TÜV SÜD, Martin leads strategic research and development initiatives of novel digital testing solutions in the domains of AI, Robotics, and IoT technology. Martin holds a degree in Computer Science and a PhD in Industrial Design. He has 15+ years of experience in developing technical solutions for both industry and academia. After starting his career in Philips Research, he established a new research group at A*STAR IHPC and delivered innovation projects in the sectors of Aerospace, Manufacturing, and Retail. Dr. Saerbeck has a passion for applied research, promoting translation of academic results to make today's connected smart systems safe, secure, and reliable.
____________________________________________________
Note: Please note that the session will be recorded. AIoTUG, AIoTUG ASEAN Initiators & Partners, AllThingsConnected, Bosch.IO, CBRE, TUV SUD, IoTSG, event sponsors, supporting organizations may use some or all of these recordings, images in their print publications, digital, social platforms, and/or marketing channels. We also ask for some personal information and questions during registration. This data is used for due diligence to improve the quality of our knowledge sessions. This data may also be shared with speakers, sponsors, and partners to help them to collaborate efficiently with the participants. This data may also be used for research and analysis. By signing up for this knowledge session you agree to receive emails from us on future knowledge sessions, promotional material, and services.