AiSP Cybersecurity Awareness Workshop - Importance of Cybersecurity and Solutions
About this event
AiSP hope to elevate CyberSecurity Awareness as integral part of SME Business Owner Fundamentals and Establish a Self-Sustainable Support Ecosystem programme with active participation from Agencies, Business Associations, Security Communities and Vendors.
Notice :Please take note that some form of recording may take place during the event, including photography, video and/or audio recording.By attending this event, you hereby give your consent that your image or your voice (*data*) to be recorded at the event and for such data to be used or quoted in internal printed material by AiSP and/or external media channels (including social media sites). You also hereby give your consent for your name, company name and email to be share with the organisers, partners and speakers.
Please click here to register virtually.
Programme Flow:
1.30pm to 2.00pm: Registration & Viewing of Booths
2.00pm to 2.10pm: Welcome Address by AiSP
2.10pm to 2.30pm: Importance of Cybersecurity and Solutions
2.30pm to 3.10pm: Beginning your journey on cloud data protection with Thales
3.10pm to 3.30pm: Tea break & viewing of booth
3.30pm to 4.10pm: Identity and Access Management 101 with Thales
4.10pm to 4.25pm: Introduction to Cybersecurity courses
4.25pm to 5.00pm: Q&A & Viewing of Booth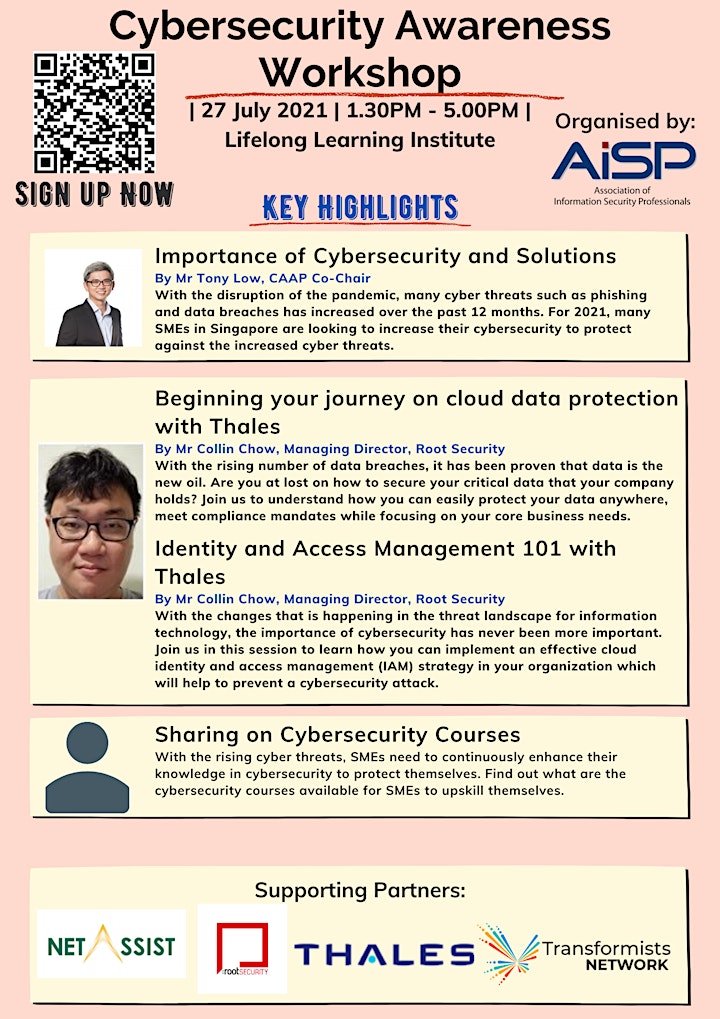 Organiser of AiSP Cybersecurity Awareness Workshop
We are an independent cybersecurity association that believes in developing, supporting as well as enhancing industry technical competence and management expertise to promote the integrity, status and interests of Information Security professionals in Singapore.

We believe that in promoting the development, increasing and spreading of cybersecurity knowledge, and any related subject, we help shape more resilient economies.