AiSP SME Conference for Cybersecurity Awareness 2019
Description
AiSP SME Conference for Cybersecurity Awareness 2019

Join us for a half-day workshop to know more about the Productivity Solutions Grant (PSG) and how Cybersecurity solutions can help improve in your business.


Many Small and Medium Enterprises (SMEs) are going digital to seize the exciting business opportunities available. However, cybersecurity remains a challenge. Business risks arising from cyber incidents are wide-ranging and can impact the business itself. It is therefore critical for SMEs to invest in cybersecurity to ensure that their assets and systems are protected from malicious cyber activities. Business owners are only focused on business needs and are not aware of the digital risks and cybersecurity resources available for them. The purpose of the AiSP SME Conference for Cybersecurity Awareness 2019 is to help SMEs and individuals to be more cyber aware.
The Association of Information Security Professionals (AiSP) hopes to elevate Cybersecurity Awareness as integral part of SMEs' fundamentals and establish a self-sustainable support ecosystem programme with active participation from agencies, business associations, security communities, and vendors. AiSP aims to SMEs to know the importance of Cybersecurity, and how they should respond to and handle cyber attacks.
The Government recognises that SMEs may face resource constraints when it comes to improving their cybersecurity posture. To assist SMEs, Cyber Security Agency of Singapore (CSA), Infocomm Media Development Agency (IMDA) and Enterprise Singapore (ESG), have expanded the range of pre-approved digital solutions under the SMEs Go Digital programme to include cybersecurity solutions. With this expansion, SMEs can receive funding support under the Productivity Solutions Grant (PSG) of up to 70% of the qualifying cost (e.g. subscription, license, and installation fees), to cover part of the cost of pre-approved cybersecurity products and services.
Date: 4 November 2019 (Monday)
Time: 1pm to 6pm
Venue: Lifelong Learning Institute, Event Hall 1-1 & 1-2 located at 11 Eunos Rd 8, Singapore 408601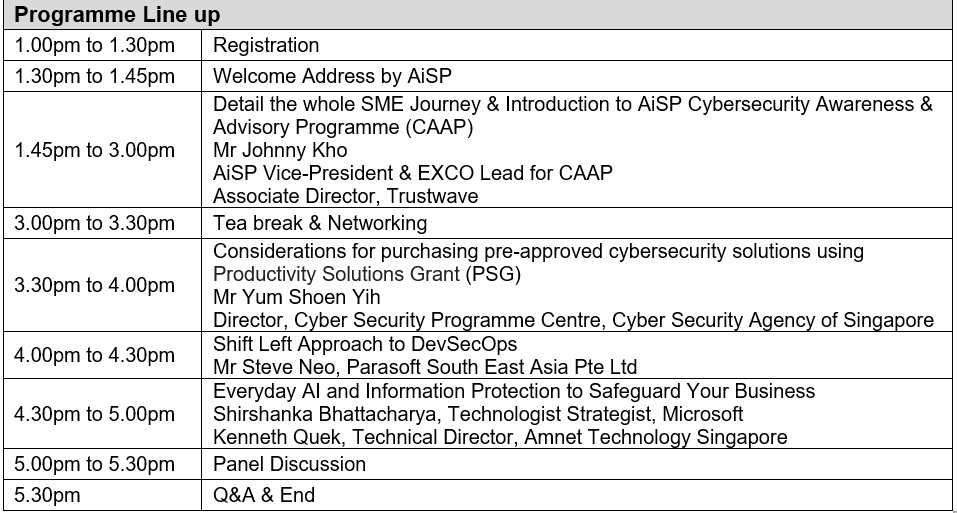 Things to Note:
- Light Refreshments will be served during the event.
- No payment is required for this event.
- Free for all to attend
- Invite all your friends and colleagues to join in.