Location
Hairpin Arts Center
2810 North Milwaukee Avenue
Chicago, IL 60618
United States
Sales Have Ended
Registrations are closed
Thank you for supporting this event! Please follow us on social media to stay updated on post-show panelists participants.
In a gentrifying city, new construction threatens a local mural forcing the artists and a neighborhood to protect its history voice & land.
About this event
Two Oakland artists, Pancho Peskador, a Chilean studio painter, and Desi Mundo, a Chicago-born aerosol artist, form an unlikely partnership to tackle their most ambitious project to date, a four-story mural in the heart of downtown Oakland. Their site is situated at a unique intersection where Chinese and Afro-Diasporic communities face the imminent threat of displacement and gentrification. Prior to painting, the mural faces numerous obstacles: complex negotiations with profit-minded property owners, satisfying a community of diverse residents, and resolving the artists' own aesthetic conflicts.
As the mural takes shape on the wall, Oakland's unique cultural legacies come to life through historical flashbacks. Past exclusionary policies replay themselves in the present as gentrification threatens to uproot long-term residents. The mural is fraught with its own challenges. A disgruntled neighborhood resident launches a vendetta against the artists, unleashing a blizzard of letters to city officials and newspapers. Simultaneously, the property owner of the mural site schemes to demolish it and construct the city's largest luxury condo. Nonetheless, Desi and Pancho conclude the mural with great fanfare and a vibrant celebration.
Three months later, news comes that another forthcoming condominium development will obscure the mural, which has become a source of neighborhood pride. Despite last-ditch opposition to the condominium, it receives city approval, effectively dooming the mural. Meanwhile, the city unveils its urban planning process for the downtown district. Ultimately displaced, the mural becomes a spark for the community to rally to protect cultural arts, and coalescing the community resistance to gentrification.
Accessibility
This event is offered on a sliding scale.
Please use promo code Hairpin for $15.00 tickets
Please use promo code AliceStreet for $10.00 tickets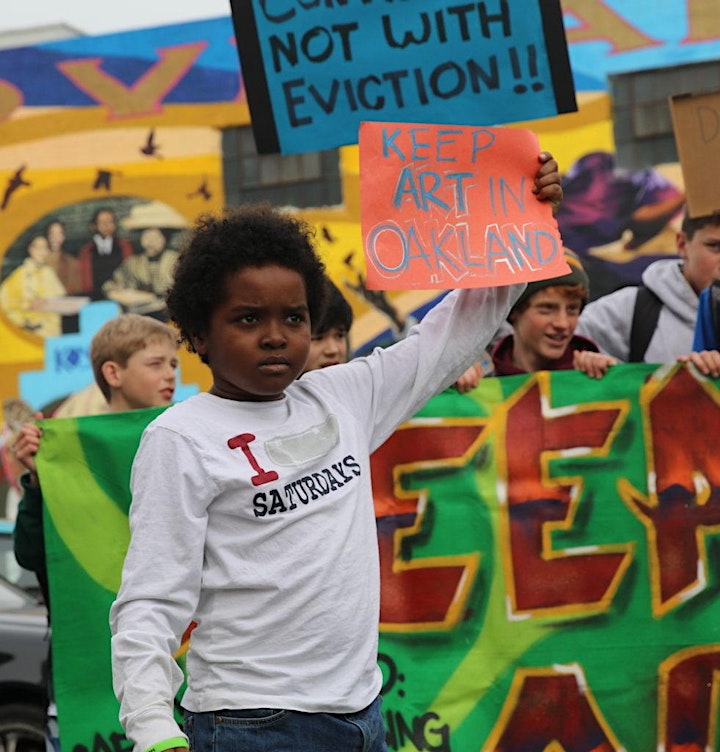 Reviews and Festivals
ALA 2022 Notable Film for Adults
"The best parts of the film show community members banding together to resist large-scale changes by outside forces. Those interested in the intersection of art and activism will want to tune in to this optimistic documentary."
— Library Journal
"Highlights drawbacks of urban gentrification, and preserves — at least via cinema — a hidden history of Oakland's local heroes in arts/culture...As much about urban planning as it is the arts and social justice, and should appeal to specialized collections, though California territories are a particularly recommended venue."
— Video Librarian
"To be screening Alice Street could not be more timely and relevant for our Bay Area community. This documentary speaks perfectly to one of the major goals of our festival, which is to raise awareness about the most pressing issues in our community through art and storytelling."
— Eli Jacobs-Fantauzzi, Founder, Fist Up Festival
"Highly Recommended. The director skillfully weaves together the sense of community pride that was created as the mural came to life downtown...Timely and important, illustrating the power of people who are united in action for a common cause...Both uplifting and empowering. Educators facilitating discussions on the effects of gentrification and displacement will find this film especially useful. Showcasing the power of community activism, the documentary is also a wonderful example of how art and cultural centers can become uniting forces within a community inspiring both cooperation and collaboration."
— Educational Media Reviews Online
"Bursting with a rich sense of local history and artistic expression, Alice Street is crafted with great pride for the city of Oakland by Bay Area filmmaker Spencer Wilkinson...With testimony from a diverse group of artists and performers, Wilkinson passionately examines the many ways in which gentrification silences neighborhoods and breeds inequality across the system. As we hear from those who are not included in the city's vision of development and change, Alice Street reveals Oakland as a microcosm of what is happening across the American landscape, disproportionately affecting the sustainability of communities of color. While showing the power of art to unite communities, the film makes a plea for preserving our cities and their many voices within, and warns of the forces that aim to overrun them."
— Mill Valley Film Festival
"This documentary shows how art can work as a tool for grassroots activism and underscores the power of coalition-building to disrupt the displacing forces of privilege."
— MKE Film Festival
"Set in just a few city blocks, it's a story about intractable loss as well as collective refusal, depicting artists' role in grassroots activism that builds power by bridging communities...The documentary also captures a heartening generational shift."
— KQED Arts
"Excellent new documentary Alice Street, which shows Oakland at its multicultural, peaceful, protesting best...In Alice Street, Director Wilkinson shows us that if people take the time to connect, respect — and really listen to each other, genuine progress can be made that respects what has come before. What started with a mural actually led to a movement — of creative, and cultural resilience."
— C. J. Hirschfield, Former Executive Director of Children's Fairyland
"Tells the story of the mural, the people it represents, and the community efforts borne of its removal from public view...What was once meant to be a feel-good story about a unique piece of public art came to speak to the power of art amidst cultural adversity...The film shows how a coalition of artist-led organization in their effort to shift citywide policy to include the voices of artists and community organizations in city conversations about development and the future of Oakland."
— LA Progressive
"Alice Street excels because of its focus on communities of color, giving them the space to build the film's narrative. It's a snappy documentary, easily going through the mural's birth and demise in only about an hour. Still, it makes a bold statement about the city's problems, one that goes far beyond the borders of just the Bay Area. The realities of people of color are merely blips in the bureaucratic process. Art has become power, according to Alice Street's residents. But as the film deftly explains, it's just not a concept that sells well."
— DailyCal
"Eye opening...Filming the creation of the murals in time lapse brings a real sense of investment and appreciation to the process, so when they're threatened, the viewer feels a personal investment too. It's a smart direction by Spencer Wilkinson who brings a vibrancy and energy to the whole film...A well made, vibrant, and expressive tale of fighting to preserve and celebrate the history of an area with art serving as a rallying point. If nothing else, it leads to larger conversations in a way that's not strident or a harangue. We need more documentaries like this."
— Where the Long Tail Ends
WINNER
Better Cities Film Festival, Urban Arts Award
Oakland International Film Festival, Audience Choice Award for Feature Documentary
Mindfield Film Festival, Best Documentary
OFFICIAL SELECTION
Tallgrass
Better Cities Film Festival
Mill Valley Film Festival
Urbanworld Film Festival
Newport Beach Film Festival
Thin Line Fest
San Luis Obispo International Film Festival
DocUtah
Marda Loop Justice Film Festival
SF Urban Film Festival
Sebastopol Documentary Film Festival
Atlanta Docufest
London Rocks Film Festival
MKE Film Festival
International Social Change Film Festival
Oakland International Film Festival
Green Bay Film Festival
ARTS SDGS Fest
Filmocracy Fest
East Lansing Film Festival
Brighton Rocks Film Festival
Mindfield Film Festival