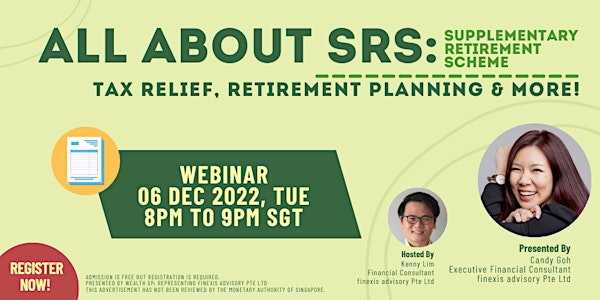 All about SRS: Tax Relief, Retirement Planning & More!
Presented by Wealth GPs, representing finexis advisory Pte Ltd, a leading licensed financial advisory firm in Singapore.
About this event
Have you heard of "Supplementary Retirement Scheme (SRS)" but are not sure what is it exactly? Or perhaps you're looking for ways to earn a variety of tax reliefs or to maximise your retirement plans?
Join us as we explain what is SRS and how you can leverage it to boost your retirement planning and earn some tax reliefs!
What We Will Cover In The Webinar
What is SRS and how does it work?
How to leverage it for Tax Relief?
How can we use it for Retirement Planning?
About the Speaker
Candy is an Executive Financial Consultant who has been working in the financial services industry for 4 years now. She is a strong advocate of helping people get smarter with proper money management to get more out of what they have now and is sought after for her unique insights on finance. Candy is also certified in the area of General Insurance and has a specialisation in Artificial Intelligence in Finance. She is currently pursuing her CFP® Certification (Certified Financial Planner™).
JOIN US!
This webinar is suitable for Singapore Citizens, Singapore Permanent Residents (SPRs) and foreigners who derive any form of income in Singapore.