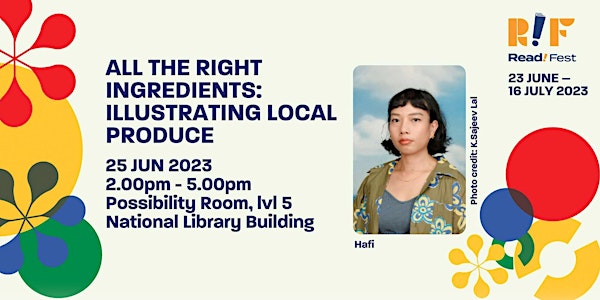 All the Right Ingredients: Illustrating Local Produce | Read! Fest 23
Gain a new appreciation of local produce by learning how to draw them in this illustration workshop!
By GoLibrary | National Library Board, Singapore
Date and time
Sunday, June 25 · 2 - 5pm +08
Location
National Library - Possibility Room 100 Victoria Street Singapore, 188064 Singapore
About this event
About the Programme
Confused about Celtuce? Jumbled up over Jambu? Flummoxed by Fingerroot? Let homegrown artist Hafi (@hahahafi) be your guide to the weird and wonderful produce of our local wet markets. In this illustration workshop, hone your skills in observation, get up close and personal with physical specimens, and show off what you've learned by drawing your favourite vegetables! 
Some illustration materials will be provided but feel free to bring your own materials or digital devices for drawing. This is one time that it's okay to play with your food. 
About the Facilitator
Hafi is an illustrator, designer and visual artist. She makes visual interpretations through drawings that are rooted in ancestral memories. Her works dissect themes of identity and cultural narratives via image making, most notably seen in SEASONINGS magazine which she co-founded to explore Singapore's food culture.
She was a recipient of the Goh Chok Tong Youth Promise Award in 2007. She graduated with a Bachelor of Fine Arts (Hons) in Visual Communication at School of Art, Design and Media in NTU and has a minor in Art History (Southeast Asian Art).
Title Tie-up
This programme is based on Wet Market to Table: A Modern Approach to Fruit & Vegetables by Pamelia Chia, a featured title of Read! Fest 2023.
Borrow the title here.  
Download the reading pack here.
About Read! Fest 2023 
If you could steer how you move with the world, where would you go? Who would you want beside you? Exploring the concept of flourish, Read! Fest 2023 considers how we may thrive when we cast a line for what resonates with ourselves, when we build relationships with people and spaces around us. Anchored by 12 key titles, the festival is guided by the individual living in the current of rapid change, and a society bringing concerns from the margin towards the centre. For Read! Fest 2023, we bring books, conversations and experiences to you through author talks, thought-provoking panel discussions and hands-on workshops. Through these, we ask: What's your kind of flourish? 
For more info, visit https://www.go.gov.sg/readfest23  
For more info and full listing of programmes, visit https://go.gov.sg/readfest23progs  
About the organizer
The National Library Board (NLB) manages a network of 28 libraries, the National Library and the National Archives of Singapore. NLB promotes reading, learning and information literacy by providing a trusted, accessible and globally-connected library and information service through the National Library and a comprehensive network of libraries.