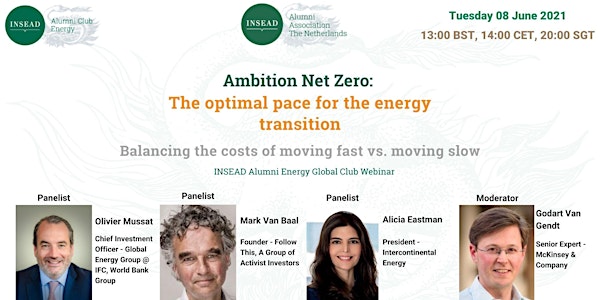 Ambition Net Zero: The optimal pace for the energy transition
Sales Have Ended
Registrations are closed
Dear Participant, Thanks for your interest in the webinar, but the registrations are now closed. We look forward to seeing you in our future webinars. Please subscribe to our newsletter at https://blogs.insead.edu/energy-globalclub/contact-us/ to keep updated on our events and activities. Warm Regards, INSEAD Alumni Energy Global Club
Join this exciting panel discussion to understand how to balance the pace of energy transition while achieving the Paris climate targets.
About this event
Following the success of first two webinars of the Ambition Net Zero series with more than 1400 INSEAD alums and students subscribed, we are keen to offer the third event brought to you by the Netherland's NAA and the INSEAD Alumni Energy Global Club:
The optimal pace for the energy transition: Balancing the costs of moving fast vs. moving slow
How quickly the global economy should transition towards carbon neutrality is a hotly debated topic.
Should we do everything we can to achieve the Paris targets and stay below a 1.5-2°C temperature rise or should we accept that we'll move more slowly?
What would it cost to accelerate the transition and achieve those targets?
On the other side, what would the economic impact be if we maintain the current pace and don't move fast enough to achieve the Paris targets?
Mark van Baal and Olivier Mussat will reflect and debate on these questions, moderated by Godart van Gendt.
Mark van Baal is founder of Follow This, a group of activist investors who invest in traditional energy businesses to nudge them to go green. Follow This has close to 6,000 members and stirred high-profile debates on the climate ambitions of oil majors through their shareholder resolutions.
Olivier Mussat is the Chief Investment Officer Global Energy at IFC (member of the World Bank Group). IFC is the largest development finance institution focused on the private sector with an $11 billion energy portfolio that spans over 30 developing countries.
Godart van Gendt is a senior expert in McKinsey's Sustainability and Electric Power & Natural Gas Practices. He has co-led research on how the European Union could achieve net-zero emissions at net-zero cost.
Join us on June 8th at 14:00 CET for this undoubtedly lively and informative discussion.
We look forward to seeing you there!